Some of the links in this post are affiliate links. This means if you click on the link and purchase the item, I will receive an affiliate commission at no extra cost to you. All opinions remain my own.
Who sleeps for a full eight hours? Not the average desk job worker. So how can one keep his energy levels up all day when he is sleep-deprived? It's simple: Power Nap!
Gone are the days when nappers are considered lazy. Now, even the not-so-cool bosses are chill with their employees taking a nap at work. Why? Read on, and you'll know it!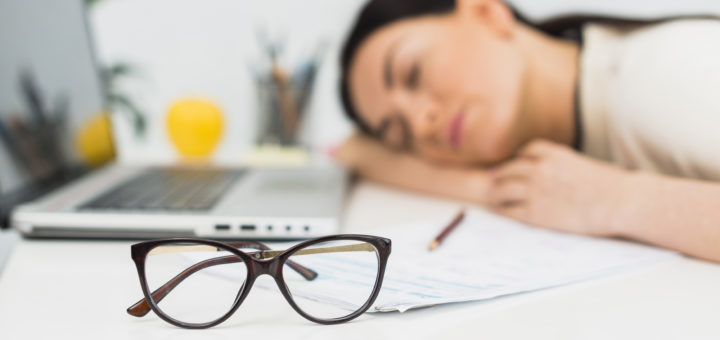 ---
The Costs Of Sleep Loss
Besides making you grumpy and foggy, missing the recommended 8 hours of sleep can wreak havoc on your body. Science has linked the lack of sleep with imbalances in our bodies. Let's go over the effects of sleep deprivation in detail.

Slows your brain down: Lack of sleep affects your brain's normal functioning. This, in turn, impairs cognition, reasoning, alertness, and attention. It is also said to increase dementia risk by 33%.
Premature aging: Chronic insomnia makes you age faster. Sleep loss interferes with collagen production and alters growth hormone levels.
Make you obese: Studies say individuals who sleep less than 6 hours a day are 30% more likely to become obese.
Reduces immunity: Lack of enough sleep affects the body's defense mechanism. According to some studies, 90% of individuals with sleeping issues are more prone to heart disease, diabetes, and stroke.
Increase accident risk: Drowsiness is one of the major reasons for road and work accidents.
---
Top 5 Benefits Of Power Napping At Work
Ideally, mid-day sleep or power napping should last between 10 and 30 minutes. Here's what you need to know about power napping benefits.
Boosts Productivity: When your eyes are droopy-sleepy, you cannot give 100% at work. Take a power nap, and then resume your work. Because a quick nap can restore mental alertness, boost performance, and reduce the chances of manual errors at work. Says who? NASA! According to their study, a 40-minute nap improved performance by 34% and alertness by 100% in military pilots and astronauts.
Provides a memory boost: You will stumble upon many complex tasks that will cause memory overload at work. That's when the power nap steps in. Studies say that a regular 10-,20- or 30-minute shut-eye at work improves memory retention and gives your brain a breathing space.
Enhances creativity: Daytime nap can also increase your sensory perception, creative thinking, and cognitive processing. This means that making a 30-slide business presentation or devising a marketing strategy will be a cakewalk for you.
Improves mood: Next time you feel anxious, irritable, depressed, and distracted, take a power nap. It's because your system has irregular serotonin levels. Studies say that napping regulates 'the happy hormone' levels and reverses the negative outlook.
Boost immunity: The benefits of napping extend well beyond memory, mood, and creativity. A power nap reduces the risk and frequency of illness by boosting immunity. Not to forget, sleep-deprived employees are also at greater risk for hypertension, diabetes, and depression. The perfect attendance award is a power nap away, fellas!
---
Tricks To Squeeze In Power Nap At Work
For a 'fruitful' power nap, try these tips. You'll feel energized and more productive.

Keep it short: Depending on your lunch break, take a little snooze of 20 – 30 minutes. Since you aren't falling into a deep sleep, you won't wake up groggy or tired.
Siesta time is the best: Our body starts giving an 'I'm tired' signal around siesta time – somewhere between 2 – 3 PM. So, make siesta time your napping time.
Napping location: Your desk wouldn't be the ideal place if you worked in an office with lots of bays. Perhaps you may have a nap area in the office (these days, most offices have one facility); you could nap in a quiet space or in your car.
Use a nap prop: A neck pillow, an eye mask, cozy socks, or music on your headphone may help you doze off faster.
Nap Pods: If you are a Google employee, you must be enjoying nap time in the MetroNaps EnergyPod. Good news: More and more companies are taking inspiration from NASA, Google, Huffington Post, and more.
---
Reviews: Top 2 Mattresses For Office Use
If your office culture doesn't frown upon a power nap, here are our favorite picks that might suit your napping need.
We hope you love the products we recommend!
So that you know, We may collect a share of sales or other compensation from the links on this page.
---
1
When it comes to offices, an inflatable sleeping pad is likely to be the choice if time and space are your major concerns.
With CAMEL X-tech at your side, napping at work is as easy as ABC. Quickly inflate, take your nap, deflate and store it in the desk cupboard.
Another interesting factor – its sleeping pad comes with an integrated pillow. No more carrying extra pillows!
Plus, it takes up very little space. The folded sleeping pad measures only 25* 6* 6 inches.
Made of skin-friendly foam, it will have a thickness of one inch after inflation, which is pretty enough for a comfortable 20 minutes power nap.
---
2
Bean bag chair one minute, bed the next; this one is the best bet to sneak back some winks after a tiring PowerPoint presentation.
Filled with soft foam, the giant bean bag chair has a plush microfiber cover, which is a washer and drier safe. An extra-long zipper is also included in the design for effortless handling.
To turn into your power nap aid, unzip it, remove the cover, and flip the inner cushion – it's as simple as that!
To bring it back into the original bean bag, fold and slide the inner cushion into the cover.
The manufacturer claims the fabric to remain soft and comfortable irrespective of the times you wash the cover.
Product Dimensions: 42 x 42 x 32 inches; Item Weight: 35 pounds
---
Index Table: Top Rated Mattresses To Nap At Work
---
---