When shopping for a new comforter, you want the best that they have available.
One of the things to be wary of when purchasing a comforter is its material.
The best bamboo comforter is a safe, hygenic, soft, and eco-friendly option that will last you many years to come and provide some excellent benefits in the long run.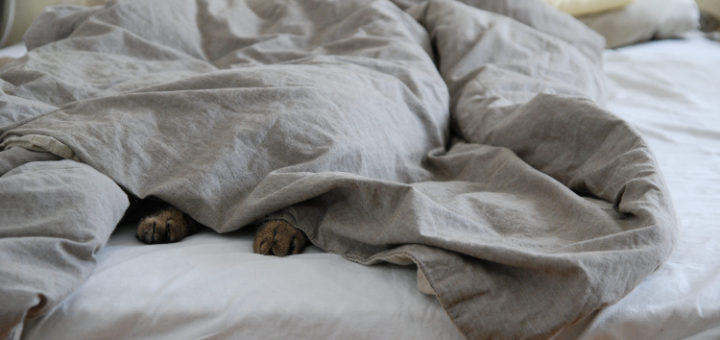 ---
Benefits of Bamboo Bedding in General
Bamboo bedding in general, besides just bamboo comforters hold so many exceptional benefits.
Bamboo is not just an eco-friendly and sustainable material but also has amazing breathability and durability features.
Comfortable – Bamboo is one of the most comfortable fabric on the market. It is much softer than cotton and almost as smooth as silk. Bamboo likewise has temperature regulating properties keeping you comfortable all night long. Furthermore, bamboo fibers will absorb sweat and also evaporate it very quickly to keep you dry and cool.
Healthy – Because bamboo is a natural material is completely hypo-allergenic. Bamboo consists of plant-based materials and will not cause allergies, such as feather-based comforters. On the other hand, bamboo is dust and dust mite, as well as allergen resistant thus, and it will not hold allergy-causing elements.
Eco Friendly – Bamboo grows fast and easily, so it is easy to sustain. Likewise, bamboo helps clean pollutants in the air and soil, meaning it is also great for the environment. Generally, Bamboo is more of a wood grass than actual wood, and because it grows so fast, it can be harvested within or before five years. The Bamboo shoot will likewise regrow from the stem.
Durable – believe it or not, bamboo is one of the most durable materials, even more so than cotton and synthetic materials. Bamboo fibers are long and more continuous strands that stretch across the whole length of the fabric, rather than short fibers being interwoven together. This makes bamboo much stronger and more flexible. The Bamboo wood grass itself is very flexible and extremely strong with a hollow design. Thus, bamboo fibers used in the fabric will hold this strength.
Temperature Regulating – Bamboo has thermo regulating properties, meaning it will keep you cool in hot weather conditions, and in turn, warm in colder weather conditions. Bamboo wicks away moisture which will prevent you from feeling sweaty during the night.
Odor Resistant – because bamboo absorbs and wicks away moisture, and because it is anti-bacterial, bamboo material will also prevent odors from developing in your bedding. Your comforter will smell much fresher for much longer.
---
Bamboo Comforters are Temperature Regulating
One of the things I have mentioned but want to further expand on is the fact that bamboo fibers help to regulate your body temperature.
When you have a bamboo comforter, you do not need to chop and change comforters or add additional blankets in the winter and remove them in the summer.
Your bamboo comforter will serve the purpose of both a summer and winter comforter that you can easily rely on.
How the bamboo fabric cools you is because it absorbs sweat and dries quickly, meaning it wicks away moisture rather than just holding on to it, causing you are to overheat.
Bamboo comforter may come with a microfiber fill, down alternative, or Polyfil than. That, in turn, may help to keep you warm in winter, and some also have temperature regulating properties.
I find that most down alternative fills are an excellent choice if you are looking for a bamboo comforter that will serve you both in summer and wintertime.
---
Features of a Good Bamboo Comforter
Material – the Comforter must have a bamboo or viscose bamboo cover, and can have a polyester, microfiber or down alternative fill.
Warmth Level – Some comforters do have technology that offers different warmth levels, which all depends on the fill of the comforters. Such as feather comforters that are more suited to winter, Poly-fill, and cotton fibers that are more suited to summer.
Quality – Make sure that you look for a good quality brand that has a pure bamboo comforter. The cover must be pure bamboo; however, the fill may be other fibers.
Guarantee – Many bamboo fiber comforters will come with some form of guarantee, which is just a promise of their quality.
---
Reviews: The Best Bamboo Comforters
In our extensive list are some of the best available bamboo comforters available today;
We hope you love the comforters we recommend!
So that you know, We may collect a share of sales or other compensation from the links on this page.
---
1
The Hombys Cooling Comforter is ideal for use in the summer.
The comforter has a down alternative fill and a bamboo viscose cover.
It is available in more sizes for every bed size.
The comforter has a hollow fiber microfiber fill.
---
2
The L Lovsoul bamboo comforter is likewise a top favorite.
It is a bamboo cover with a Box stitch quilting design.
The comforter gas is a hollow microfiber fill.
It comes in more size options.
---
3
The Chezmoi collection Milo is a three-piece bamboo comforter set.
It is more of a coverlet comforter set that has a Cross Stitch Quilted design.
Ideal for hot summer months,
It comes in more colors and sizes, so you can choose which is most suitable for you personally.
---
4
The Bamboo Bay Ultra Soft is a down alternative Bamboo comforter.
The comforter has a Microfiber fill that has a hollow design, which is very soft and lightweight.
The cover is natural bamboo, of the finest quality and craftsmanship.
There are more sizes available in different white and off-white colors.
---
5
The Hombys Lightweight Bamboo comforter is cozy and comfortable.
It is very lightweight with a bamboo cover that is breathable and moisture-wicking.
The fill is a microfiber-down alternative, which is extremely soft and has temperature regulating properties.
It is available in Grey and white colors, as well as in more sizes.
---
6
From The Cozy house Collection, we have another superb bamboo comforter set.
It is Ultra soft and comfortable with a Plush microfiber fill.
The comforter is machine washable and very durable.
It comes in more colors and sizes so that you can choose your favorite color and a suitable size.
---
Index Table: Top Rated Bamboo Comforters
---
---