Are you looking for the best mattress to fit into your new adjustable bed, or does your old adjustable bed need replacing?
This buyer's guide is here to help you decide on the best mattress for your adjustable bed, as well as the best features, tips, and tricks that you can use to extract the maximum value from your adjustable bed.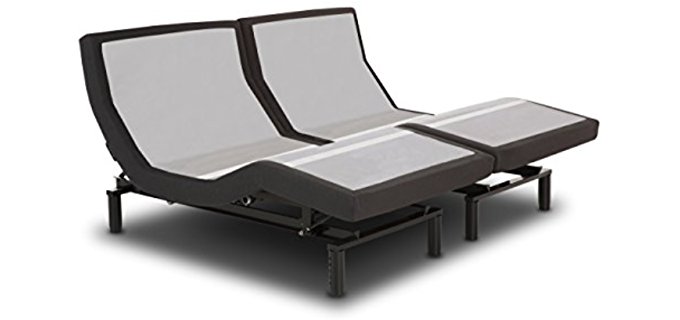 ---
Can I Use Any Mattress For My Adjustable Bed?
The answer is no!
Adjustable beds need mattresses that can move at odd angles, which means the mattress has to be flexible.
Air mattresses, water beds, or spring mattresses will not do the trick.
The only mattresses that work for adjustable beds are foam ones.
However, a high-density foam mattress will likely be too hard to warp and bend with the bed still. You are looking for a visco-elastic foam, such as memory foam.
Memory foam is the best material for adjustable bed mattresses, but it also happens to be one of the best materials for you and your posture!
When you sleep on memory foam, it allows your body to create a unique impression, which holds your spine in the correct alignment all night long.
For back and side sleepers, memory foam alleviates pressure points and can help you wake up feeling utterly rejuvenated.
When memory foam is combined with an adjustable bed system, nighttime comfort is taken to the next level!
---
Tips & Tricks To Fully Enjoy Your Adjustable Bed
These are some tricks that an inexperienced adjustable bed buyer may not know about:
Adjusting One Mattress or Two – Most adjustable beds come in King and Queen sizes, but they do not allow you to adjust the bed in one piece. This makes sense because you and your spouse may have different sleeping preferences. For those who are single or have larger bodies, this can be an issue. One can purchase a wire-up attachment to make both sides of the bed function as one unit, which will allow you to use one mattress on top of the whole bed (as opposed to two twin sizes).
Mattress Brackets – Sometimes an adjustable bed just fails in terms of mattress sizing. What if you want to place a whopping 14-inch mattress on your adjustable bed, which puts a limit up at 12 inches? You can purchase mattress brackets to hold the larger sized mattress in shape and enjoy the extra thickness.
Electronic Adjustability – 90% of adjustable beds these days are powered by remote control, but in the case that yours is not, you can also find one online to power your adjustable bed without much of a hassle.
---
Features of a Great Adjustable Bed Mattress
Some of the best adjustable beds and their mattresses have these top features inherent in them:
Multi-Layered – many memory foam mattresses have more than one layer to them, being topped by a softer layer of foam on top, firmer foam at the bottom, and various aerating foams in between. Usually, three or four layers tend to make the best mattresses, as in the leading Tempurpedic mattress brand.
Zero gravity – Some adjustable beds can take you into zero gravity position, moving your knees in line with your heart and lowering your head slightly. Your body is free from the force of gravity in this position, and you will feel close to weightless. The pressure alleviation has helped many to sleep deeper with improved blood flow.
Heat – For those of us living in cold climates, having a heated bed can be an absolute blessing. Many adjustable beds now include these features, allowing you to be as warm and snug as you like the second you jump under the covers.
Massage – Yes, some adjustable beds are now even incorporating a vibratory massage function at the push of a button. This is useful for those who suffer from back, hip, or neck pain, helping to remove pressure and allowing you to relax at home.

fully
---
Reviews: The Best Mattresses For Adjustable Bed
Here are some of the best adjustable bed mattresses and some of the best adjustable beds available on the market.
We hope you love the products we recommend!
So that you know, We may collect a share of sales or other compensation from the links on this page.
---
1
This is a firm feeling memory foam mattress that is adjustable base friendly and can be used with any adjustable bed in a suitable size.
It conforms to 8 inches of memory foam for the ultimate comfort and pressure relief with a beautifully detailed all-around cover made with four-way stretch fabric to optimize conforming capabilities.
The high-quality memory foam is naturally hypoallergenic and CertiPUR-Certified for quality craftsmanship and material.
---
2
This dual-layered mattress combines 2.5 inches of gel-infused and ventilated memory foam with a 7.5 base layer of high-density foam for a medium feel and excellent support.
The TENCEL blend fabric cover controls temperature and moisture levels to keep you cool and dry all night.
The memory foam used in the mattress is CertiPUR-Certified for safety and high performance.
Naturally hypoallergenic and designed to be compatible with an adjustable or original flatbed base.
---
3
This is an adjustable bed and mattress set with two sides that can adjust separately.
Offers up to zero adjustable gravity positioning.
The mattress consists of comfortable and plush memory foam with a durable and washable non-slip cover.
There is a cooling gel infused in the 12 inches of memory foam to keep you cool and comfortable.
---
4
This bed is made up of two adjustable beds and mattresses so that you and your partner can each enjoy choosing a custom sleeping position.
Each mattress is 14 inches thick and made from four premium foam layers.
Cooling gel memory foam absorbs heat and directs it away from you, helping you sleep without any temperature disturbances at night.
The beds can make an S shape, allowing you to sit up in bed and relax.
Ideal for those with sleep apnea or snoring that they wish to ameliorate.
The adjustable base is remote control powered and comes with several fantastic massage settings and heat!
---
5
The bed base offers an independent head incline of 0-60 degrees and a foot incline of 0-45 degrees.
It also offers dual USB charging stations on both sides of the bed base.
The memory foam mattress comes infused with Bamboo Charcoal and Aloe Vera.
It is designed to eliminate odors, wick away moisture, and cradle the body while you sleep.
---
Index Table: Top Mattresses For Adjustable Beds
---
---