Mothers have been using the swaddling method on their babies for thousands of years, and this is a method that truly works for newborn and young babies.
The swaddling methods make them feel secure and comfortable, just as they did in your womb for the first month or two after birth.
The right swaddling blanket for your baby is quite important, as you want something in comfortable yet durable materials that is durable and regulates temperatures.
Sticking to natural fabrics is always the best option, yet why not invest in the best Organic Swaddle blankets for your baby.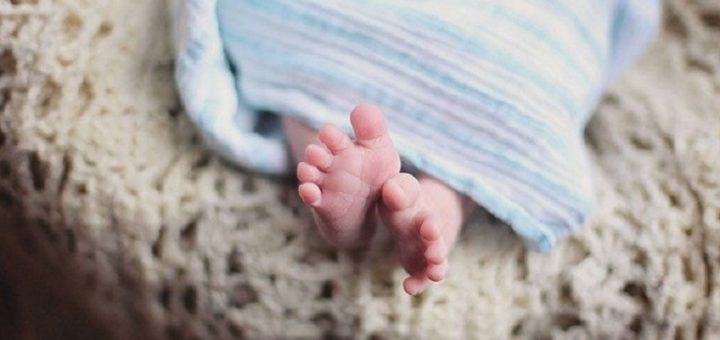 ---
Swaddling Your Baby
You may have noticed the first time that you visited your baby in the hospital nursery that they are neatly wrapped in a little package, only the head sticking out.
Well, this is called a swaddle method, which mimics the feeling of the baby still being inside your womb. It stops them from becoming cold, scratching themselves, and also becoming frightened and stressed out for the first while.
Swaddling is an important way of keeping your baby safe and secure as they adjust to life outside of the womb.
Here is a step-by-step method on how to swaddle your baby.
Keep in mind that you will need a small and lightweight blanket for swaddling, many times called a receiving blanket.
How to Swaddle Your Baby with a Blanket;
Find a Flat Surface – You need a flat and even surface to wrap you, baby, up in their swaddle blanket. Spread the blanket out on the flat surface in the shape of a diamond with the corner Ponting up. Fold the Top corner down at around six inches.
Place Baby on the Blanket – Place Your baby face-up on the blanket. Their head should sit just above the folded top corner of the swaddle blanket.
Straighten Your Baby's Left Arm – Straighten your Baby's left arm down, take the left side of the blanket, and fold it over her left arm and chest. Tuck the blanket underneath her right arm and back. At this point, the left arm should be covered and the right arm open.
Bring Up the Bottom – Now fold the bottom corner of the blanket up over your baby's body and tuck it under the first fold, under her chin. Straighten your baby's right arm and pull the right side of the blanket over her body and tuck it in at the left side.
Secure Your Blanket – Loosely twist the bottom of the blanket and tuck it in underneath your baby, making sure there is enough room for her to straighten her legs. The swaddle needs to be snug but not too tight. You should be able to place two to three fingers between the blanket and your baby's chest. Your baby likewise needs to be able to move her legs freely.
---
Why Organic fabric is Better Than Regular fabric
Whether you choose cotton, bamboo, or other natural fibers for your baby's swaddle blanket, organic is always the best quality and safest choice, as you are assured of excellent quality, eco-friendly and clean fabric.
A young baby's skin is exceptionally fragile and sensitive, and many babies today struggle with allergies and skin conditions such as eczema. In this case, a more natural fabric, especially an organic fabric in their swaddle blanket and clothing, which are items close to their skin, becomes vital.
The difference between organic and natural fabric is in the way that it is farmed. Organic materials such as cotton and bamboo fabrics are constructed using cotton and bamboo plants that are farmed using no pesticides, hormones, or any other chemical additives to give you the purest form of fabric that has the least impact on the environment.
Better Quality – Organic swaddle Blankets are exceptional quality and contains no nasty chemicals.
Better for Baby's Skin – Organic and natural fabrics are safe for allergies and on a baby's sensitive skin.
Environmentally Friendly – Because organic farmers do not use any chemicals or pesticides, their products are also environmentally friendly.
Easily Sustainable – Organic fabrics such as bamboo and cotton are easily sustainable without any modified ingredients.
---
Features of a Good Organic Swaddle Blanket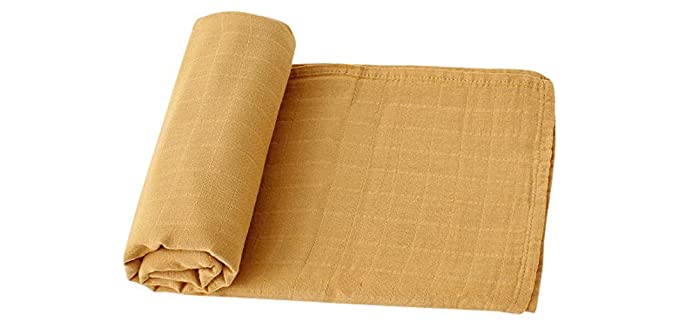 Materials – The organic Swaddle blanket can consist of organic cotton, bamboo, or viscose bamboo. I would generally not recommend wool blankets as swaddle blankets for a baby.
Soft and Breathable Design – The design of the blanket needs to be very soft and breathable. The blanket needs to be a looser weave and very lightweight, You can always add a warmer blanket on top.
Colors – Chose neutral and calming colors and prints rather than bold and bright colors. Most swaddle and muslin blankets are available in earthy and neutral colors. Soft pastels in blue and pink to suggest gender are likewise ideal.
Good Quality – Most organic swaddle blankets will be good quality, so that is one less thing to worry about.
---
Reviews: The Best Organic Swaddle Blankets
In our comprehensive list, we have some of the top brands and models of Organic Cotton Swaddle Blankets for your baby;
We hope you love the blankets we recommend!
So that you know, We may collect a share of sales or other compensation from the links on this page.
---
1
The Fern and Avery organic swaddle blanket is perfect for your baby.
It is a soft and breathable design.
The blanket consists of natural and organic cotton and bamboo.
It is also temperature-regulating and moisture-wicking.
---
2
From Mushie, we have a Muslin blanket for use as a swaddle blanket that is organic.
It consists of 100% pure organic cotton and comes in neutral colors.
Ideal for swaddling and nursing your baby.
The blanket is likewise machine washable.
---
3
The SwaddleMe blanket is also fully organic.
It is 100% cotton from organic origins.
The swaddle blanket has the perfect design and fit.
It is available in three neutral color options.
---
4
The Burt's Bees swaddle blanket is 1005 organic cotton.
It is ribbed and has a single-ply thickness.
There are a few neutral colors available.
The blanket likewise comes in a set of two blankets.
---
5
Xmwealthy offers you their organic saddle blanket.
As you will see, this is a cotton and bamboo blend bamboo of organic origin.
The swaddle blanket comes in a pack of four blankets.
It is very versatile and the ideal size.
---
6
The LifeTree Swaddle blanket is likewise nd organic cotton.
The blanket is a larger 47 by 47-inch size muslin-type blanket.
It comes in a few neutral earthy colors that are relaxing for the baby.
The organic swaddle blanket has multiple uses and a soft texture.
---
Index Table: Top Rated Organic Swaddle Blankets
---
---