Some of the links in this post are affiliate links. This means if you click on the link and purchase the item, I will receive an affiliate commission at no extra cost to you. All opinions remain my own.
Feel relaxed with the use of bed rails for your toddlers. While your kid transitions from a cot to an actual bed, you can be assured with doubly safe bed rails that there will be no falling off the couch or crying at nighttime.
Check out the best toddler bed rails that will let you have peace of mind while doing household work and safety for your child.

---
Buying Considerations for Toddler Bed Rails
One Size – You can pick from different bed rails made of metal and versatile memory foam that can fit multiple beds with ease.
Accessibility – Look for a bed rail that comes with an easy-to-use setup and requires little to no installation making the product accessible to set up single-handedly.
Child-Proof – Pick a safe variant for easy child-proofing of any bed for your toddler to have a safe and free space to play. The bed rail must not have any blunt edges or material that may harm the kid and must be suited to any sheets like crib sheets.
Transitioning – Choose to make your child feel comfortable and safe with the smooth transitioning to a bed with rails from a cot with an easy-to-use bed rail.
---
Pros and Cons of Bed Rails for Babies
Safety – You may stay assured that your toddler won't fall out of bed with the extra safety of bed rails
Versatile – The bed rails are versatile to fit various sizes of the bed perfectly.
Metallic – Metallic frame can sometimes be a bit constricting in movement and usage.
Supervision Required – The bed rail requires a little supervision as the metal parts can sometimes get stuck. If a part goes missing or is not functional anymore, immediately stop using it to avoid accidents.
---
Features of a Good Bed Rail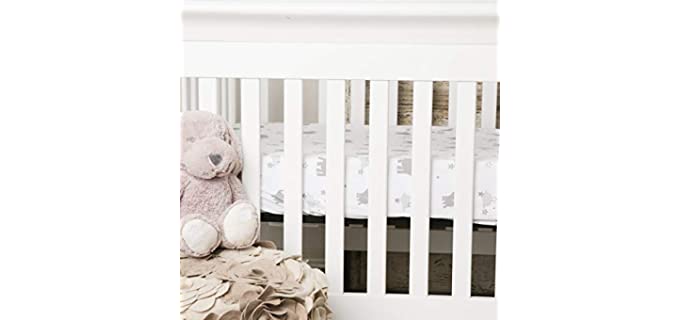 Durable – Since you will be using toddler bed rails for quite some time, look for durability in the product and see that it is easy to carry and move around without affecting the functionality.
Child-safe – Looking from a safety perspective, the bed rail should be safe for your child in and out of bed. So, look for a smooth functioning bed rail.
Soft to touch – It can be a hassle to be constricted by metals. You can pick a foam version as well for a soft bed rail.
Easy Assembly – Make sure your bed rail is easy to install and assemble without too much use of tools. Additionally, it should be safe and quick to pull down when needed.
---
Reviews: Best Toddler Bed Rails
Listed below are the best toddler bed rails that we have curated for you.
We hope you love the products we recommend!
So that you know, We may collect a share of sales or other compensation from the links on this page.
---
1
Give your child extra support with the reinforced anchor bed rails and help them sleep freely.
The extra-long bed rail is easy to set up without any tools and assembly.
Moreover, you can wipe the rail cover with soap and water to ensure it is dirt-free over the use.
The bed rail is easy to remove while getting on and off the bed, increasing safety.
If your kid moves around a lot in sleep, you can feel at peace with the extra-safe bed rail surrounding them.
The rail cover is safe to wash in the machine for your convenience.
A strong steel body frame comes with anchoring straps that fit perfectly on various beds' sizes.
---
2
With a double safety bed rail, you can be doubly sure for your child to sleep alone safely.
Additionally, two knobs need to be pushed up to fold the rail down to get extra safety.
You won't need to spend hours assembling the bed rails as they require a minimum and quick assembly.
The railings will stay in place even while your child freely moves through the night.
Don't worry about your toddler falling out of bed while crawling and playing.
The bed rail is versatile enough to work with various beds around the house.
Let your child have an easy transition from a crib to a bed with easy access.
---
3
The convertible design of the bed rail provides extra level safety to your toddler.
You can install the bed railing yourself as it requires no tools and assistance.
Be sure about your child's safety with the lead-free paint used without any phthalates.
Constructed using durable steel and heavy-duty fabrics, the rail will last you for a long time.
Even if your mattress is thick, you can still ensure the rail is long enough to fit the bed.
The safety latching is strong and secure to hold up even with the jumping around the bed.
---
4
Easy to set up and suitable for different-sized beds is a perfect fit to keep your child from falling off the bed.
The steel frame is complemented with a soft, breathable fabric that is washable.
You won't have to be concerned about supervising your child every single minute of the day.
Moreover, your child can move freely and enjoy playtime in your bed with added safety.
Even you can sleep with peace of mind, not worrying about the safety of your child.
The product claims to be durable and strong, even for super active kids.
---
5
The innovative soft foam bed rails design doesn't obstruct movement and lets your child enjoy bedtime freely.
You don't need to fret over the installation as the product comes with extra long soft cushions that need to be tucked under the mattress.
No clumsy metal braces surround your child, which adds even more safety.
You can child-proof any bed with these extra-long and non-slip foam bed rails.
Prevent falling off the bed with non-toxic, lead, and phthalates-free bed rails that are a safe choice for your kid.
Unlike their metal counterparts, soft foam rails are easy to climb over and sit on.
---
6
The thick memory foam in the bumper rails is fit to provide your child extra safety through the night.
Compared to a metal-framed bed rail, the foam bumper-style bed guards are more convenient to use.
The cover comes with anti-slip silicone-based fabric that makes the bumper stay in place even while your child moves freely.
Your child will have a deep well-rested sleep all night with a sense of safety around.
This bumper rail is versatile and can fit all sizes of beds as your toddler grows. So, it is a good investment.
---
7
Dream on me offers you a mesh security rail for your toddler.
The fit is ideal for most bed sizes.
The mesh is breathable and allows for better viewing.
It is durable and well constructed.
---
8
This is a soft foam bed bumper for toddlers.
More comfortable and less constraining than a bed rail.
It is a soft foam with and hypoallergenic cover.
Contains Certi-Pure certified foam.
---
9
The Baby Guard bed rails ensure your toddler's safety.
It is extra-long and tall and will fit king and queenen-sized beds.
Ideal for toddlers and comes in three sides.
---
10
The Munchkin bed rail fits larger bed sizes easily.
It offers safety and peace of mind for toddlers sleeping in your bed.
The rail is durable and secure with a quality design.
Easy to install and use.
---
Index Table: Top-Rated Toddler Bed Rails
---
---