Some of the links in this post are affiliate links. This means if you click on the link and purchase the item, I will receive an affiliate commission at no extra cost to you. All opinions remain my own.
For people who spend 8 hours a day in bed, finding the best mattress that fulfills all their requirements can be a tough task. However, your tough task can become considerably simpler with our handy guide to finding the best mattress for yourself. Read on to find out more.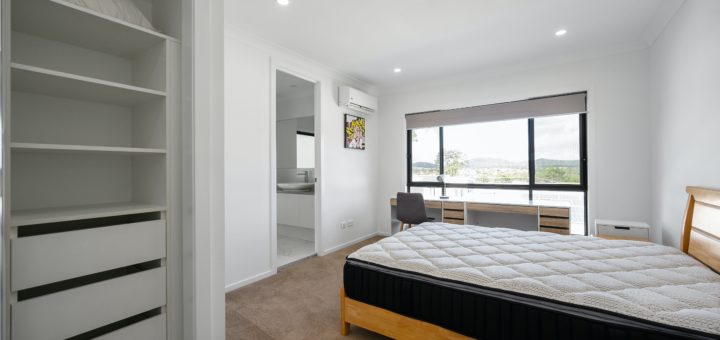 ---
Choosing the Best Mattress: Type
Choosing between a variety of mattress types can be a dizzying experience. However, we have broken it down for you in bullet points.

Foam – Foam mattresses comprise entirely of foam, and no coil. The foam mattresses are designed to contour the body for optimum support. This is especially true for mattresses using Memory foam as the base. Due to these qualities, these mattresses are exceptionally good at providing pressure relief. Moreover, they also allow for isolated motion, meaning you won't feel it if your partner moves. This quality makes it the ideal choice for couples and sleeping partners. However, foam mattresses tend to retain a lot of heat. These mattresses are the ideal choice for side sleepers.
Innerspring – Innerspring mattresses come with coils inside them. The coils provide the base support, although there are layers of other materials as well. However, as you can imagine, these coils are not the best way to provide support. Therefore, innerspring mattresses, though bouncy, do not provide pressure relief or any considerable motion isolation. Innerspring mattresses are economical, making them ideal for people on a budget. Moreover, these mattresses are a good fit for stomach and back sleepers.
Hybrid – Hybrid mattresses combine innerspring and foam mattress functionality, allowing you to get the best of both worlds. Such mattresses comprise an innerspring structure for core support and layers of foam for support and comfort. In some designs, the comfort layers in the mattress can sometimes be made with Latex or even micro-coils instead of foam. Hybrid mattresses provide body contouring, low heat retention, and average motion isolation with a little bounce. With these qualities, hybrid mattresses are suitable for every sleeping position.
Latex – A mattress is called a Latex mattress when all the layers are made with Latex, as opposed to a hybrid mattress that has some layers of Latex. Latex mattresses provide maximum bounce, more so than even innerspring mattresses. They provide an average amount of contouring to the body and moderate pressure relief. Moreover, they are durable and long-lasting. Latex mattresses are often found with eco-friendly organic and natural Latex, making them the ideal choice for environment-friendly people.
---
Choosing the Best Mattress: Size and Firmness
Size is an important consideration when finding the best mattress for yourself. Not only do you need to decide the size of the mattress you need, but you also keep in mind the size of the room and the bed frame, along with your size. Different mattresses react differently to weights and have a specific firmness level for every weight class.

Your Size – Your weight should determine the firmness of the mattress you should opt for to ensure it doesn't sink under you. On the other hand, neither should the mattress feel too firm under you if you're not heavy enough to make a dent.
For sleepers under 130 pounds, you can opt for a mattress anywhere from extra soft to medium soft.
If you are in the 130 to 230-pound range, the ideal mattress for you can be medium, medium-firm, or firm.
The best choice for people weighing more than 230 pounds would be an extra firm mattress.
Bed / Room Size – A mattress that's too high or too wide can overshadow any other furniture items in the room. At the same time, if the mattress is too thin, it can compromise the comfort factor. Moreover, although it seems obvious, you should measure your bed frame properly before buying a mattress. If you're buying the bed frame after the mattress, it's best to stick with general and common mattress sizes to reduce complications afterward.
Mattress Size – The width and depth of the mattress is a matter of personal preference. For people who like a soft mattress, greater depth would be a good choice. In contrast, people requiring firm support can get away with an average-depth mattress. However, if you make the wrong choice with your mattress, you can always fix the situation using a mattress topper.
---
Choosing the Best Mattress: Sleeping Position
How comfortable the mattress feels also depends upon your sleeping position. A comfortable mattress for a side sleeper may not be very comfortable for a back sleeper, and vice versa.

Side Sleepers – Side sleepers require a mattress that provides ample support and body contouring. This is because, for side sleepers, their pressure points are exposed, especially at the hips and shoulders. If the mattress is too soft, it won't have enough support to keep the body aligned, resulting in discomfort and pain. Whereas if the mattress is too firm, it can be too hard for the body to make space for itself, resulting in misalignment, pain, and discomfort. The ideal choice for side sleepers is a medium to medium-firm mattress, preferably with memory foam, as it provides ideal body contouring.
Back Sleepers – For back sleepers, most of the pressure falls on their lower back. Therefore, they need a mattress that will provide proper spinal support without dipping too much. If the mattress is too soft, the mattress can sink underneath, resulting in strain on the spine. On the other hand, a too-firm mattress will not contour to the spine, resulting in discomfort and pain. For back sleepers, the ideal choice is a medium-firm to firm mattress. Moreover, a hybrid mattress that provides average support and contouring can be a good choice for back sleepers.
Stomach Sleepers – Like back sleepers, stomach sleepers also put the greatest pressure on the lower back. Following the same logic, stomach sleepers require a medium-firm to firm mattress to provide optimum support and comfort. The mattress should be firm enough to ensure it doesn't sink under the sink and keep the spine aligned and soft enough to ensure it doesn't suffocate.
Combination Sleepers – Combination sleepers are the ones who don't have a fixed sleeping position; rather, they spend the night going from their back to sides. For such people, the mattress should provide all the qualities; comfort, support, and breathability. The best bet is to go with a medium-firm mattress, as it can accommodate almost all sleeping positions. Moreover, if the mattress is made of responsive material, such as memory foam, it can allow easy movement and contouring for proper support in every position.
---
---