Acid Reflux Mattress Wedge is designed for sleepers with sleep apnea, snoring, and Gastroesophageal reflux disease, or GERD.
Their sloping shape allows sleepers to rest their head and shoulders in an elevated position to reduce the symptoms of acid reflux.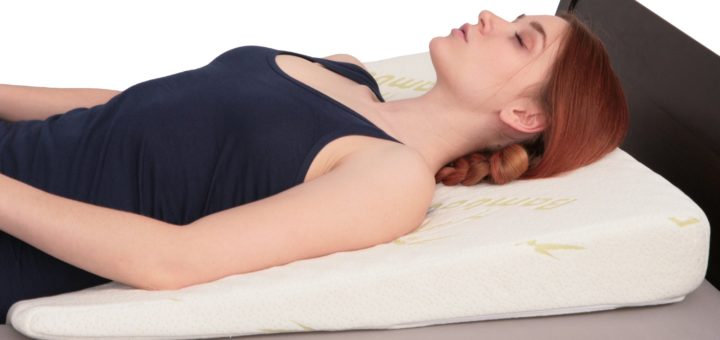 ---
How Does Acid Reflux Impact Sleep?
Scientists have found out several ways in which acid reflux interferes with a person's sleep:
Most obviously, people suffering from acid reflux may be awakened by the pain of heartburn, which occurs when stomach acid refluxes into the esophagus and irritates the esophageal lining.
If stomach acids reach the back of the throat or larynx, it causes a coughing fit or choking at night.
People might wake up when they experience regurgitation, wherein a small amount of stomach acid enters into their mouth.
Gastroesophageal reflux disease or GERD is a risk factor for sleep apnea, a disorder in which a person's breathing is interrupted during sleep. Researchers believe that refluxed acid causes the voice box to spasm, which blocks the airways and prevents air from flowing into the lungs.
---
GERD and Sleep Position
If you are a GERD sufferer, you can do a lot to improve your sleep quality simply by changing your sleeping position. Here's what doctors recommend:
Elevate the head of your bed about 6-8 inches to assist gravity in keeping the stomach acid from refluxing back to the esophagus or mouth.

Try to sleep on your left side. Side sleeping has been found to reduce acid reflux significantly.

Don't sleep on your back, mainly if you are obese. The more the pressure on your stomach, the more the chances for stomach acid to reflux back.

Don't sleep on your right side. This seems to relax the lower esophageal sphincter — the tight ring of muscle connecting the stomach and esophagus that normally defends against reflux.
Additionally, investing in a good Acid Reflux Mattress Wedge is another wise choice to reduce acid reflux symptoms or, at least, making them more manageable.
---
Acid Reflux Mattress Wedge Buying – Important Considerations
Below are some important factors to consider during an under-mattress wedge search when you suffer from acid reflux:
Sleeping position: Are you a side sleeper? If yes, you should buy a memory foam and latex mattress wedge.

Your weight: Sleeper's weight is closely tied to firmness preferences. Heavier than average (230+ pounds), people tend to prefer firmer surfaces because they don't sink too deeply and provide excellent support. On the other hand, lighter-than-average sleepers (below 130 pounds) often feel most comfortable on softer bed surfaces that conform to their bodies.

Size: The ideal acid reflux mattress wedge will be something that fits your bed just right. We recommend full-length under mattress wedge pads so they can give a gradual lift from feet to head.

Material: Typical materials are memory foam and polyurethane foam. The former gives excellent support for back sleepers, while the latter is a good choice for side sleepers.

Coil Type: Hybrid models offer better flexibility and support thanks to the pocketed coils.
---
Reviews: Best Acid Reflux Mattress Wedge
---
Avana Mattress Elevator is another best value acid reflux mattress wedge. It provides a 7″ to 1″ incline down the full length of the mattress.

This under mattress wedge offers a safe and drug-free solution that rivals more expensive models. The full-bed-length provides additional mattress stability and support.

Install under the mattress and get relief from the symptoms of Acid Reflux and GERD. Featuring Split design, you can easily place and remove it between mattress and box spring.

Avana foam is CertiPUR-US certified. Ships roll compressed to save on shipping and reduce carbon footprint – opens instantly without distortion.

---
2
The Acid Reflux Mattress Wedge from Reflux Guard is an ergonomic full-width under mattress pad the right inclination to elevate the Head-of-Bed for improving sleep quality.

Ideal for people with Heartburn, Gastroesophageal Reflux Disease (GERD) and other conditions that keep them up at night.

By introducing gravity to your system while sleeping, it also offers relief to indigestion, Barrett's Esophagus, Hiatal Hernia, Post Nasal Drip, Sinus Congestion, Snoring, and more.

Made with REFLUX GUARD© high-grade polyurethane foam, it doesn't slip as easy as pillows do. Just install it under the mattress and enjoy a restful sleep.

You can also take it with you while on travel and long trips with the 'retention strap' that is sold separately.

---
3
Meet the best under mattress wedge for acid reflux – Beautyrest Polyurethane Foam Mattress Elevator. By supporting your upper back and shoulders, it relieves common sleeping discomforts.

The highly resilient orthopedic pad is made of durable polyurethane foam. It improves your sleep posture, which can help prevent orthopedic health issues with your spine, neck, and shoulders.

Unlike traditional foam, Ring-of-Air technology is utilized to give better airflow so you can sleep cooler.

Known for its therapeutic benefits, and comfortable support, this under-mattress elevator is hypoallergenic, too.

Speaking of its price point, it is an affordable option that works well to relieve acid reflux, heartburn, snoring, and sleep apnea.

Cooling Gel Infused for less heat retention.

---
4
Next up on our list is Polyurethane Foam Under Mattress Elevator by Cardinal & Crest. It gently inclines your mattress to 5-inches and provides the gentle support you need at night.

Made from polyurethane, this under-bed mattress wedge is 100 percent hypoallergenic and made for long term durability.

The mattress wedge gives additional mattress support and head and shoulder height. That means you can bid farewell to acid reflux.

With this, there is no place to fall off on the sides. The gradual lift from feet to head it offers is perfect. You can actually feel as if you were laying almost perfectly flat.

---
5
The Mattress Genie ISS is an inflatable acid reflux mattress wedge that gives perfect inclination. Perfect for those who suffer from Acid Reflux, GERD, Heartburn or other Digestion symptoms.

Also, this elongated 48" length inflatable bed wedge provides excellent support for your entire torso and hips.

The best part – easy installation and removal. Simply deflate the Genie when you want to sleep flat and inflate when you want to rest or relax on an incline.

Depending on your preference, you can inflate and adjust the elevation anywhere between one to eight inches.

It comes with a hand-held remote to light up in the dark allowing for easy mattress wedge adjustments.

Speaking of the carrying capacity, it can withstand up to 1000lbs of pressure.

---
6
A quality designed Memory foam wedge pillow top for your mattress with a foam base.

It comes with a comfortable and durable cooling bamboo cover.

Ideal for preventing acid reflux and aid in better posture.

Made from non-toxic and hypoallergenic materails.

---
7
The Travelwedge pillow is the ideal size and shape to use as a travel mattress topper.

Wedge style to prevent acid reflux and offer better support.

An inflatable mattress that is portable and easy to travel with.

Very durable materials and construction.

---
8
A pain-relieving foam mattress that also offers excellent acid reflux prevention.

Wedge style mattress topper pillow in a large triangular size.

Multiple uses and very versatile.

An easy to clean removable and machine washable cover.

---
9
The Reflux Guard Wedge is your primary defense against acid reflux at night.

This is a high-quality foam wedge pillow with a comfortable design.

The natural cotton cover is breathable and machine washable.

The wedge will help you breathe easily and prevent acid reflux spells when sleeping.

It is available in a twin and ing sized option.

---
10
The Abung Wedge mattress is a high-density memory foam design for enhanced sleep.

Sleeping at an incline angle helps you to breathe easily and also prevents acid reflux.

This wedge design has an ergonomic and comfortable shape with plush and comfortable memory foam.

The wedge also comes with a durable and washable cover.

---
11
From Nova Medical products, we have the ideal ergonomic Reflux Prevention Wedge, mattress pillow.

Available in different thickness options for your comfort requirements.

The elevation cushion has an angled slope and can be used for lying down or sitting up and reading.

This pillow can also fold into a versatile pillow table.

There are three slope elevations for your specific needs.

---
Index Table: Top Rated Acid Reflux Mattress Wedge
---
---