Air mattresses are versatile mattresses that answer one crucial modern problem: lack of space! People usually get the best air mattress for guests' rooms because it's convenient to whip out and inflate for a temporary bed setup.
Read further to learn about the best air mattresses for guests, things you probably didn't know, and some of the best air mattress features.
---
Benefits of Purchasing an Air Mattress for Guests & Travel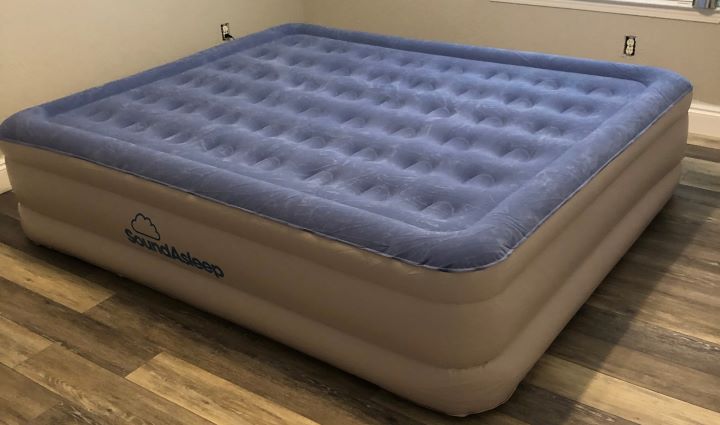 The obvious benefit of buying the best air mattress for your guests is that you do not need to have the rooms necessary for an extra bed or two when the house is empty.
Most air mattresses are easy to deflate and can conveniently be folded up and stored for later use while freeing space.
That extra space can be used and turned into a makeshift bedroom as you need it.
Other benefits of using air mattresses include traveling anywhere with your favorite bed!
Camping suddenly becomes much more comfortable.
An air mattress is also brilliant if you are a picky traveler and do not like to sleep in other beds – blowing up your favorite air mattress in the hotel room could be the ultimate solution to this problem.
If you sleep on your air mattress permanently, it would be as if you never left home.
---
New! – Auto Inflate Air Mattress Bed
---
Considerations to Make Before Buying an Air Mattress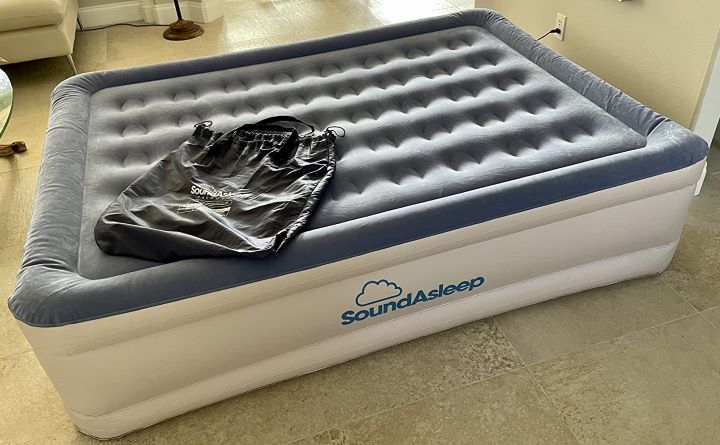 Before you buy an air mattress for your guest room or travel, you need to understand a little bit about how an air mattress works.
Temperature – it is a well-known fact that air mattresses get cold during the night. It is so cold that users often decide to buy an electric blanket or a warm mattress topper for their air mattress. You may consider this and look at our prime selection of mattress toppers.
Air Pressure – the temperature also has an effect on air pressure. When it gets hot, the air will expand and contract when it gets cold. This means you will not stop the mattress from deflating for a minute at night. Similarly, it will expand a little bit during the day. To counter this, it is recommended not to over-inflate the mattress and inflate it during the day when the room temperature is higher (as opposed to nighttime). Also, remember that the moment you get on top of the mattress, you will create more air pressure, which is another reason you should never over-inflate it!
The Opening – this is the part of the air mattress that accepts air when you inflate it. This is usually the first part of the mattress to get a puncture, so be careful when inflating your mattress. Patience is key here! On the same note, ensure the mattress is on a surface that will not puncture it, and fold it up carefully so as not to scratch it when storing your air mattress.
---
Top Features in the Best Air Mattress for Guest Room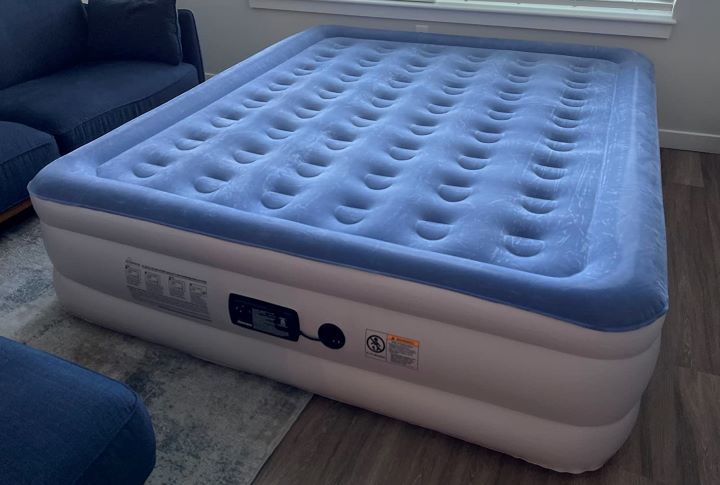 Here are 5 of the top air mattress features of air mattresses reviewed:
Internal Pumps – in the old days, we had to pump our air beds by hand manually. Nowadays, internal or built-in air pumps are the most attractive option. These air mattresses come with a pump on the inside, operated by a wall plug or battery. Push a button and watch it inflate! Some of these pumps can be loud, so finding a silent one is a bonus.
Raised Platform – Air mattresses come in different shapes and sizes like ordinary mattresses. Some have a double mattress platform to emulate a full-sized bed, while others come on legs. Single-layer mattresses with a lower height are usually better air mattresses for camping or travel.
Smart "Never Flat" Technology – the latest air mattress technology allows you to select how firm you would like the mattress to inflate itself to, with different sleep profile options. In some cases, you will not be able to tell the difference between a spring coil mattress and a fully inflated firm density air mattress!
Rechargeable Pumps – this is a feature top-quality portable air mattresses have, allowing the battery-powered electrical pump to be recharged. A rechargeable pump is more of a feature to look out for if you are camping and do not have an external power source, although this will come in very handy when having guests over during a power failure.
Memory Foam – even air mattresses these days come topped with some of the bed mattress material currently known to man: memory foam. Memory foam creates an exact contour of your body, yet unlike the air mattress base, it supports a healthy sleeping posture.
---
Reviews: The Best Air Mattresses for Guest Room
Please look at our selection of some of the best air mattresses for guests.
We hope you love the products we recommend!
So that you know, We may collect a share of sales or other compensation from the links on this page.
---
1
With this mattress's never, never-flat technology, you can rest comfortably without worrying about deflation at night!
Operated by two pumps, the mattress is smart enough to adjust the air pressure accordingly to your position and weight during the day or night.
Both pumps are completely silent, allowing you to inflate it anywhere, anytime, without disturbing the peace around you.
The mattress is designed to alleviate your back's pressure points, thanks to the many air pockets in the design.
Choose between medium, soft or firm, and have the internal pumps do all the work for you!
The outer material is soft to the touch and will allow for a sweat-free night's rest.
---
2
This air mattress is one of the market's most comfortable portable air beds.
The dream series air mattress is a treat for any guests that come to stay, with its internal one-click pump! Don't bother with manual air pumps again.
This air mattress's comfort is of the best quality, incorporating comfort coil technology. The air fills especially inflatable coil sockets, emulating the best spring mattresses.
The cover is extra thick with multiple layers, minimizing puncture risk.
The mattress's bottom is made from an anti-grip material to ensure the mattress does not slip or slide around.
This air mattress is 100% waterproof and comes with a one-year guarantee.
---
3
This simple air mattress can be easily taken out of storage and pumped up instantly!
The heavy-duty PVC that this air mattress is made from ensures that it's hard to cause a puncture.
The welted top layer design will help you sleep easier at night and alleviate pressure off the spinal column.
Completely portable and space-saving – ideal for camping, travel, or when you have unexpected guests arriving for the night.
Coleman's signature double lock valve has been incorporated into the design, leaving less room for air to escape.
You will need an external pump to operate the mattress.
Comes with a 1year airtight warranty.
---
4
This is one of the most affordable air beds that money could buy without compromising the essential convenient air mattress features.
This mattress is skinnier than the others and will allow for even more space to be saved.
This is the ultimate bed on the go, lightweight and completely portable, even when inflated.
The comfortable coil system will make you feel like you are sleeping in the air!
Comes with an attached "wrap n roll" system for easy storage.
Don't worry about air leaks with the double lock valve system, ensuring the air stays in and the moisture stays out.
---
5
The EnerPlex Air Mattress is a premium, waterproof air mattress usable as a floor mattress at home, a portable bed for traveling, and even a camping mattress.
Plug in the built-in pump and inflate it to a full mattress, or use the battery pack or car adapter to inflate on the go.
Moreover, the puncture-resistant PVC construction provides premium comfort top flocking to prevent leaking and provide non-slip stability.
Also, using the in-built pump allows height adjustment to your need.
---
6
The Serta Raised Airbed is known for its never-flat pump design that will not flatten at night.
This is a luxury air bed with a raised height and a plush and soft pillow top design. A convenient auto shut on and off feature turns the pump on and off when fully deflated or inflated.
A durable, soft, comfortable top for sleeping on and a reliable built-in air pump.
---
7
The Insta-Bed promises you an airbed that will never flatten, as it comes with an integrated pump technology that pumps in less than 4 minutes and monitors the air pressure through the night.
There is a built frame for the support that unfolds as the bed is pumped up.
Made from puncture-resistant and waterproof materials.
The top is covered with durable soft suede.
---
8
An eco-friendly, highly durable, and therefore the best air mattress for guests comes in an extra-large King size ideal for couples.
It has a built-in electric pump that keeps the mattress inflated and deflates it within four minutes or less.
Made from very thick and durable materials that are completely waterproof.
The top is flocked and made from a smooth suede-like material for comfort and safety.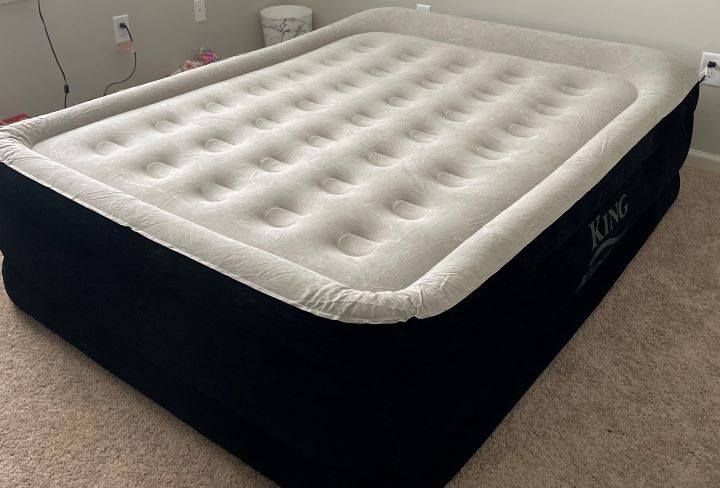 ---
9
This is a twin-sized inflatable mattress designed for the outdoors and indoors.
It comes with a soft flocked top that provides a luxurious sleeping surface.
The airbed comes with a hand-held battery pump that operates on cell batteries.
It has a 3-in-1 valve with an extra-wide opening and a weight capacity of 300 pounds.
---
10
This SleepLux Queen Air Mattress is designed with proprietary I-Beam construction.
It is composed of 3 durable layers and is designed to maintain its form and stay firm throughout the night.
The airbed promotes a healthy sleeping posture with a dense polyester mesh core between two durable PVC layers for ultimate back and shoulder support.
It comes with a built-in pump to inflate the mattress in just five minutes.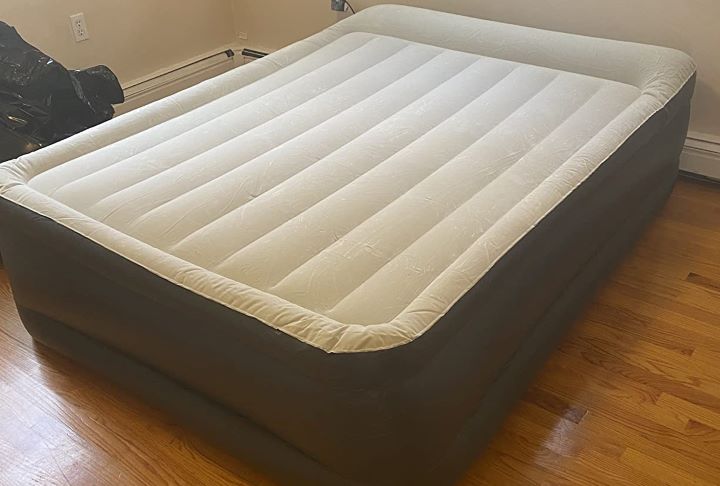 ---
Index Table: Top Rated Air Mattress for Guests
---
---