Some of the links in this post are affiliate links. This means if you click on the link and purchase the item, I will receive an affiliate commission at no extra cost to you. All opinions remain my own.
Air mattresses or air beds are among the best choices for bedding on your next camping trip.
This buyer's guide addresses how an air mattress can benefit (more than just being optimal for camping), buying precautions when purchasing an air mattress for camping and some of the best available air mattresses.
---
Benefits of Air Mattresses
Aside from being optimal for camping, air mattresses offer various additional benefits that may make you want to sleep on them permanently!
Lightweight – Air mattresses are lightweight once deflated, making them very portable. This is the main reason why they're great for camping purposes.
Fully Adjustable – It is a fully adjustable air mattress, if you want it to be more firm, all you have to do is fill it with more air or release more air if you wish for a softer mattress.
Provide Great Orthopaedic Support – Many air mattresses nowadays provide some of the best orthopedic back support, being able to adjust to your exact shape. They achieve this by filling up different pressure zones in the mattress. Many have bought an excellent quality air mattress for camping or guests, but after trying it for themselves, they switched to sleeping on an air bed permanently!
Never Need To Be Flipped – Air mattresses never need to be flipped, and there are no hassles concerning 'bottoming out' or excessive sagging after years of use, regardless of your shape, weight, or size.
---
Air Mattress for Camping Buying Precautions
There are a few precautions that we have outlined below that one should take note of before committing to buying an air mattress for camping.
Space – While all air mattresses aim at saving space and being portable, some of the more deluxe air mattresses may take up more space when folded up in your car than you realize. If you are camping with the whole family, packing in several air beds can crowd things. Inside a roomy RV, air mattresses are ideal.
Puncturing – Many quality air mattresses are built from resilient puncture-proof material. This does not mean that they are impenetrable, however. It can be a good idea to get some protection covering the floor of your tent if you intend on roughing it fully to prevent sharp objects from 'bursting your bubble!'
Batteries – Most air mattresses are electronically powered, either with a plugin pump or a self inflatable mechanism. For emergencies or camping without an RV, you will want to make sure your bed or pump runs off batteries, and you will want to bring extra batteries just in case! It would be useful to keep a manual pump handy if all else fails.
---
Characteristics of a Good Air Mattresses for Camping
Here we have listed five of the best air mattress for camping features:
Silent Inflation – Most self-inflating air mattresses are not completely noiseless, and some of them can sound like a vacuum cleaner! Silent inflation is a great benefit for those trying to get away from the peace of nature or for those who need to inflate their mattress without disturbing others in the vicinity.
Automatic Pressure Sensors – The most sophisticated air mattresses will automatically self-inflate or deflate throughout the night in response to your shifting around. This makes for incredible comfort and perfect sleeping, being more responsive than memory foam in many cases.
Firmness Options – Electronic air beds often allow you the choice of choosing what kind of firmness you prefer. When you select your firmness option, these top-quality air mattresses will ensure to keep the pressure at that level for consistent comfort.
Back Pressure Relief – Air mattress designs have gotten more intricate throughout the years of their use. Some have emulated pocketed coil inner springs or include multiple pressure zones to precisely alleviate pressure off your back, neck, sides, and hips while you sleep.
Breathable – Since most air beds are made from a form of inflatable plastic or rubber, it's important to get one that's covered in a breathable fabric. Without breathability, you will sweat excessively and likely overheat during the night. The fanciest air mattresses are covered in soft, breathable fabric layers that eliminate this problem.
---
Trending Air Mattress for Camping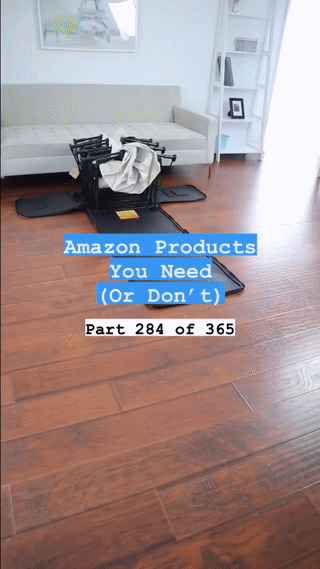 Just watch how easy to set up this air mattress.
This awesome air mattress is trending on Instagram with many good reviews.
It provides a soft and comfortable airbed that is perfect for toddlers and adults.
Here is a Link to buy from Amazon.
---
Reviews: The Best Air Mattress for Camping
Here is a closer look at some of the best online air mattresses for camping that money can buy!
We hope you love the products we recommend!
So that you know, We may collect a share of sales or other compensation from the links on this page.
---
1
This air mattress was designed for durability, made from an extra thickly padded material – ideal for camping!
The Comfort Coil Technology inside the mattress makes sleeping on top of it much more comfortable, with multiple air zones holding your shape as you sleep.
3 min inflation time guarantees more fun goes into outdoor activities and family time rather than setting up the campsite.
Includes a rechargeable pump that is easy to use and can be recharged at home or in your car at the campsite.
A Sure Grip bottom ensures the mattress doesn't slide around at night and keeps you firmly supported in one spot.
---
2
The dual motorized pump system is silent, not disturbing anyone when inflating or sleeping on the air mattress.
The air bed pumps maintain perfect air pressure while you sleep, keeping it at the firmness option you select before inflation.
A convenient auto shut-off feature turns the pump off when inflated or deflated, letting it rest until it needs to regulate the air pressure inside the mattress.
The double-height profile makes getting out of bed easier, especially for those who battle to stand from a lying-down position.
The mattress inflates in a quick 4 minutes without you needing to lift a finger!
The durable flock top is water and puncture-resistant and breathable, making it well-designed for camping or using in your home.
---
3
This air mattress makes camping a luxury, with a soft suede top and 100% self-inflatable.
Includes an inbuilt NeverFLAT pump for the best silent inflation, keeping the mattress at the perfect firmness all night long.
Choose your preferred firmness and let the mattress do the rest of the work!
This air mattress automatically inflates and deflates in 4 minutes and shuts off when the mattress is fully inflated or deflated.
An 18-inch profile provides easy access to the mattress and contributes to a plush sleeping surface.
Thirty-five air coils have been placed evenly inside the mattress for supreme comfort and back pressure relief.
---
4
This is a great air mattress for kids who enjoy feeling secure, and comfortable and are prone to rolling out of bed.
The 4-inch high inflatable wall allows children to remain sleeping in the bed all night long without falling off the edge of the bed.
Includes a fitted machine washable sheet that fits the mattress's unique styling.
It has an AC pump for convenient inflation – it plugs into your car or home and lets the pump do the rest.
The air bed is ideal for camping, with a highly durable cover.
The ridged design contributes toward firm-back support and stability that small children need (+4 years).
---
5
This heavy-duty airbed is inflatable and similar to a traditional bed.
It offers a double height and provides excellent comfort and support.
It has an internal inflator with LED remote fills and auto-shutoff when inflated or deflated.
The airbed features a dual-chamber design with 40 air coils, an extra-thick top, a bottom, and a waterproof top for durability.
---
6
Enjoy all the tranquillity the outdoors offers without compromising on sleeping comfort with this quality feel air mattress.
A double-height profile makes it easy to climb in and out of bed.
This mattress is convenient to wrap and roll, coming with an attached storage bag about the size of an average sleeping bag case.
This air mattress's puncture-resistant inner and outer design for camping makes it ideal for all occasions, including setting up on the bottom of your tent in the woods.
The air bed's inner design includes "comfort coils" that pocket the air to emulate innerspring coils, distribute your weight evenly, and alleviate back pressure.
This mattress needs an inflated pump and does not come with an inner pump.
---
7
This airbed has a built-in internal pump that inflates and deflates the airbed with a button's push.
It offers an approximate inflation time of 3 minutes.
The airbed is designed with flocked sides that are puncture and abrasion-resistant.
It offers a weight capacity of 300 pounds.
---
Comparison Table: Top-Rated Air Mattress for Camping
---
---