Some of the links in this post are affiliate links. This means if you click on the link and purchase the item, I will receive an affiliate commission at no extra cost to you. All opinions remain my own.
Whether it is for relaxing in your living room or for use when sleeping, we all sometimes need a lightweight and comfortable blanket.
The Cotton waffle Weave blanket is a lightweight and breathable blanket that is ideal more a variety of purposes and occasions.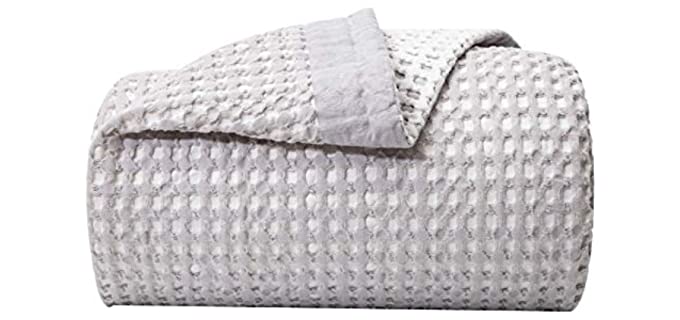 ---
Waffle Weave, Woven and Textured Blankets
Waffle Weaving fabrics, also sometimes known as honeycomb woven blankets, have a very distinct characteristic with three-dimensional patterns. This specific texture is created by a weaving process where there are warp and weft floats of various lengths to create raised rides, and in turn, a form of a grip pattern surrounds the plain weave patterns.
Although many waffle blankets can consist f polyester or microfiber fabrics, the most common fabric used in a waffle weave blanket is, of course, pure cotton.
Cotton is a much more breathable and absorbent fiber that has qualities that are enhanced by the unique surface texture of a waffle weave blanket.
A waffle weave fabric may have either a loose or a tighter weave which can create different weights effects in the fabric so that you may have a more dense and heavy blanket or a more lightweight and breathable blanket.
Waffle Weave Blankets – Waffle Weave Blankets are designed specifically to regulate body temperatures, thus why they are mainly cotton. The thicket outlines have a tendency to retain heat while the inner parts of the square are thinner and allow for ventilation. Thus you have proper regulating properties in a cotton waffle weave blanket.
Here are a few ways in which Waffle Weave Blankets compare to other types of light blankets;
Woven Blankets – Woven Blankets, on the other hand, do not have the waffle weave design, and they are more suited for layering when it gets colder. They are a more lightweight blanket with a regular weave.
Textured Design Blankets – A Textured design blanket is more useful as a decorative throw with a rougher texture. They can be used as a light blanket to cover yourself and provide adequate heat. The Throws are perfect for additional decor in your living room or bedroom, as well as for when you need something to cover up with quickly as it gets chilly.
---
Why is Cotton a Better Choice?
As you will notice, most waffle weave blankets consist of cotton because of the specific properties of cotton.
A cotton waffle weave blanket is always a good choice for a blanket when looking for something a bit more light.
Breathable and Cool – Cotton is a naturally breathable material that will help to keep you cool and regulate your body temperature. Cotton will also absorb your body heat in winter to keep you warm.
Great for Your Skin – Cotton is a natural material that is hypoallergenic and safe on your skin. It breathes well and is ideal for individuals with skin sensitivity or eczema.
Very Durable – Cotton is an excellent quality fabric that will be very durable and last quite a long time. The Cotton Waffle Weave Blanket is reasonably colorfast and can be washed in a washing machine.
Easy to Maintain – A cotton waffle weave blanket is extremely easy to maintain because it washes easily and dries quickly.
---
Features of a Good Cotton Waffle Weave Blanket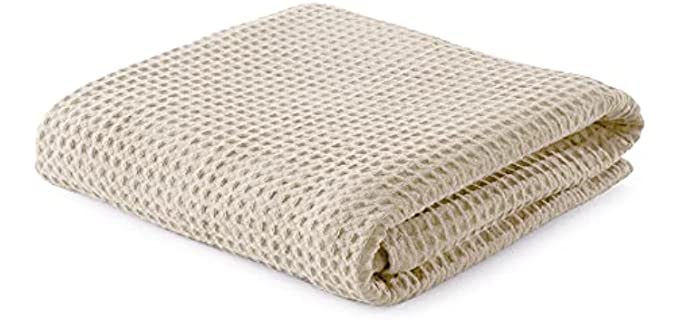 Waffle Weave Design – Waffle weave fabric, also known as honeycomb fabric, features a distinctive character with its three-dimensional pattern. The weaving process itself creates the texture — specifically, warp and weft floats of varying lengths create raised ridges that form a grid pattern surrounding the plain weave center.
Material – The Cotton Waffle Weave blanket will consist of pure cotton, and other fabrics may be used for the trim or hem. The banket will have the signature honeycomb weave design.
Size – You do get waffle weave blankets in a variety of sizes as a throw bed blanket, depending on the model and brand.
Colors and Options – Most of the waffle weave blanket models we have features are available in more colors and patterns from which you can choose. Make sure to choose color sand textures that will compliment your home decor and the color scheme you have at home. As these blankets are useful for use in any area of the home.
---
Reviews: The Best Cotton Waffle Weave Blankets
These are some of our top Choices in waffle Weave Design Cotton Blankets;
We hope you love the products we recommend!
So that you know, We may collect a share of sales or other compensation from the links on this page.
---
1
The PHF cotton waffle weave blanket is durable and fits a queen-sized bed.
It is a large 90 by 90-inch size.
The blanket has a waffle weave design and consists of pure cotton.
It is available in many color options.
---
2
The Bedsure cotton waffle weave blanket is lightweight and warm.
It consists of pure cotton and is soft.
The lightweight design has thermal properties to keep you warm.
Perfect for cooler weather conditions.
---
3
The HBLife premium waffle Weave Cotton blanket is simply ideal.
The blanket is 100% cotton and a twin size.
It has a waffle weave design and comes in more colors.
The blanket is lightweight and durable, ideal for multiple uses.
The design and colors will likewise perfectly suit your home decor
---
4
The Cotton blanket from Great Bay Home has a waffle weave design.
It is 100% pure cotton and of great quality.
Soft and comfortable and the perfect fit for any bed.
There are more neutral colors available.
---
5
The Brielle Waffle Weave Cotton blanket is a top favorite.
The blanket is 100% luxury soft cotton with a waffle weave design.
It is temperature regulating for all seasons.
There are three colors available from which you can choose, which are neutral and should suit any home decor perfectly.
---
6
The Solfila cotton waffle weave blanket is a thermal blanket design.
the Cotton fabric will keep you warm and well insulated against the cold
It consists of 100% natural cotton and has an elegant waffle weave design.
The blanket is a neutral light grey color that will go well with almost any background color and style.
Ideal for your bed or your sofa, as a decorative piece, or t throw over your legs for warmth.
---
Index Table: Top Rated Cotton Waffle Weave Blankets
---
---