Replacing Your Mattress that is worn out can be pretty expensive; a new mattress may likewise be challenging and uncomfortable at first. So why not invest in a plush, soft, and best feather mattress topper.
It will cost you a fraction of a new mattress price and provide you with a plush and soft sleeping surface.
---
Is A Feather Mattress Topper Good?
Feather toppers are perhaps best known for their luxury and softness, but several snoozers also cherish their additional support, breathability, and responsiveness. Here are a few pointers to make you a feather mattress topper convert.
Breathability – As far as breathability is concerned, Featherbeds tend to absorb minimum levels of body heat. This allows a person to get a good night's sleep without getting too hot or uncomfortable.
Luxurious Touch – There is no debate here that down feather products have superior comfort to their competitors. So, these mattress toppers provide the ultimate luxury you could desire.
Durability – Like most mattress toppers, feather one's last for about 2-3 years. However, if cared for properly, you can enhance their longevity.
---
Choosing the Best Feather Mattress Topper
A mattress Topper will add a significant layer of softness, cushioning, and support to your body additionally to your mattress. The Mattress topper improves your bed's quality and protects your mattress.
There are, however, a few aspects to keep in mind when choosing the best mattress topper for your bed, particularly when it comes to feather and Down toppers.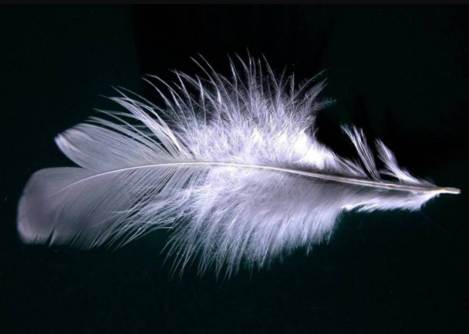 Price – Feather and Down mattress toppers are generally more expensive than foam or egg crate mattress toppers, and good quality and higher Grade Feather or Down fill will cost more. It is always better to go for good quality brands from good sources when it comes to Feather and Down Mattress Toppers.
Support and Firmness – The Firmness and loft will depend on the amount of fill; more fill will be firmer. Feathers rather than down also give a firmer loft, while down is much more loose and plush. If you are looking for a soft mattress topper for college dorm, feather material may just be perfect.
Cover – Cotton is a good choice in breathable and natural covers for your mattress topper. However, I would recommend a double cover or a cover type that prevents quills from sticking out.
---
Features of a Good Feather Mattress Topper
All good feather mattress toppers have key features that set them apart from the rest. Use these features to help you make an informed decision.
Double Cover – Good mattress toppers should have a double cotton cover for comfort and durability.
Feather Filling – It is filled with premium ethically sourced and well-cleaned Down or Feathers from a Goose or Duck.
Stitching – Neat and durable stitching is key to maintaining the longevity of the mattress topper.
Loft Quality – A superior loft in a good quality mattress topper should be comfortable and pliable.
---
Reviews: The Best Feather Mattress Topper
We have chosen some excellent selections in Mattress Toppers that have a feather fill provide softer comfort.
We hope you love the products we recommend!
So that you know, We may collect a share of sales or other compensation from the links on this page.
---
1
A plush feather topper and protector made from Microfiber filled with a premium soft down fill made from synthetic materials.
Choose this down alternative that creates an extra soft layer for plush comfort.
It has premium and highly durable Microfiber materials.
Completely hypoallergenic and comfortable.
Protects your mattress and adds a layer of softness.
---
2
From the Pacific Coast, we have their Luxe Loft Mattress topper made from Resillia Feathers that have been properly cleaned to be allergen-free.
Filled with pure and clean Resillia feathers.
This is the best feather mattress topper with a 100% 250 thread count durable and breathable cotton cover.
It is guaranteed to be allergen-free.
The Baffle Box design keeps all the feathers in place and creates extra room for a better loft.
---
3
This mattress comes packaged in a vacuum bag, so wash and dry it for a few days before using it.
This mattress topper's surface is 100% cotton making it comfortable, sturdy, and durable.
The filling in this mattress topper is breathable snow down alternative feather.
It is anti-bacterial, anti-dust mite, provides pressure relief, heat dissipation, and protects the spinal area.
This mattress topper is easily foldable and fits a mattress of up to 21 inches.
---
4
Another superb design in the feather topper adds softness without allergies.
This is the best feather bed topper that has a double cotton soft flannelette design.
It is machine washable and very durable.
Very breathable and quality construction.
Hypoallergenic and made to fit your mattress.
---
5
A Premium Feather and Down-filled blended mattress topper from Allied Essentials with a Hypoallergenic Cotton Cover.
This is the best feather mattress topper that will provide you a luxurious 5-star hotel experience at home.
It features a dual-compartment with turtle top construction and a sturdy goose feather layer.
Moreover, it has a 550 fill power down topper.
It is entirely machine washable and quick-drying that will re-fluff easily.
The topper is naturally hypoallergenic and has a 300 thread count with a 100% cotton shell.
---
6
The Rose Feather Luxury Feather Topper is filled with the most delicate quality feathers.
A 100% cotton fabric cover has a down-proof design to prevent feathers from sneaking out.
Box stitched and double-needle stitching, which prevents the filling from shifting.
Non-Live plucking is used to obtain the feathers, which is more ethical, environmentally, and animal friendly.
The feathers of this best feather mattress topper are cleaned and safe and allergen-free.
Easily machine washable and can be tumble dried on low heat.
---
7
This is a 100% imported, 233 thread count cotton cover.
It is a luxury 5-inch feather bed mattress topper.
Blue Ridge offers baffled box construction with two piped seams and a 5-inch gusset.
The pillowtop topper is filled with white duck down, whereas the featherbed is filled with waterfowl feathers.
This 5 inch down alternative mattress topper comes in a beautiful white, queen-size cover.
---
8
This is a revolutionary product designed with a double-layer space-filling. The top half is filled with goose down for temperature regulation and the bottom with soft feathers for durability.
With the baffle box construction, the bottom layer is sewn shut securely. This ensures the equally filled pockets hold their feather filling.
Plus, the topper cover is made of 400TC Egyptian cotton for a softer and more luxurious feel. Also, it prevents the feathers from leaking out.
---
9
Bedford Home's mattress topper is made with 100% duck feather is very plush, and adds a luxurious feel to any mattress.
In addition, the cover material of the topper is made of 233 thread count cotton, which makes it a highly breathable product.
Also, the box stitching prevents the feather filling from shifting or clumping up when used and maximizes fluffiness.
The duck feather will keep you comfortable in every season with its temperature regulation feature.
---
10
This is the best feather mattress topper that has a 233 thread-count, 100% cotton cover.
Duck feathers fill for a breathable and light feel.
Bluestone mattress topper comes in multiple sizes, such as twin, queen, and king size.
Pick this 4 inch feather mattress topper that comes in Twin with Cover Material: 233 and thread count 100% Cotton.
---
Index Table Table: Top Rated Feather Mattress Topper
---
---