Replacing Your Mattress that is worn out can be quite expensive; a new mattress may likewise be hard and uncomfortable at first.
So why not invest in a plush, soft and best feather mattress topper, which will cost you a fraction of a new mattress price and provide you with a plush and soft sleeping surface.
---
Feather Fill Types and Their Differences
You will come across the feather, Down, Feather, and Down, as well as a hypoallergenic down alternative option when it comes to Feather Mattress Toppers.
Each option has its pros and cons and works together to give you the best night's sleep on a soft and comfortable mattress topper.
Understanding Feathers and Down, you need to understand the parts of feather used from different areas of the animal to get a certain structure in your Feather Mattress Topppppppper. Down feathers are basically the Quill-less cluster feather on the tummy area, and the chest of the animal contains the soft, quick feathers.
Each of these feather types gives a different consistency and feel to the mattress topper. Then, the type of animal, Geese or Ducks, is used for their feathers.
Feathers Duck or Goose – Goose or Duck feathers are obtained from the wings or the back of the Goose or Duck, and each feather has a quill. This topper has a slightly firmer and slimmer profile and will slightly flatten over time.
Down Duck or Goose – Down from a Duck or Goose consists of clusters of quill-less feathers taken from the animal's chest or belly area. Down is very soft and plush, almost like cotton wool. The structure of a Down filled mattress topper will feel much looses and compress much more than a feather-filled topper.
Down and Feather Blend – To get the best of both worlds, I would recommend a Down and Feather blend option for Topper fill. Here you will have a plush and more substantial firmness and feel that will still compress and retain its shape.
Fill Origin – All in all, whether Down or Feathers, you want to look for ethically sourced and good grade feathers and Down from healthy and well-treated animals. Feather and down are usually taken from older and more mature birds that tend to be larger. Feathers from eastern Europe and Hungary are your best options as these animals are humanely treated and plucked when they are mature and healthy. Birds in China used for their feather tend to be subject to poor treatment and health conditions. Another aspect to look at is the cleaning process of the feathers before use. Look for a Certification such as Bleusign or responsible feather or Down Certifications when you purchase any feather or Down product.
Down Alternative – If you suffer from feather allergies, then a feather or down Mattress topper will not work for you, however, if you still want similar plush comfort, you can always opt for the Down Feather alternative mattress topper. This topper is filled with a synthetic or natural material that does not contain actual feathers but still feels almost the same.
---
Choosing the Best Feather Mattress Topper
A mattress Topper will add a significant layer of softness, cushioning, and support to your body additionally to your mattress. The Mattress topper improves your bed's quality and protects your mattress.
There are, however, a few aspects to keep in mind when choosing the best mattress topper for your bed, particularly when it comes to feather and Down toppers.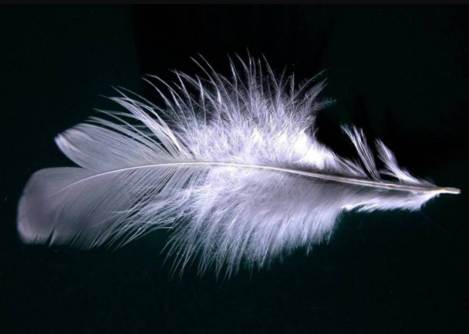 Price – Feather and Down mattress toppers are generally more expensive than foam or egg crate mattress toppers, and good quality and higher Grade Feather or Down fill will cost more. When it comes to Feather and Down Mattress Toppers, it is always better to go for good quality brands from good sources.
Support and Firmness – The Firmness and loft will depend on the amount of fill; more fill will be firmer. Feathers rather than down also give a firmer loft, while down is much more loose and plush.
Cover – Cotton is a good choice in breathable and natural covers for your mattress topper. However, I would recommend a double cover or a cover type that prevents quills from sticking out.
---
Features of a Good Feather Mattress Topper
Double Cotton Cover.
It is filled with premium ethically sourced and well-cleaned Down or Feathers from a Goose or Duck.
Neat and durable stitching.
Comfortable and pliable loft.
---
Reviews: The Best Feather Mattress Toppers
We have chosen some excellent selections in Mattress Toppers that have a feather fill provide softer comfort:
---
1
From the Pacific Coast, we have their Luxe Loft Mattress topper made from Resillia Feathers that have been properly cleaned to be allergen-free.
Filled with pure and clean Resillia feathers.
Comes with a 100% 250 thread count durable and breathable cotton cover.
It is guaranteed to be allergen-free.
The Baffle Box design keeps all the feathers in place and creates extra room for a better loft.
---
2
A plush feather mattress topper and protector made from Microfiber filled with a premium soft down fill made from synthetic materials.
Down alternative that creates an extra soft layer for plush comfort.
It has premium and highly durable Microfiber materials.
Completely hypoallergenic and comfortable.
Protects your mattress and adds a layer of softness.
---
3
Another superb design in the feather mattress topper that adds softness without allergies.
This feather bed mattress topper has a double cotton soft flannelette design.
It is machine washable and very durable.
Very breathable and quality construction.
Hypoallergenic and made to fit your mattress.
---
4
A Premium Feather and Down-filled blended mattress topper from Allied Essentials with a Hypoallergenic Cotton Cover.
This feather mattress will provide you a luxurious 5-star hotel experience at home.
It features a dual-compartment with turtle top construction and a sturdy goose feather layer.
Moreover, it has a 550 fill power down topper.
It is entirely machine washable and quick-drying that will re-fluff easily.
The topper is naturally hypoallergenic and has a 300 thread count with a 100% cotton shell.
---
5
The Rose Feather Luxury Feather Mattress Topper is filled with the most delicate quality feathers.
A 100% cotton fabric cover has a down-proof design to prevent feathers from sneaking out.
Box stitched and double-needle stitching, which prevents the filling from shifting.
Non-Live plucking is used to obtain the feathers, which is much more ethical, environmentally, and animal friendly.
The feathers are cleaned and safe and allergen-free.
Easily machine washable and can be tumble dried on low heat.
---
6
This is a 100% imported, 233 thread count cotton cover.
It is a luxury 5-inch feather bed mattress topper.
Blue Ridge offers baffled box construction with two piped seams and a 5-inch gusset.
The pillowtop topper is filled with white duck down, whereas the featherbed is filled with waterfowl feathers.
It comes in a beautiful white, queen size cover.
---
7
This is a 100% down alternative mattress topper.
It offers a high-quality microfiber shell that is luxuriously soft and noiseless.
The filling is hypoallergenic white duck down that is uniform, full plume, light, close, soft, and delicate.
It comes in King, Queen, and twin sizes.
The mattress topper is a plush and durable material.
---
8
This mattress topper is made with 100% cotton and filled with high-quality velvet feathers.
The fabric is soft, breathable, comfortable, sturdy, and durable.
It is lightweight and easily foldable, even though it is overfilled for a luxurious effect.
MSM mattress topper comes compressed and takes 2-3 days to restore to normal thickness.
---
9
This mattress comes packaged in a vacuum bag, so wash and dry it for a few days before using it.
This mattress topper's surface is 100% cotton making it comfortable, sturdy, and durable.
The filling in this mattress topper is breathable snow down alternative feather.
It is anti-bacterial, anti-dust mite and provides pressure relief, heat dissipation, and protects the spinal area.
This mattress topper is easily foldable and fits a mattress of up to 21 inches.
---
10
This mattress topper has a 233 thread-count, 100% cotton cover.
Duck feathers fill for a breathable and light feel.
Bluestone mattress topper comes in multiple sizes, such as twin, queen, and king size.
Size: Twin, Cover Material: 233 Thread Count 100% Cotton
---
Index Table Table: Top Rated Feather Mattress Topper
---
---