Some of the links in this post are affiliate links. This means if you click on the link and purchase the item, I will receive an affiliate commission at no extra cost to you. All opinions remain my own.
Knitted blankets are the perfect and exotic addition to every living space. They not just look good but are also very functional. So, if you have been dreaming of possessing this extremely luxurious item in your house, we are here to help and suggest some of the most excellent products.
Besides, we will also let you know some of the advantages of having one and some essential things you must consider while choosing the best-knitted blankets.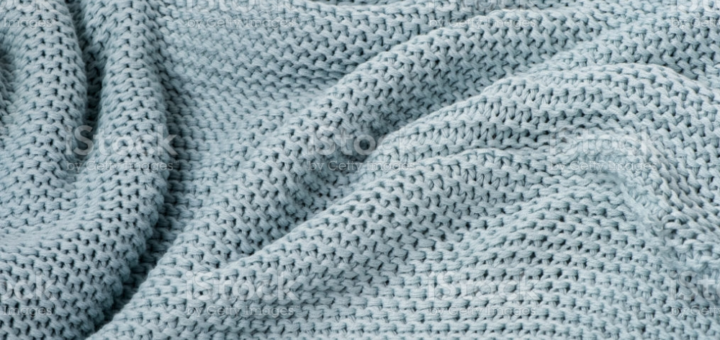 ---
Perks of Knitted Blankets
Possessing a knitted blanket is a luxury. But, if you are looking for a few more benefits, we have listed a few here.

Comfortable – Knitted blankets are super comfortable and keep the person cozy. Moreover, they are soft to touch and feel while sleeping or just wrapping around.
Aesthetically Pleasing – These are mostly used as throw blankets and make your living room and house look fabulous.
Warm – The knitted blankets can be used all year round, whether in summer or winter. Also, the thick and lightweight fabric keeps them warm.
Variety – Moreover, these are available in a variety of colors, designs and patterns. They will match all your interiors and furniture and add to the house's elegance.
---
Common Materials Used in Knitted Blankets
Wondering what these amazing blankets are made of? Here are some of the common materials used in making knitted blankets.

Woolen Yarn – Woolen yarn is soft, stretchy and makes the blanket fluffy. Besides, the material is known for its high durability and warmth, providing features.
Cotton – Blankets made of cotton fabric are known for their breathability. They are hypoallergenic and ensure safety from all kinds of allergies. This fabric is also used in making chunky knit blankets.
Synthetic Fibres – These blankets are usually made from recycled polyester. This material is shrinkage and fade-resistant. Besides, acrylic is the most common synthetic fiber used to make knitted blankets.
---
Points to Consider While Buying Knitted Blankets
Before buying knitted blankets, here are some of the points you need to keep a check on to make it the best purchase.

Size – The blanket you buy needs to be of perfect size to cover you entirely. Moreover, check that the material used to make it doesn't shrink after washing.
Lightweight – In addition, these must be lightweight so that you and your kids can carry them from one room to another.
Easy to Care – If your blanket needs to be dry cleaned every month, it's not worth the buy. So, buy the one you can wash easily at home, manually, or in the machine. Furthermore, lightweight blankets are easy to care for.
Fabric – Check out the material used to make the blanket. It must be durable and feel soft to the skin.
---
Reviews: Best Knitted Blankets
Looking for a classy knitted blanket, below are some suggestions for the best-knitted blankets.
We hope you love the products we recommend!
So that you know, We may collect a share of sales or other compensation from the links on this page.
---
1
This acrylic knit blanket from Longhui is double-sided to give maximum coziness.
One side of the blanket features a cable knit effect, and the other is a soft sherpa fleece so you can use it on both sides.
Besides, it is super soft and extra-large to wrap you like a warm embrace.
The best feature of the acrylic blanket is machine washable and dryer friendly. Therefore, no extra expense for dry cleaning.
Also, you can use it as a throw blanket for your living room couch or bedroom.
---
2
Made with traditional wool, the blanket is soft, stiff, and non-scratchy, incredibly smooth to the touch.
The size 50×60 inches makes the super chunky knit blanket large enough for a bed, sofa, or lounge chair.
Custom-engineered thick yarn in the handmade blanket is completely no-shed and hypoallergenic.
Furthermore, the geometrical pattern design makes the blanket look beautiful, so it can also be used as a throw blanket.
Besides, it is washable and resistant to fade after multiple washes.
---
3
You will find some of the best-knitted blankets at Bedure, ranging from various colors to prints and patterns.
This one is cozy and lightweight, making it suitable for all seasons.
Apart from this, it is made of soft acrylic that provides more flexibility & strength than other woolen blankets.
Besides, the tassels and fringes add to the style of the blanket. In addition, the grey color makes it blend in with all interiors and furniture covers.
This luxuriously soft blanket is perfect for those sensitive to the scaling of wool fibers.
---
4
This ivory-colored blanket made with 100% acrylic is 60 inches wide and 80 inches long, a perfect size.
Besides, the simple design blends well with every home decor, and the blanket is soft and stretchy.
Furthermore, the sweater-style cable knitting gives an added spark.
Since it is lightweight and breathable, it won't weigh you down while you snuggle up with your beloved.
Also, it can be washed at home in a washing machine. However, it is advised that you wash it only with similar color clothes.
---
5
This is one of the best-knitted blankets with a chic, beautiful woven boon Knitted Tweed design featuring diamond patterns.
In addition, it is made with super soft microfibre polyester for a plush, textured look and feel.
Moreover, the design is finished with adorable knotted braid tassels along each width side.
The blanket weave is so soft and cozy that you can use it all year round.
It is lightweight, making it great for summer as well, and most importantly, it is easy to carry between rooms.
---
6
This cozy and lightweight blanket is perfect for snuggling up on the couch while you enjoy a movie in your theatre.
Besides, it has an elegant knitted design making it a classy addition to your existing interior decor.
You can also use it as a throw blanket to add an exotic touch to your couch or sofa in the living room.
You can also machine wash it in a gentle cycle with cold water. However, make sure to wash it inside a mesh laundry bag.
---
Index Table: Top-Rated Knitted Blankets
---
---