When a good mattress comes into mind, usually, people want either a firm mattress for back support or a very soft mattress for comfort.
Science has shown us that the best mattresses are medium-firm mattresses to compensate for both of these extremes.
Read further for more information on the best medium-firm mattresses and how they could benefit you.
---
How Medium Firm Mattresses Provide the Best Back Support
If you have back pain, the chances are that your spine is out of alignment somehow. This could be due to a back injury, a back condition, or simply because you sleep on your back and your mattress is too soft. If your mattress is too hard, it can also shift your posture out of alignment, particularly if you sleep on your side or stomach. Medium-firm mattresses offer a good compromise, providing the necessary spinal support and the best comfort to help you sleep at night. A medium-firm mattress is likely to accommodate both of you between a married couple who each sleep in different sleeping positions.
When a mattress consists of more than one layer of varying densities, it often provides better pressure point alleviation than an entirely firm mattress does. A soft mattress will not take the pressure off your back and often leave it in very strange positions after a night of sleeping, which can cause pain.
---
Different Types of Medium Firm Mattresses
Here is a discussion of the different types of medium-firm mattresses available so you can decide on the best mattress type to suit your needs.
Air Mattresses – the best air mattresses have inbuilt pumps to inflate themselves and are sealed double tight. Many people feel that inflatable mattresses do not keep their inflatedness over time, becoming softer with age. The best feature of inflatable mattresses tends to be that you can fill them to match the exact medium firmness you're looking for.
Water Mattresses – water mattresses are very similar to air mattresses, allowing you to feel weightless. Water mattresses tend to be softer in general than air mattresses and are not usually the best choice for medium-firm mattresses.
Foam Mattresses – foam tends to have the best results for medium-firm back support. In particular, memory foam will conform to the exact shape of your form as you sleep, allowing you to comfortably change positions while still holding a good posture for your spine.
Spring Coil Mattresses – these mattresses make good contenders to foam mattresses if the springs are individually wrapped, silent, and usually covered in a layer of foam regardless. If the mattress does not meet these requirements, the springs can break through overtime and cause damage to your sleeping posture.
---
Properties of the Best Medium Firm Mattresses
If you are on the hunt for the best medium firm mattress available to you, you will want to know about these exciting features below:
Pressure Point Alleviation – usually a mattress that makes an impression of your body or that has specially designed contours in it will take the pressure off your spine. This makes it easier to sleep with a good posture and will allow you to rest more deeply.
Body Contour Mapping – memory foam and some spring mattresses are great at body contour mapping. This means that the mattress will create a unique impression of your body shape, holding you comfortably as you sleep and keeping your posture straight.
Anti-Slip Grip – the bases of some mattresses come with a mechanism to ensure that the mattress does not slide off the bed or move if placed directly on the ground.
Fully Adjustable with Adjustable Base – some mattresses have an impressive medium-firm texture and are still fully adjustable. Adjustable bases are a great way to sleep in the exact position you want or to rest during the day if you already spend most of your time in bed.
---
Reviews: The Best Medium Firm Mattress
Please have a look at the best medium-firm mattresses we have selected below before making your final decision.
---
1
This mattress is made from 10 inches of medium-soft gel memory foam for the best night's sleep you could imagine.
The edge of this mattress will ensure that you never fall over or roll off the edge – you can comfortably use the entire mattress.
Made of several layers of high-density foams, including cooling gel memory foam, all of which help to keep your spine correctly aligned during rest time.
The beautiful quilted design on the cover will convey mild pressure point alleviation to sensitive backs.
Covered in a soft stretch-knit cover that stays cool all night long.
Completely hypoallergenic and dust mite resistant.
Score:
98.4
By Daniel Max
---
2
This 13-inch memory foam mattress will keep your spine free of all pressure and allow you to rest with the required medium-firm support you need.
The quilted cover will provide your back with further pressure point alleviation, adding additional softness and comfort to the firm's supportive mattress.
Memory foam is infused with bamboo to bring you a wonderfully durable memory foam mattress called hypoallergenic and dust mite deterring.
No chemicals or toxins were added additionally to the mattress.
Comes inclusive of a ten-year warranty with the manufacturers.
---
3
The even back support provided by this 10-inch memory foam mattress keeps the spine so straight that all the pressure should dissipate from it.
Wake up feeling refreshed in the body contouring comfort of memory foam.
This medium-firm mattress incorporates open-cell technology to keep you cool and prevents overheating or nighttime sweating.
The bottom layer is made of high-density foam, which is very firm and holds the mattress up, giving your back the best possible support.
Hypoallergenic, this mattress is ideal for those who are sensitive. Also, dust mite resistant and anti-microbial.
The sellers offer a 60-day money-back guarantee.
---
4
One of the best-valued mattresses in terms of price and functionality, this 10-inch memory foam mattress has dominated the market all year.
Made with three layers of impeccable foam construction, the top layer is made from body-conforming memory foam.
Alleviate all the pressure from your back by falling asleep in the best position and letting the memory foam do its magic.
The second layer is made of very soft foam for breathability and maximizes comfort.
The bottom layer is made of a heavier, more dense foam that will hold the mattress firmly in place without slippage.
Comes with a ten-year warranty.
---
5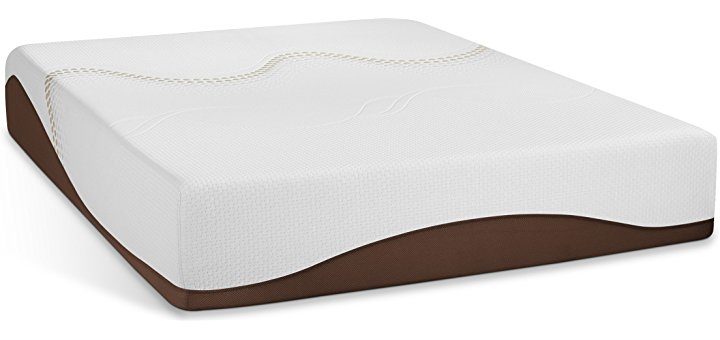 This mattress is the best possible option for back and stomach sleepers, being softer, medium-firm support, and helping to take the pressure off.
Made from three layers designed to help you sleep, using foam that you won't find anywhere else.
Bio-Pur memory foam is five times more breathable than ordinary memory foam, only offered by Amerisleep.
Covered in a special hypoallergenic blend called Celliant, which has been clinically tested and proven to improve sleep.
The base layer of bio-core foam support will never let you down, being 100% sag-proof.
Made in the USA.
---
6
All Natural and Organic Latex is used in the Pure Green Mattress with no added chemicals or unsafe materials.
Offers a firm to the extra firm support system with natural latex layers.
Latex is also naturally temperature neutral and will not overheat as the case with memory foam.
Covered in an organic and natural cotton and New Zealand wool cover that is breathable and durable.
A Greenguard Gold Certified product.
---
4
The LinenSpa is a Latex mattress that offers firm support with individually enchase coil springs and a two-inch premium latex layer.
Latex helps keep your cool and generally offers much more resilient and firm support.
Dunlop and Talay methods were used to create the Latex form of all-natural materials.
We will be remiss if we don't include this budget option by Linenspa. It is medium-firm and soft enough to please your back, neck, and shoulders.
---
8
The Zinus Medium Firm is one of your best options when it comes to a firm and supportive mattress.
The Zinus Medium Firm features the popular iCoil spring system that is individually wrapped and ensures no motion transfer or sagging.
There is a 7.5-inch base layer of coils and a further Cerrtiur-Certified memory foam layer for comfort.
You can choose between a ten-inch or twelve-inch thickness option as well as different bed sizes.
---
9
This mattress is made with four layers as well as zoned gel memory foam.
The patented memory foam mattress keeps the body properly aligned, supported, comfortable.
It is designed to relieve pressure and keep you at an optimum temperature.
The gel mattress is flippable, with one side of the gel memory foam layer, while the bottom layer is high-density support foam.
Score:
97.6
By Daniel Max
---
10
This mattress is created with 4 layers of all-foam system.
The top is made with gel-infused memory foam that keeps you cool and comfortable throughout the night.
The egg crate design foam layer increases airflow for optimum breathability and ventilation.
It is 12-inch thick and designed to distribute weight evenly and offer spinal alignment.
Score:
97.2
By Daniel Max
---
Index Table: Top Rated Medium Firm Mattress
---
---