A rollaway bed is a great way to provide space for overnight guests. These beds are relatively inexpensive and easy to set up, making them the perfect solution when extra guest rooms aren't available in your home.
Rollaways are becoming more popular, and there's likely something here that will match what you're looking for. We'll go over several models with some additional information so you can find the perfect rollaway bed for both yourself and your guests.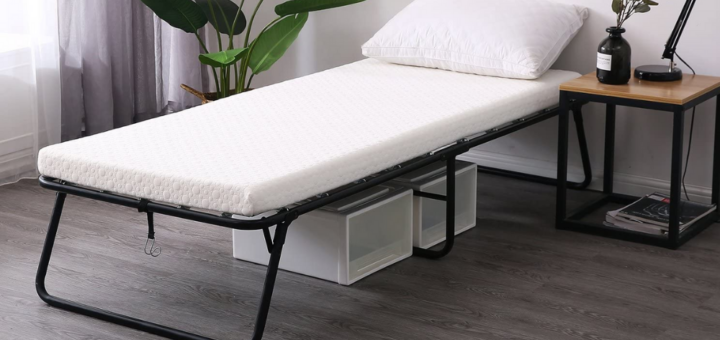 ---
Are Rollaway Beds Comfy?
The answer is yes; these folding beds are totally comfortable. They may be portable and space-saving, but they will always provide you with a luxurious sleeping experience that makes your everyday life easy.
Good Quality Mattress – A rollaway bed's mattress is made of good quality foam. These mattresses are soft, thick, and durable, making them very comfortable for children and adults.
Provide Support – Rollaway beds provide excellent neck, shoulder and back support. They are great for getting a good night's sleep. You can even comfortably fall asleep without using head pillows.
Foldable – Rollaway beds are perfect for guest rooms, drawing rooms, and living rooms. You can fold them to create sofas in your house. Their versatile design makes these comfortable and attractive rollaway.
---
Buying Considerations For Rollaway Beds
When searching for a new rollaway bed, there are several important features you should consider. Here are some key factors to keep in mind.
Frame -Rollaway beds with metal frames (usually steel and aluminum) are more durable; besides, the metal also offers better portability and storage.
Mattress – Rollaway beds come in three options, memory foam, innerspring or air mattress. Memory foam is the most comfortable option, while an air mattress will be easier to store. However, it might not provide as much support for your back.
Weight – You can find rollaway beds that weigh as little as just 20 pounds and others weighing over 75 pounds. When thinking about portability, you might want to go for a lighter bed. If the bed is going to stay in one place usually, then a more substantial model may work better because of its sturdiness.
---
How Much Weight Can A Rollaway Bed Hold?
Let's find out how much weight rollaway beds can hold from the below-mentioned pointers.
Weight Capacity – If we talk about the weight capacity of rollaway beds, they can not hold as much weight as standard mattresses and bed frames.
One Person Limitl – Most rollaway can only support around 400 pounds or less, meaning they are generally made to be employed by one person at a time.
---
Reviews: Best Rollaway Bed
You can find the best rollaway beds for better sleep here.
We hope you love the products we recommend!
So that you know, We may collect a share of sales or other compensation from the links on this page.
---
1
The Lucid rollaway bed with a memory foam mattress is a smart choice for your guests. Not only does it fold up and store away quickly, but the 4-inch memory foam mattress gives them an exceptional night's rest.
In addition, the bamboo mattress cover is breathable and perfect for people with sensitive skin.
This fantastic bed is perfect for your child, with its easy assembly and locking wheels that provide safety.
Plus, its CertiPUR-US certified memory foam will not give off harmful odors.
This heavy-duty folding rollaway bed frame comes with an extraordinary 10-year warranty. It is available in sizes cot, twin, and twin xl. The size of the latter measures 36 by 73 inches.
Moreover, the mattress rests on a quiet, sturdy spring-supported deck that eliminates the discomfort of slats or bars.
---
2
The three-inch memory foam with a high-density sponge rollaway bed offers comfort for a good night's sleep.
Compared to wood slat and wire mesh, Oxford cloth support provides more elasticity, so it's much more comfortable. This feature makes it the best rollaway bed for adults.
It is sturdy and easy to store when not in use, considering it folds up into a compact size with dimensions of 37 inches x 31 inches x 6.7 Inches.
This is the best rollaway bed that requires no tools, fast assembly with quick set up. With its superior design and functionality, this will allow you to enjoy a comfortable night's sleep.
The Leisuit Rollaway Guest Bed is perfect for overnight guests, office naps, and more. Easily transportable from room to room with the bed's built-in wheel assembly.
---
3
The Diplomat Folding Bed is a sturdy and stable bed that provides the comfort you can rely on. Besides, it ensures maximum stability for up to 300lbs, making it the best rollaway bed for heavy persons.
The Diplomat bed has a mattress that offers the same comfort as regular beds. Unlike other folding beds with thin, flimsy mattresses, this one is sturdy and provides all the comfort you need.
This is easy to store away when it's not in use. It has 360° pivoting casters, making it smooth and easy to transport anywhere you want.
Moreover, Milliard is a reputable company that will provide you with dedicated customer service.
---
4
Foxemart's rollaway bed has improved on traditional beds by including velcro that attaches to the frame. This allows for a more secure fit and prevents any movement while you sleep, so it doesn't interfere with your rest or cause pain.
This sturdy metal frame is built to support up to 300 pounds of weight. Its easy-to-fold design allows you the flexibility and comfort that only a bed can offer wherever it may be needed.
Your guest will have the best sleep ever with this 5-inch memory foam mattress. It doesn't contain any harmful chemicals, which means no chemical smell.
Besides, the zippered cover is made of soft polyester, and you can wash it if needed-it's easy to maintain.
---
5
The sturdy steel construction of this rollaway bed frame ensures optimal support, and it won't make any annoying creaking sounds.
The mattress cover is washable and removable, so you won't have to worry about any spills. Also, the straps help it stay firmly in place on your bed frame and not move around while you sleep.
In addition, a lockable wheel and anti-slip rubber pad keep the frame from moving or slipping, thus creating stability.
The foldable design is great for people with limited space. To use it, simply unfold the rollaway bed in any room and then fold neatly away when you're through.
---
6
This is a high-quality folding bed and is the best rollaway bed out there. The bold metal braces support higher safety, while the grid structure brings excellent durability to this mattress.
The backrest angle is adjusted freely between 0-175 degrees, and you can adjust the comfort angle to your liking.
This bed is made of a thick, breathable material that will improve your sleep experience.
Besides, the rollaway bed comes with a helpful side bag. It has enough space to keep your reading material and other personal equipment by your side while in bed.
---
Index Table: Top-Rated Rollaway Bed
---
---