Some of the links in this post are affiliate links. This means if you click on the link and purchase the item, I will receive an affiliate commission at no extra cost to you. All opinions remain my own.
Everyone loves a piece of furniture that kills two birds with a stone, style, and functionality. However, it can get a little overwhelming to boil down to the best place to buy upholstered headboards. Here we have sourced some of the best-upholstered headboards, one can find online.
Headboards come in numerous sizes and variations like arched, tufted, faux leather, etc. With so many customization options, you can choose one that suits your aesthetic.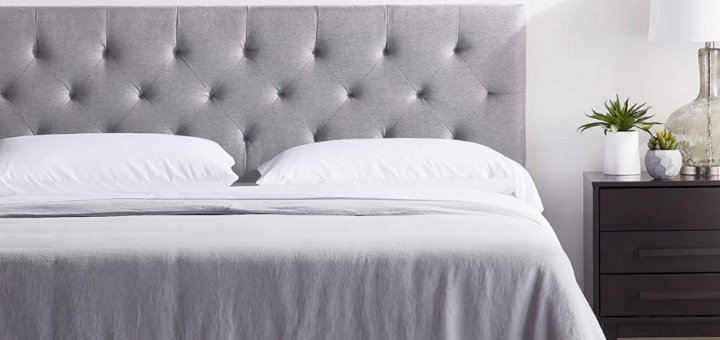 ---
What is the best fabric for upholstered headboard?
Let's go through the options available to us, and find the perfect fit for your bedroom and needs.
Natural Fabrics – Cotton and linen are most commonly used for headboards as they are durable and available in several colors. On the downside, they are prone to staining easily too.
Synthetic Fabrics – Polyester and Chenille are common choices for headboards among synthetic fabrics, they provide great softness and cushioning and are also resistant to fading. However, they are likely to absorb oily stains that can be hard to remove.
Velvet – It is perhaps the most luxurious and stylish fabric, adding a high-end look to a bedroom. But it can be a little expensive.
Leather – Besides, leather imparts a look of sophistication and a high-end feel to the bedroom. It is quite easy to maintain and can be cleaned with a damp cloth. A fact to keep in mind is that leather is prone to scratches.
---
How do you keep a fabric headboard clean?
Investing in a luxurious headboard is great, but what may not be so great is ruining it by not cleaning it properly.
Vacuum Cleaner – Most fabrics can be vacuumed, helping eliminate any accumulated dirt.
Fabric Cleaner Spray – For some of the more stubborn stains, use a fabric cleaner; apply and leave for a few hours, but make sure that it doesn't discolor your fabric.
Detergent – Lukewarm water mixed with a small amount of detergent can also help remove stains.
Baking Soda – One of the unavoidable stains you will deal with on a headboard is scalp oil stains. The solution is to apply baking soda to the stained area and leave it for a couple of hours. Later, vacuum over it, blot the area with detergent and water solution and go over it with a dry cloth.
---
Are upholstered headboards in style?
Keeping with the latest fashion is the trend, so let's see if upholstered headboards are in or out.
Making a statement – An upholstered headrest can help give your room a personality and create an aesthetic for your room.
Soft backrest – Some of the best headboards are well cushioned, super soft, and comfortable.
Versatilaty – Furthermore, with tons of shapes, colors, designs, and fabrics, you can characterize your room's feel as you like.
In Fashion – In the past few years upholstered beds were considered obsolete. However, in 2021 we saw a shift, and interior designers' social media flaunted extravagant-looking headboards. And now everyone wants one.
---
Reviews: Best Upholstered Headboards
Hope that the Upholstered Headboards listed below help you make an informed choice.
We hope you love the products we recommend!
So that you know, We may collect a share of sales or other compensation from the links on this page.
---
1
This upholstered headboard king size is available in multiple colors such as Stone, Charcoal, Pearl, and Cobalt; jazzing up the room has never been easier.
The headboard's frame is made of a solid Siberian Larch wood for the highest quality of construction.
The headboard's height is also adjustable, ranging from 34 inches to 45.5 inches to adjust to most bases and bed frames.
Besides, this headboard has a lifetime warranty and must only be spot cleaned.
---
2
Harlow is an adjustable, modern, wall-mounted headboard with vintage brown faux leather designed for a California king or king-size bed.
In addition, these king headboards include two lightweight panels that are a sleek addition to your bedroom decor.
Furthermore, this wall-mount headboard takes only 30 minutes to put together.
It also comes with a lifetime warranty, and if you are not satisfied with the product, a 90-day return policy is available.
---
3
This upholstered headboard queen is also available in various colors and frame styles.
Moreover, the tufted arch gives personality to your bed and your room.
Particularly, this headboard is made of dark grey fabric and measures 61.5 "W x 3" D x 24 "H.
The frame comes with adjustable black metal rail slots.
Also, this contemporary-style bed frame is one of the top-rated fabric headboards.
---
4
This elegant piece is one of the best headboards for guys, as it adds a masculine, sophisticated finish to the bed.
In addition, the frame's construction is sturdy and durable with the use of plywood and good fabric.
On top of that, the headboard provides support and comfort with its dense padding.
---
5
These bed frames look the best headboards upholstered up as they can be adjusted to 7 different heights.
In addition, the Pebble-colored headboard comes in various bed sizes.
Button-tufted finishings add a classic yet elegant look to the bed, a perfect balance of style and comfort.
---
6
These 100 % polyester imported headboards are guaranteed to add elegance to your existing bed frame.
With super-easy assembly, the tools and instructions are included.
Besides, the headboard is durably engineered with a sturdy frame and steel legs.
The two standard-sized frames mostly fit all queen and full bed frames.
---
Index Table: Top-Rated Upholstered Headboards
---
---