Some of the links in this post are affiliate links. This means if you click on the link and purchase the item, I will receive an affiliate commission at no extra cost to you. All opinions remain my own.
Keeping your mattress dry can be difficult with the best of intentions if you live where it rains or snows a lot during the winter. Therefore, you need the best waterproof mattress pad and toppers to save your bed from disaster. A topper will protect them from spills or leaks and against allergens such as dust mites.
Check out this post to pick the best waterproof mattress topper and pad for your bed.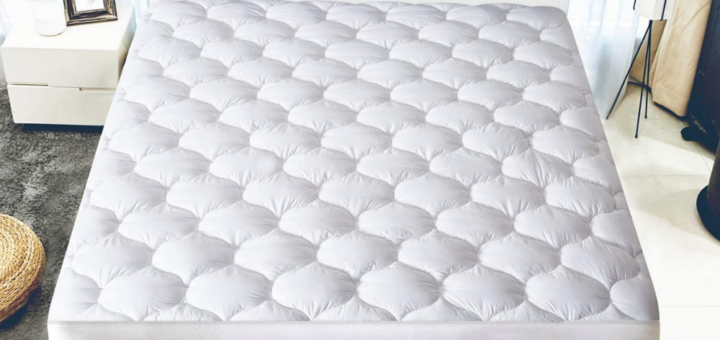 ---
Are Mattress Protectors Really Important?
There are several reasons to invest in the comfort and longevity of your mattress. We have listed some important ones here.

Protection Against Spills – A mattress topper is important for those who want their mattresses protected against most accidental spills, bacteria, or allergens.
Mostly Water-Resistant – Besides, the mattress toppers are mainly waterproof and breathable. Hence, it allows for considerable airflow and prevents sweating.
Prolonged Mattress Life – While the waterproof mattress toppers are designed to provide full protection against dust mites and other allergens, they also safeguard your investment in the long run.
Sound Sleep – A waterproof mattress pad will protect your bed from any liquid that might come in contact with it while you sleep.
---
What Should You Look For in a Waterproof Mattress Protector?
Here are a few features to check out when buying a waterproof mattress pad. To determine which will be the best for you and your family's needs, please check these points.

Breathable Material – Be sure to check the material of your waterproof mattress before buying a new one. Most models are made without vinyl, so they're more breathable. Besides, the best fabrics are cotton or wool, rayon, bamboo, and polyester.
Size – Your mattress protector should be large enough to cover your whole bed. Therefore, make sure it's fitted well and has corners that grip onto the sheet. You may also pick a foldable mattress topper with waterproofing for convenient use.
Check Reviews – The right mattress protector can make your bed more comfortable. If you're curious about how a particular model may feel, look for reviews with words like "cooling" and "softness." Moreover, check out the best waterproof mattress pad reviews.
Machine Washable – If your mattress topper is machine washable, it will ease your work and help you keep it clean every time.
---
Common Materials Used in the Best Waterproof Mattress Topper?
Not every fabric can make a waterproof mattress topper. Some have the best water-resistant properties and keep the mattress hygienic and dry throughout the year.

Cotton – Cotton is a great waterproof mattress topper because it feels soft and cool and helps you stay dry all night. In addition, it's eco-friendly, breathable, easy to wash, and good in every season.
Polyester – A polyester mattress topper is a great option for people who want something that won't let water in and will adjust to your body's heat. Moreover, it feels cool but doesn't get too hot, making it easy on the skin.
Vinyl – This protective fabric has high durability properties and is easily cleaned by wiping it down regularly. It's cold and can protect you from moisture damage because of its water-resistant ability.
---
Reviews: Best Waterproof Mattress Pad and Toppers
Here are some of the best waterproof mattress pad reviews to help you pick an ideal product.
We hope you love the products we recommend!
We may collect a share of sales or other compensation from the links on this page.
---
1
This 2-in-1 mattress topper queen bed is the best waterproof mattress protector for bedwetting.
Its top layer is 60% cotton to keep your mattress in good condition.
, the bottom layer is TPU waterproof material, protecting the mattress from water and other liquids.
Its 16 inches deep pocket fits an 8 – 21″ mattress.
This is one of the best-rated waterproof mattress pads in cotton with a top-down alternative fill and will be the perfect choice for you.
---
2
This waterproof crib mattress pad fits a standard size 28″ x 52″ mattress.
Moreover, the quilted fitted design makes it easy to put on and take off and keeps your baby's crib clean all the time.
Besides, it prevents milk powder spills, bedwetting, vomit, feces, and diaper explosions from damaging your expensive crib mattress.
Hence, it is the best organic waterproof crib mattress pad to keep your baby comfortable and safe in their sleeping environment.
---
3
This mattress topper is designed to fit mattresses up to 16 inches deep.
Moreover, it's made of soft, brushed microfiber and a natural bamboo rayon blend that provides superior comfort.
In addition, this king-size waterproof mattress protector maintains the quality of your mattress by safeguarding it against stains.
It also has a cooling effect that helps regulate body temperature and prevents heat from being trapped between the body and the mattress.
---
4
DONOVAN waterproof mattress pad cover is great for the standard king-size bed.
Made of premium quality cotton, it is comfortable to sleep on and can keep you cozy in the winter and sweat-free in the summer.
Moreover, the waterproof layer will not let water through after washing it.
It also protects the mattress from dust mites, allergens, and other unwanted guests who may want to visit your bed at night.
Furthermore, you can wash and dry it at low temperatures to return the pad to standard thickness.
---
5
Made from 100% natural bamboo fiber, this is the best waterproof crib mattress pad for extra comfort.
Besides, it features a 4-inch deep pocket that allows for ease.
Not just that, this breathable waterproof mattress protector also provides an extra layer of protection against spills and accidents.
It also features a quilted, unique cloud design with light padding for the baby's sound sleep.
---
6
This waterproof crib mattress cover will keep your baby dry and comfortable.
It has a soft quilted cushion for added comfort and is made of 100% polyester.
In addition, there is a waterproof layer in the middle to protect your child's mattress from leaks, spills, spit-up, urine, or other accidents.
Moreover, the mattress topper measures 24 inches x 38 inches x 5 inches with deep pockets that fit a standard 6″ crib mattress.
It is machine washable and dryable.
---
Index Table: Top-Rated Waterproof Mattress Pad and Toppers
---
---