Some of the links in this post are affiliate links. This means if you click on the link and purchase the item, I will receive an affiliate commission at no extra cost to you. All opinions remain my own.
Planning to replace your existing blanket with a new one? Look no further than the best merino wool knitted blankets. On spending some hours on our research, we figured out some of the best merino wool knitted blankets that can be your next favorite. So, read along and bring home the best product.
Besides, you will also learn what is unique about this type of wool and why people opt for this over all other types.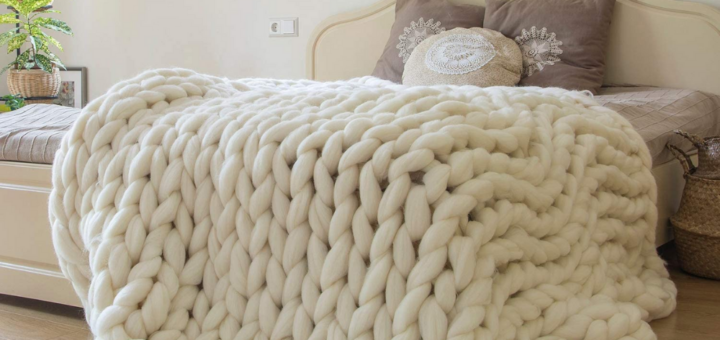 ---
Benefits of Merino Wool Knitted Blankets?
They don't only feel soft but pose other advantages too. Look at some of the many benefits of blankets knitted with merino wool.

Moisture Wicking – The knitted merino wool blankets are known for their excellent moisture-wicking properties. Merino wool's core absorbs water, while the outer layer has strong water-repelling properties.
Regulate temperature – This wool absorbs moisture from the atmosphere and the heat from the user's body to maintain a constant body temperature.
Hypoallergenic – People of all ages, whether the elderly, kids, or adults, can use this. It is suitable for people even with the most sensitive skin.
Dust/Mite-Resistant – Being a non-allergenic fiber, merino wool knitted blankets are resistant to bacteria, dust, and other allergens.
---
What is Great About Merino Wool?
Merino wool is no ordinary wool. It has some amazing qualities that many other wool types do not. So, what is unique about this wool?

Resistant to Odor – Merino wool has some amazing antimicrobial properties. As a result, the natural lanolin in the sheep's wool repels the bad odor-causing bacteria. Hence, it is odor-resistant.
Biodegradable – Being a natural fibre, merino wool is environmentally friendly. Furthermore, it is annually renewable and biodegradable.
Non-inflammable – It possesses excellent thermal properties. Therefore, it has a very high flame resistance. Moreover, it does not melt, drip, or stick to the skin in case of fire.
Naturally Elastic – Merino wool can be stretched to 50% of its original length when wet and retains its original shape and size.
---
How to Choose the Best Merino Wool Blanket?
When choosing the best merino wool knitted blanket, you must ensure that it serves the following features.

Durable – Note that the blanket you have chosen to buy will last for years, so you don't have to spend much on a blanket every year.
Lightweight – If the blanket is not lightweight, it won't be easy to carry it from one room to another or while going out or camping.
Breathable – Make sure that your merino wool knitted blankets are breathable so that you can also use them for kids and the elderly with respiratory problems.
Stain-resistant – The merino wool's natural fibers don't let the blanket absorb the stain. So, keep a check on whether yours will do the same.
---
Reviews: Best Merino Wool Knitted Blankets
Here is a list of some amazing Merino wool knitted blankets to find the ideal one for yourself.
We hope you love the products we recommend!
So that you know, We may collect a share of sales or other compensation from the links on this page.
---
1
This luxurious cable knitted blanket is perfect for all seasons, whether it turns a bit cold or rainy days.
Moreover, it is made with 100% soft natural merino wool, giving it an elegant feel.
Also, you need not worry about the blanket shrinking after washing since it has been pre-washed to prevent further shrinkage.
It is perfect for all king-size beds as well as other sites. Also, you can use it as a throw blanket.
The adorning, cable-knitted diamond pattern is intricately designed to make it look elegant and sophisticated.
---
2
Handmade with pure merino wool, this knitted blanket doesn't itch or irritate even the most sensitive skin.
Besides, it is perfect for older and pregnant women since it maintains a constant body temperature and regulates blood circulation.
The blanket has a versatile size and many color options that will brighten up your bed, couch, or chair.
Furthermore, this chunky blanket will add a unique style to any home and interior.
You can also give it as a present to your close friends, relatives, and loved ones to be used as a throw or a regular blanket.
---
3
Made with the highest quality natural fibers of merino wool, this one is a beautiful blanket, and you can also use it as a throw blanket.
Moreover, it is soft, cozy, lightweight, and hypoallergenic.
The natural fibers of wool use your body heat to create the optimal temperature and keep you comfortable.
This authentic Irish wool blanket is available in various colors, patterns, and sizes. You will find the ideal one for you.
---
4
This is one of the best chunky Merino wool knitted blankets that most people prefer.
Besides, the thickness of the blanket is so apt that it will keep you warm in winter and won't make you sweat if you use it as an AC blanket.
The blanket's versatility adds flair, brightens up every space it is kept and makes a great decorative blanket.
Moreover, the ivory white color and geometrical pattern blend well with every interior and furniture.
However, it is strictly advised that you dry clean it only.
---
Index Table: Top-Rated Merino Wool Knitted Blankets
---
---