The quilted throw blankets are not only for decor, but they are perfect for wrapping around the body to feel the warmth and comfort every time. Although there are so many types of throw blankets, there is undoubtedly something unique about these products.
So, here we're going to discuss some of the ultimate features these products have along with the benefits. Also, we did some research to find out some of the best-quilted throw blankets for you, along with the factors you must consider while buying them.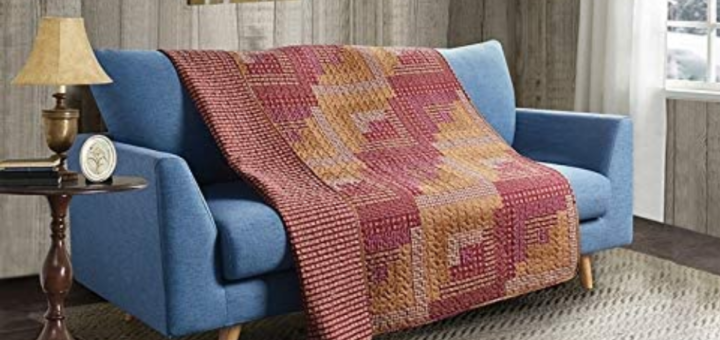 ---
Benefits of Quilted Throw Blanktes
With a lot of patterns and design, quilted throw blankets are very much in demand. Have a look at some of the benefits.

Outstanding Decor – Give your house an elegant interior transformation with a quilted throw blanket. Their small size and unique design freshen up space.
Warmth & Comfort – You can toss these blankets when you're relaxing and feel like snuggling in the bed or the couch. The blankets keep you cool in summers and warm in winters.
Ideal for Babies – Since they are lightweight and extremely soft and comfortable, they make an ideal blanket for the baby. Your baby will enjoy playing and cuddling in them.
Pet-Friendly – If you have pets, this one is going to be one of the best takeaways. It is true that pets tend to stay away from being covered, but when it comes to quilted blankets, they love it.
---
What to Look for in Quilted Throw Blankets?
Now that we know the benefits, it is important to learn the crucial factors in making the quilted throw blankets a perfect purchase.

Material – The fabric used in making the blanket is the determinant of the blanket's warming capabilities and weight. So, make sure to check the material that suits you and fulfills your demands.
Size – Choose the size that makes it apt in using it as a decorative item as well the practical use. Also, a bigger size would be better as it fits everyone and covers the furniture entirely.
Weave Type – Weave type is responsible for providing warmth and comfort. These blankets do not let the fill material move inside the blanket.
Designs & Patterns – They are available in numerous colors, patterns and designs. For decoration, use the one that fits and matches the furniture and other house interiors.
---
Material in Quilted throw blankets
Quilted throw blankets are made of different fabrics that are hypoallergenic and warm. Let's have a look at some common materials.

Fleece – Throw quilted blankets made of fleece are lightweight and last for several years. It is affordable and very comfortable on the skin. The synthetic fibers save us from allergies.
Cotton – Cotton throw blankets have a lot of benefits, and the primary one is that it is highly breathable. They hold up well even after repeated washing. Besides, it is ideal for heavy winters.
Cashmere – Quilted throw blankets made of cashmere are perfect for providing optimum warmth during the winters. They not only look luxurious and soft but also serve their purpose efficiently. However, it can be a little expensive.
Microfiber – Microfiber is the most durable fabric, and so is preferred more for throw blankets. It is soft, comfortable and moisture-wicking, and anti-allergens.
---
Reviews: Best Quilted throw blankets
---
1
Made with microfiber and cotton fill, it is a perfect buy to decorate you sof, couch, bed or a chair.
It has the same pattern on the front and back sides and hence can be used in reverse.
Wash it in a machine or manually as desired and then rinse it off in a dryer or sun.
However, it is recommended that you don't bleach it as it may take away its luster and softness.
Moreover, the throw blanket is oversized and is fit for sleeping as well as covering the furniture.
---
2
This quilted throw blanket is made of 100% cotton is has an antique floral pattern design.
Moreover, the surface texture and warm colors refine the look of this classic throw blanket.
It is so designed that you can use it on the reverse side as well. One of the sides has a floral design, whereas the other side has a striped pattern.
Besides, the blanket is highly durable and appropriate for interior decoration and a night of soothing sleep.
Also, it can be cleaned in a machine without affecting the quality of the material.
---
3
The cover of this quilt is made of 100% cotton with a filler of polyester making it comfortable for all seasons.
The soft and breathable fabric is exceptionally lightweight and durable for all-round comfort.
Moreover, it has a vintage, floral pattern design with ruffles.
Although it is heavyweight, it provides superior warmth in extreme winters.
The blanket can be reversed and used.
It is anti-bacterial and doesn't allow even insects to breed around.
---
4
These unique and luxurious boho striped cotton quilted throw blankets is a perfect 60″ x 50″ size.
The cover material is 100% cotton, and the blanket is reversible, which means both sides can be used for decoration and draping.
Besides, the blanket has been prewashed and dried to prevent the risk of shrinking.
The vibrant colors and the exquisite bohemian painting makes it unique and antique for decoration.
---
5
The cover as well as the fill is made of 100% cotton and super soft and cozy.
Besides, they absorb humidity and allow it to evaporate quickly, allowing the skin to breathe effortlessly inside the blanket.
This pretty grey-colored throw blanket has a stunning design and suits almost every interior of the house.
Additionally, they bring color, texture, and coziness to the user's life and appeals to the guests.
---
6
The Tamil comforter has an eclectic mix of colorful florals and medallions.
It is available in the oversized 60″x70″ size and is perfect for sofas, couch, bedsheet, and more.
Besides, the colorful pattern makes it versatile for decoration and comfy sleep.
Moreover, the blanket is long-lasting and durable. It is washable and dryable in a machine.
These colors will add joy and spark to your house.
---
Index Table: Top-Rated Quilted throw blankets
---
---