If your mattress has become too hard or too soft, it may be time to add a plush mattress topper. A plush mattress topper will help keep you cozy and comfortable all night.
This article will discuss the best plush mattress toppers, from least expensive to most expensive. We'll also share additional information to help you buy the best one.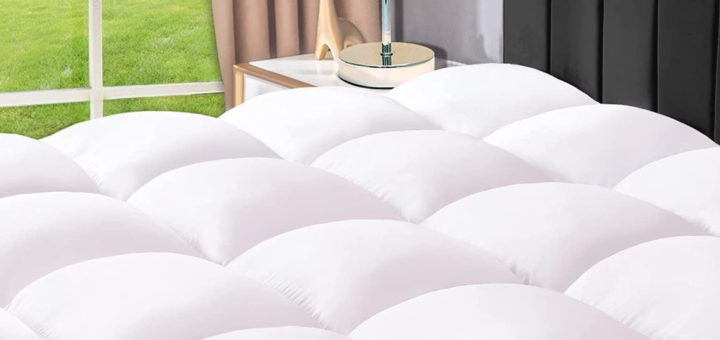 ---
---
Buying Considerations for a Plush Mattress Topper
Check out the most important things before buying a cozy mattress topper for your bed.

Sleeping Position – Everyone has their sleeping style and needs a different kind of topper. For instance, side sleepers need a more plush topper than someone who sleeps on the back.
Material Quality – from the cover of the topper to the filling within, ensure that they are all of premium quality so that they last longer as well as there's no com[romise on the support they claim.
Level of Firmness – Plush mattress toppers come in all kinds of firmness levels, but you choose the right fillings to ensure that you get a suitable level of firmness that soothes your body.
Pressure Relief – Pressure relief is an important aspect of plush toppers. The product provides adequate pressure relief while you sleep through the night.
---
Benefits of a Plush Mattress Topper
Here are some of the best benefits and reasons to invest in an extra soft mattress topper.

Extra Comfort – Plush toppers give you that extra cushioning support that allows your body to rest in its natural alignment.
Pain Relief – thanks to the comfort it provides, many people find these toppers to help soothe their muscular pain issues.
Inexpensive – If your existing mattress is not providing the right support, instead of reinvesting in an expensive mattress all over again, a plush topper is a much more convenient investment with the same benefit you seek.
Washable – Like many other kinds of toppers, plush toppers are also easy to wash (mostly in your machine) and ensure absolute hygiene and cleanliness.
Multiple filler choices – These toppers come in several filler choices like down alternative, memory foam, etc., so you always have the choice to pick the one that best matches your comfort level.
---
Different Types of Plush Mattress Toppers?
Like other mattress toppers, the plus ones come in different filling options. Here are the best ones.

Memory Foam – This material was originally designed by NASA. It provides excellent contouring to the body. The plush variants in this material are usually thicker than the others.
Pillow-Top – These are usually made from materials like down alternatives, feathers, polyester, etc. And are also one of the softest mattress toppers while giving cloud-like comfort.
Latex – Thicker Latex toppers provide great pressure relief and are widely used for the elderly and people with body aches.
Wool – Wool toppers are also available but rarely. These are temperature neutral and soft but perhaps a bit heavier than other toppers.
---
Reviews: Best Plush Mattress Topper
Check out the best plush mattress toppers.
We hope you love the products we recommend!
So that you know, We may collect a share of sales or other compensation from the links on this page.
---
1
Recchi's 3 Inch Memory Foam Mattress Topper is made with premium memory foam, providing pressure-relieving comfort.
The cover of this mattress topper is removable and washable, making it easy to clean. It also comes with a zipper for convenient removal.
This mattress topper will not lose its shape or support over time.
It's the perfect addition to your existing bed, providing a luxurious feel that will leave you refreshed and relaxed.
Moreover, these are CertiPUR US certified, which means they are free from harmful chemicals.
Other sizes are also available.
---
2
The 4-inch dual-layered mattress topper by Sleep Innovations is made from premium memory foam.
The layers are composed of an inch of fiberfill and 3 inches of gel memory.
It is suitable for all sleepers and relieves pressure from pain in the neck, back, and other body parts.
The cover is washable and stretches out to fit your bed like a fitted sheet.
These hypoallergenic toppers are made in the US and certified by CertiPUR for their premium quality.
The best part – this topper comes with a 10-year warranty.
---
3
The plush mattress topper has a 4-inch profile that allows you to sink into its absolute comfort after a tiring day at work.
It's been further infused with the scent of calming Lavender essential oils that create a relaxing environment.
Besides, the ventilated design renders these toppers a breathable and cooling feel, unlike other memory foam toppers.
And just in case there is any new foam scent, no worries. It will simply go off in a few days.
---
4
This plush topper is all you need to transform your bed from an ordinary one to that of a five-star hotel.
It offers excellent support to your body, finely contours all your body curves, and adjusts to your body temperature.
What makes it special is that it comes encased in a premium, breathable bamboo cover that keeps you ventilated all night.
The topper stays in place all night, as the fitted skirt holds on tight to your mattress.
The cover is washable and needs little to no special attention.
---
5
Enjoy the extra softness of 950 gsm microfiber down alternative filling of these ZAMAT mattress toppers and have a soothing sleep all night.
It is 50% thicker than normal mattress toppers and offers cloud-like comfort.
Moreover, it features a Gusset-baffle box design that keeps all the filling in place and doesn't let it accumulate or mis-shape.
While your body pains will ease, this topper will allow you to have a sweat-free sleep with its breathable build.
The stitched hem and the deep pockets keep it in place on the bed, while you can easily wash its cover in your washing machine.
---
6
This mattress topper features a tightly woven microfiber fabric that is spot-on regarding durability, cooling, and sound sleep.
The cover can be washed frequently and is safe for people with sensitive skin.
Besides, it provides excellent pain relief to the neck, back, hips, shoulders, and knees thanks to its overfilled-down alternative filling.
Also, the box sewing pattern ensures that the filling stays equally distributed.
---
Index Table: Top-Rated Plush Mattress Topper
---
---