Amerisleep isn't a new name in the memory foam mattress world. The brand is popular for its exclusive line of soft to firm bed-in-a-box mattresses.
In this article, we cover everything you need to know about Amerisleep mattresses, their USPs and a detailed review of all five models, including firmness, uses, sleeper types and more.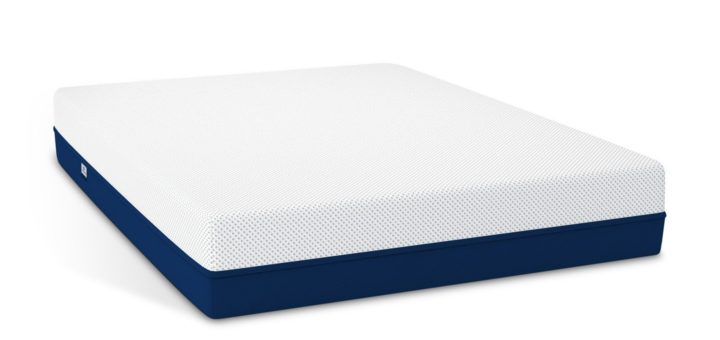 ---
The Amerisleep Lineup
Amerisleep offers five foam mattress models.
Two firm mattresses: AS1(firm) and AS2 (medium-firm)
Three soft mattresses: AS3 (medium), AS4 (medium-soft) and AS5 (soft)

AS1: Formerly known as the Americana, ASI is a 10" tall mattress and has one layer of memory foam (4 PCF) and then a thick support layer (1.8 PCF). This is the shortest and firmest one.

AS2: Formerly known as the Revere, this one is 12" tall, has 3 layers. The top layer of 'Surface Modification Technology' 1.65 PCF, a comfort layer made of 4 PCF memory foam, and a base layer of 1.8 PCF polyfoam.

AS3: Formerly known as the Liberty, it has the the same number of layers and height as AS2. The only difference is that AS3's topmost comfort layer is 1" thicker than that of AS1 or AS2.

AS4: Formerly known as the Colonial, this one also 12" tall with 3 layers, and again, the top comfort layer is another inch thicker.

AS5: Formerly known as the Independence, this one is the thickest and softest of all 5 types. Standing 14" tall, it has four total layers including two layers of transition foam between the memory foam and support polyfoam.

---
Stand Out Features Of Amerisleep Brand & Mattresses
Wondering how Amerisleep stood out in the crowded online mattress market? We think it's because of these features.

5 exclusive memory foam mattresses to cater to the needs of all types of sleepers.

You get 100-night risk free trial. 3+ months is a good time window to decide whether to keep the mattress or try another popular name.

If you end up loving the mattress, Amerisleep will treat you with quite a lengthy warranty – 20 years, to be specific.

The brand not only believes in serving humans but our environment as well. That's why they use eco-friendly materials.

Residing in the US? You are eligible for free shipping. And yes, all mattresses are made in the USA.

Amerisleep is particular in delivering the mattresses vacuum sealed and rolled in a box.

---
Common Features Across All Amerisleep Mattresses
Celliant Cover – Celliant has been a buzz word in the 'mattress world' for quite some time now. The material is said to maintain the circadian rhythm by regulating body temperature and improving circulation. That means you get more restful sleep.

Bio-Pur™ memory foam – Amerisleep mattresses use bio-based foams and for good reasons. This translates into eco-friendliness, no allergies from petroleum chemicals, and cooler sleeping experience.

Responsive Memory Foam Feel – We all hate that feeling of getting stuck in the mattress, right? All memory foam mattresses of the brand are responsive than their competitor mattresses. A pleasing fact, indeed.

Mattresses that cater everyone's need – We believe Amerisleep doesn't believe in the one-size-fits-all theory. That's why they have two firm and three mattresses.

Cool Sleeping – Celliant fiber in the cover, bio memory foams, and a few other patented technologies show that Amerisleep is a flag bearer of 'stay cool, sleep cool'.

Green Manufacturing – Amerisleep is an environmentally conscious brand that makes an environmentally safe mattress.

---
Reviews: Amerisleep Mattresses
---
1
Cheapest, firmest and shortest Amerisleep memory foam mattress.

The AS1 is designed to have just two layers – 8″ thick Bio-Core support layer topped with a 2″ thick top memory foam layer. The mattress totals 10″ thick.

This mattress absorbs and minimizes motion transfer to a considerable amount, which in turn, may help sleep disruptions and discomfort.

Since it is a firmer model, it does not conform as closely. Provides average pain and pressure relief.

Given the firmness profile of the bed, it's best suited for back and stomach sleepers.

---
2
With the 12-inch AS2, Amerisleep has a thick layer of plant-based memory foam with a supportive, high-quality base layer. Ideal for people with lower back pain and those who sleep on their back or stomach.

The medium-firm mattress contours, cushions and relieve the pressure points. It also ensures optimal spinal alignment to reduce aches and pains.

The eco-friendly foam is breathable. From bottom to top, AS2 is comprised of a 7″ Bio-Core base layer, 3″ poly foam transition layer, and 2″ Bio-Pur memory foam layer.

Moreover, it bounces back to its original shape. If you shift positions frequently, you won't get stuck in ruts.

Available in Twin XL, California King, Full, King, Queen, and Twin sizes.

---
3
Next up is Amerisleep's best selling mattress, AS3. It is a 12-inch mattress similar to AS2's design.

The only difference between AS2 and AS3 is in the thickness of the comfort and transition layers.

The AS3 comes with a 3″ memory foam on top and a 2″ transition layer in between. And this extra thickness adds to its price as well.

If you want to know the exact memory foam layers, here you go: 3″ Bio-Pur™ memory foam cooling layer, 2" Affinity layer, and 7″ Bio-Core™ sag-free support layer.

The medium firm mattress is a versatile model that is suitable for all types of sleepers. Great for balancing weight, and pressure points.

Also, it is a good option for warm sleepers thanks to its Celliant® cover and the middle layer of extra-breathable memory foam.

---
4
Like all other Ameri Mattress models, AS4 is crafted with plant-based materials, it has less petroleum in its composition. That means low carbon footprint.

The medium soft memory foam mattress combines the brand's cooling Bio-Pur foam and Affinity with SMT comfort foam layers. Great for relieving pressure points and to give a floating feel.

Speaking of the three foam layers, it has 2″ Bio-Pur™ memory foam to cool and regulate temperature, a 4" Affinity layer with Surface Modified Technology, and 7″ Bio-Core™ sag-free base support layer.

Best for side sleepers and combo sleepers who rotate between side, back and stomach positions.

Compatible with adjustable bed frames. Available in Twin XL, California King, Full, King, Queen, and Twin sizes.

---
5
Finally, we have the AS5, Amerisleep's softest and the most premium foam mattress.

It is the one and only Amerisleep bed that has more than three layers. With 14" thickness, the layers go like this – a 7″ bottom layer of the Bio-Core support foam. On top of it comes a 2″ transition layer similar to that of AS3. Then there is another 2″ layer known as "Active Flex Layer" for responsiveness. And, finally, a 3″ top layer of the same memory foam used in the other four models.


Due to the additional layer, it provides a 5″ of plush foam for strict side sleepers.

It conforms to the shape of each individual and provides pressure relief for hips and shoulders.

Not on a budget and willing to spend more than a thousand dollar? You can own Amerisleep's the most expensive mattress.

---
Index Table: Amerisleep's Line Of Mattresses
---
---