The Simmons Beautyrest is one of the most popular mattress lines and also pretty huge to explore. There are interesting models, but there are also too many variations within each Beautyrest model to suit different sleeper types.
This article aims to touch on the popular Simmons Beautyrest models, their pros and cons, unique features, and more.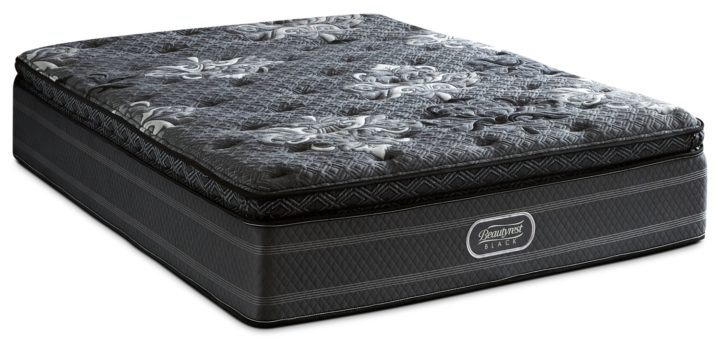 ---
Simmons Mattress Types
Simmons Bedding Company regularly updates its line of mattresses. The current Beautyrest lineup includes Black, Platinum, Hybrid, and Silver. The Beautyrest line has the most affordable beddings, with the main mattress being the BR800™.
Beautyrest Black: This is the epitome of luxury in the Beautyrest brand. With three classes – L-Class, C-Class, and K-Class, these mattresses are ideal for those who prefer high-end memory foam layers and super cushiony comfort. Popular Beautyrest Black models: Tatiana, Sonya, Natasha, Mariela, Katarina Pillow Top, Desiree, and Calista.
Beautyrest Platinum: These are much thicker and pricey mattresses with multiple firmness ratings. Besides memory foam layers, they feature micro coil layers and respond well to your curves. Platinum options include the Jaycrest, Spring Grove, and Haven Pines with plush pillow tops.
Beautyrest Hybrid: This collection has three different hybrid mattresses — the BRX3000-IM, BRX1000-IP, and BRX1000-C. They are firm, plush, and medium-firm with pocketed coil support systems. The price point is high for hybrid mattresses.
Beautyrest Silver: These models are durable, less expensive, and come with plenty of firmness options. They are designed with two foam layers, and a layer of 900 Series pocketed coils.
---
Simmons Mattresses – Pros & Cons
Speaking of the upsides, anyone would agree with these three points.

Simmons Beautyrest line currently has 24 different innerspring and hybrid mattress models. The majority of them come with multiple firmness settings to target all types of sleepers.
Almost all Simmons Beautyrest mattress models provide good edge support and have a comfy responsive surface.
They have mattresses for every budget: from inexpensive to moderately priced and splurge-worthy options.
Onto the downsides of Simmons mattresses:

Below-average lifespan, poor to average motion isolation, and more off-gassing than other innerspring and hybrids models are the major performance-wise cons.
Above-average price compared to competitor mattresses.
Getting the mattress specs like foam density, comfort layer thickness, and cover composition is impossible. Simmons doesn't disclose them.
---
Common Features of Beautyrest Mattresses
Beautyrest Pocketed Coil Technology® for better contouring and to reduce motion transfer
Reinforced edge support to prevent mattress roll-off
Energy Foam® for greater stability and durability
Transflexion® Comfort Technology for excellent comfort to back and joints
No-flip design
So what makes the models differ from each other? The answer is – coil count and type of comfort materials used.
---
Reviews: Simmons Beautyrest Mattresses
---
1
Designed to promote movement while providing pressure relief and regulating temperature, this mattress comes with 2000 pocketed coils.
It lets the body sink in just the right amount with a Plush surface, ensuring a comfortable sleep at night. Also, the surface layer utilizes DualCool technology and Memory Foam.
GelTouch Foam and AirCool Gel memory foam in the comfort layer conforms to the body's shape. The mattress also supports the edges and gives greater stability and ventilation.
There is no need to rotate or flip the mattress with the no-flip design, which we think is great.
Pocketed Coil technology promotes pressure relief and motion separation.
If you can afford the hefty price tag, it is a great buy.
Score:
97.6
By Daniel Max
---
2
Combining pocketed coil technology, air-cool memory foam and surface cool plus fiber, this is an ideal mattress that offers equal parts support and comfort.
The mattress helps to dissipate energy away to give a good night's sleep thanks to the SurfaceCool Plus fiber used in the top layer. The plush pillow top also significantly amp up the comfort level.
The 2-inch padding layer of Comfort foam and 0.5-inch Air-cool max memory foam pressure relief and freedom of movement.
Hundreds of wrapped pocketed coils provide conforming lumbar support and great motion separation for undisturbed sleep.
Air-cool beauty edge foam gives enough airflow through the mattress.
---
3
Another splurge worthy Simmons Beautyrest mattress that is designed to provide conforming back support and pressure relief.
The extra firm surface has SurfaceCool Fiber to boost heat dissipation. It doesn't stop there – the heat is transferred to sides and lower layers where cooling materials are present.
An Energy Foam and Micro-diamond memory foam makes the comfort and contour layers of this Black series mattress.
Advanced Pocketed Coil System and AirCoolBeautyEdge enhance the airflow through the mattress.
The no-flip mattress comes with a 10-year limited warranty with guaranteed long-lasting durability.
The cost to enjoy deep, sound sleep – pricey!
---
4
The Simmons Beautyrest Contour Aire 18″ Queen Raised Air Bed Mattress is in the upper range of the brand's air mattress lineup but on the lower end in terms of price point.
Key differentiating factors include the plush waterproof flocked velvet top and easily inflatable design.
In less than two minutes, you could inflate/deflate the mattress thanks to the built-in pump. Inflated mattress dimension: 80″W x 60″D x 18″H.
The Queen Air Bed Mattress comes with a comfort control switch to set the desired comfort level – firm to plush.
Also included is a tufted contouring pillow top.
---
5
Simmons Beautyrest Beginnings Black Brilliant Sun Crib and Toddler Mattress is an excellent toddler mattress. Yes, they are into Kids mattress, pads and covers too.
231 Beautyrest™ Pocketed Coil® springs form the mattress core and provides firm and even support. The wrapped coils also provide greater durability while delivering pressure relief.
The toddler mattress is designed with two sides: one that offers the right amount of firmness for infants, while the other side features a gel memory foam layer for toddlers. In short, it grows old with your child.
By maintaining an ideal sleeping temperature and reducing pressure points, it ensures your little munchkin sleeps well. It's a great addition to say goodbye to sleepless nights.
All Beautyrest™ crib and toddler mattresses are GREENGUARD Gold Certified.
---
6
This is a 900 series pocketed coil design mattress with a premier support system of the best in the world.
There is dual control technology that keeps your mattress fresh and cool at all times.
Upper Gel memory foam for better lumbar support.
---
7
The 800 Series by Simmons has Pocketed coil technology and a super soft and plush euro top design.
There is dual control technology to keep the mattress fresher and cooler.
Gel memory foam for better plush support and comfort.
Comes in this queen size option.
---
8
A King size Plush Pillow Top mattress with the advanced pocketed coil technology.
A Surface Cool Plus Fiber technology top layer that dissipates body heat.
Micro Diamond Technology Memory Foam that keeps heat away from the body.
Air-Cooled Beauty Edge enhances airflow and offers better stability and support.
---
9
This is lightweight mattress designed to provide a comfortable lounging and sleeping space.
It features a 3-inch thick plush memory foam, consisting of memory and comfort foam.
The mattress includes an ultra-plush cover that is removable, machine-washable, and easy to maintain.
It can be rolled up for transportation and compact storage.
Score:
96.5
By Daniel Max
---
10
This mattress is designed to fit most mini and portable cribs, measuring 38x24x4 inches (LxWxH) in size.
It features a fiber core made from recycled bottles for firm comfort and support.
The mattress is non-toxic, hypoallergenic, and free from harmful materials or chemicals.
It comes encased in a naturally blended cotton cover that is waterproof and easy to clean.
Score:
95.7
By Daniel Max
---
Index Table: Best Simmons Mattresses
---
---