"Should I need an adjustable air mattress?" How many times have you asked yourself this question? Let me guess – countless times!
Would you like to know more about the inflatable mattresses? Are you aware of the pros and cons? How about the safety measures while using them? What are the best picks? This article has all the answers. Read on!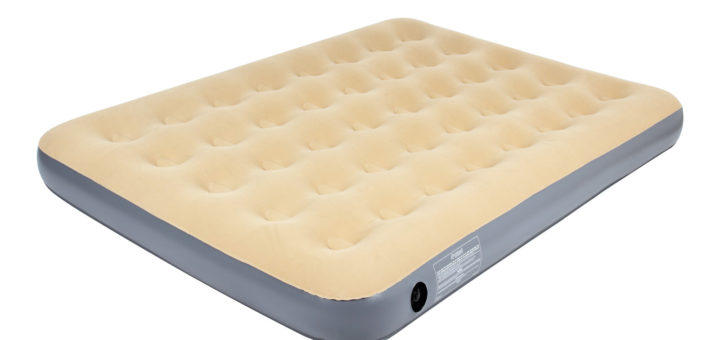 ---
Benefits of Air Mattresses
If you have plans for buying an air mattress for the first time, it's mandatory you know the pros and cons of an Air Mattress before making it your own. Here are the benefits.

Anytime, anywhere: Unexpected guests, no guest room, or in the middle of the jungle – don't break your head for sleeping arrangements. Just inflate the air mattress and forget the world.
Adjustments: Unlike a regular mattress, an air mattress gives plenty of room for adjustments and personal preferences. You like your bed to be softer? Just control the air that goes into it – it's that simple.
Easy on the pocket: A top-quality King or Queen size mattress may cost a fortune, especially if you are on a tight budget. But with air mattresses, you can settle things in $50-$100.
Best for your back: Because they are soft and firm, air mattresses are considered a reliable option to get rid of back pain.
No sagging: Most of the regular beds sag over the years, but you can't find sagging problems with air mattresses.
Long-lasting: Most air mattresses are made of PVC material, which can withstand wear & tear, and sagging issues. That means an air mattress can last for more years than a regular mattress.
---
Disadvantages of Air Mattress
Now you are aware of air mattresses' benefits, let's go over their disadvantages.
Punctures and leaks: A puncture on the vinyl material is rare, you shouldn't overlook it. Seams of the mattress are prone to leaks occasionally. However, you can easily repair them without much difficulty.
The surface texture: Most air mattresses come with either one side flocked or both sides flocked. Choose the ones with 'two sides flocked.' This way, you can flip and use it.
Noisy pump: This is a miscellaneous issue. But if you have kids at home, this might be a problem.
Warranty: Unlike regular mattresses, air mattresses do not have a longer warranty. Most brands offer a year or two to cover defects.
---
Air Mattress: Buying Considerations
Besides size, material, warranty, and price, several other factors are considered before adding an air mattress to the cart.

Carrying Capacity: Most air mattresses support up to 300 pounds, which is adequate for many people. You should also factor in the weight of pillows, blankets, and other bedding accessories as well.
Mattress Weight: When fully deflated, most mattresses weigh less than 25 pounds. It should be somewhere between 8 to 10 pounds for temporary backpacking air mattresses when deflated.
Noise: The internal or external pumps that are battery- or electricity-powered may produce a fair amount of noise during inflation. But they are relatively noiseless during the night. If your air mattress is noisy, add a topper or pad.
Durability: Most air mattresses come with limited durability. However, proper maintenance can extend the lifespan of an air mattress.
Air retention: A quickly deflating mattress will not provide adequate support, leading to or worsen your aches, pains. Air retention is essential in colder days when the air becomes condensed, and air mattresses may lose their shape and comfort.
---
Reviews: Best Adjustable Air Mattress
---
1
If you are looking for an Eco-friendly air mattress that provides absolute spinal support and firmness, look no further than King Koil inflatable raised air mattress.
Features an internal 120V AC pump and a coil-beam construction, a water-resistant flocked top, and ultra-grip bottom for a better sleeping experience.
All King Koil air mattresses come with patch kits – just in case you tear or puncture the mattress. How thoughtful?
Designed for in-home use, it inflates in less than 5 minutes. The inflated size is 76″ x 38″ x 20″.
Other perks: Built-in pillow, additional external valve for camping and trekking, and 1-year warranty.
Pros
Double high elevated.
With built-in pump.
Available in three sizes.
---
2
The Classic Downy Airbed by Intex is designed to offer better support with 14-gauge vinyl beams over a 15-gauge bottom.
Featuring a flocked, waterproof surface that reduces slippage is an ideal adjustable air bed for tent camping.
Installing it is super easy. It has a two-in-one valve system that inflates and deflates the bed very quickly.
It doesn't come with an external air pump; It is compatible with most pump models on the market.
The Classic Downy Bed is available in three sizes – Twin, Full, and Queen – with weight capacities ranging from 300 to 600 pounds.
Speaking of the price point – it is significantly lower than most competitor models.
Pros
Wave beam construction.
Waterproof.
Extra Firm.
Cons
May take up to 72 hours to stretch on first use.
---
3
SoundAsleep Dream Series Air Mattress can be inflated up to 19″, making it a great option for individuals who prefer higher-profile beds.
The bed has a waterproof flocked top that provides good traction for sleeping, which prevents sleepers from slipping off.
This queen-sized air mattress is made with 40 individual air coils to provide a flat, comfy sleeping surface – thanks to the ComfortCoil Technology used.
With a one-click toggle inflating and deflating are a breeze. The patented pump design is 20% quieter than the competitor models.
Another important feature is its SureGrip Bottom. It provides a better suction grip and prevents mattress movement.
A limited one-year warranty backs it. Weight capacity: 500 pounds
Pros
Elevated Dura-beam design.
Waterproof Flocked top.
Built-In Electric Pump.
Cons
May not be budget-friendly.
---
4
Next up on our list is a reasonably affordable, queen-size air mattress made using Fiber-Tech construction.
The mattress is stable and offers a comfortable sleeping experience thanks to its horizontal air chambers.
It comes with a built-in, high-powered electric pump for quick inflation and deflation. Your sleeping bed will be ready to use within 4 and 1/2 minutes.
The waterproof flocked top and indented sides keep the individuals from slipping.
Speaking of the weight carrying capacity, it can hold 600 pounds.
---
5
Less than 15 pounds when fully deflated, The SupportRest Double High Airbed by Coleman – offered in Twin, Twin with Pump, and Queen sizes – is perfect for in-home and outdoor usages.
It can be inflated up to 18 inches making it suitable for people who love extra cushioning layers.
Key features that make this affordable air mattress a great buy includes a soft plush top with a Support Lock (for stability), AirTight system, and Double Lock valve to prevent leaks.
The mattress has a flocked surface that provides comfortable sleep and prevents individuals from slipping off.
Storage and maintenance are super easy. Just fold, roll, and store it safely thanks to its Wrap' N' Roll built-in storage.
This air mattress is backed by a one-year warranty.
---
6
A comfortable Microfiber covered air mattress from Englander.
It is covered in durable and stain-resistant microfiber.
A luxury airbed with an easy to use, built-in pump.
---
7
This is an electrical pump operated air mattress from Laser.
Works with a built-in electric air pump.
There are seven settings and an Led remote control.
Heavy duty and comfortable design that is also portable.
---
8
The Joofo comes with a pump that has three comfort levels.
The smart pump can inflate and deflate the mattress under three minutes tops.
Comfortable and quiet design with an air coil system.
There is a pouch included for easy storage and portability.
---
9
This package includes one queen-size bed, a washable pillow top, and a wheeled storage duffel and repair kit.
The frame is designed to unfold automatically once the airbed is plugged in and starts to inflate.
It is constructed with high-quality materials to make it water and puncture resistant.
This airbed can inflate or deflate within 4 minutes with the primary pump.
Score:
96.6
By Daniel Max
---
10
This is an Aqua PVC-free air bed designed to fit two people.
It features a patented stabilizer system to ensure it stays inflated throughout.
The single cap valve design makes inflation and deflation convenient.
It comes with a battery-operated pump as well as a big storage bag.
Score:
96.1
By Daniel Max
---
Index Table: Top Rated Adjustable Air Mattress
---
---