If you are in need of a good night's sleep, you may consider purchasing a memory foam mattress or mattress topper after reading our memory foam mattress buying guide.
Here we will explore what memory foam is, how it can benefit your body, and the best features to look out for (especially important for purchasing the best cheap mattress).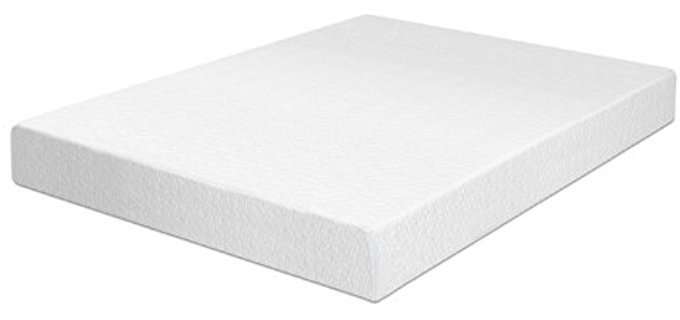 ---
What is Memory Foam?
Memory Foam was invented already by NASA in the 70s to make space travel cushions more useful.
This discovery leads to an even greater breakthrough here on Earth; however, as memory foam products began to circulate the market.
Memory foam is also known as viscoelastic polyurethane foam and undergoes the same process as high-density foam, but with added chemicals to make it have a higher thickness as well as viscosity.
Memory foam's most remarkable characteristics are that it holds an impression of the user, which is activated by one's body heat.
This has proven useful for sleeping optimally at night in the form of mattresses and pillows, in-shoe orthotics, and unique recliner chairs.
In recent years, better refining methods such as the Talalay process have given memory foam products better airflow and softness to improve it further.
---
Why You Should Want a Memory Foam Mattress
Haven't you ever wished you could just sink into your mattress? With memory foam, one does.
Memory foam mattresses will help you to get the deep sleep you need to wake up feeling rejuvenated and whole again!
The reason is that they have the potential to hold your spine in a straight posture.
When you sleep straight, your blood moves better, you breathe easier, and your heart does not have to compensate as much, depending on what side you sleep.
A memory foam mattress is one of the few types of mattresses that can offer the right density as well as the softest comfort for deep sleeping.
Patients who suffer from fibromyalgia, arthritis, back pains, neck aches, migraines, hip pain, and more will likely find sleeping on a memory foam mattress hugely beneficial!
---
Features that Constitute Good Memory Foam Mattresses
Here are the top 5 best features that you can look out for when doing memory foam mattress shopping. This is how you can tell you struck a bargain:
Cooling Gel Infused – If the memory foam mattress is cooling gel-infused, then you know it has additional components in it that absorb heat, allowing for a cooler sleeping experience. These are good if you get hot flushes, night sweats, or burning aches in the night that may keep you awake. This gel infusion also allowed other components to be infused, and these mattresses tend to be hypoallergenic and anti-microbial.
Open Cell Technology – This means the memory foam has micro ventilation or holes from which the hot air generated can escape. This is essential, or the mattress may get too hot during the night.
Pressure Point Relief Design – if the design is contoured or raised in any way, this is usually not a bad thing. It means that the mattress aims to push parts of your back gently, which will alleviate pressure points along the spine. This is sometimes a remedy to insomnia, especially if your back aches a lot!
Multi-layered Foam Product – Different density foams with various functions layered underneath a layer of memory foam makes for thicker, more comfortable mattresses. These are likely to be quite pricey, so if you find a cheap one, grab it.
Height – the thicker the memory foam mattress, the more room you have to sink in. Try to go closer to the 14-inch side rather than the 8-inch side, especially if you are a side sleeper.
---
Reviews: The Best Cheap Memory Foam Mattress
Here we have a selection of the best cheap memory foam mattresses we could find.
---
1
This mattress is deceptive if you judge by price and is one of the best memory foam mattresses for under $100 available.
It consists of three layers: the first layer constituting 3 inches of gel foam, ensuring a comfortable, refreshing night's sleep.
The second layer is composed of 2 inches of airflow foam for optimal ventilation and breeziness.
The third layer is an additional 3 inches of firm density foam for rigid support. This will help to alleviate pressure points on your back.
Ideal for everyone, especially those who suffer from back discomforts, hip pain, and neck aches.
---
2
This cheap dual layered memory foam mattress is not to be underestimated in terms of support and comfort.
The top layer is one inch of perforated open-cell technology cooling gel foam, above 4inches of a high-density foam base.
Dust mite resistant, hypoallergenic, and antibacterial.
This mattress is highly durable and comes with a 25-year warranty.
Designed to give you a cold night's sleep and alleviate pressure points on the back and spinal cord.
---
3
This cooling gel memory foam mattress is a step above the rest as Zinus infuses a natural green tea extract into the foam, making it healthier for you!
The added green tea extract combines antioxidants that impart and maintains extra freshness in the mattress.
The mattress is highly durable and will last at least a decade.
The top layer is 1 inch of memory foam, followed by a layer of 5-inch high-density foam for firm back support.
Enjoy pressure point relief for a fraction of the price.
---
4
The first 3 inches of this mattress consist of Cooling Gel Infused Memory Foam to help you sleep without heat or bother at night.
The next 4 inches is open cell ventilated foam for those who break out in night sweats. This mattress ensures a gentle, effortless night's sleep.
The bottom layer is the firmest and matches the comfort with the support needed to keep in good posture at night.
Considering the quality, this mattress is priced on the inexpensive side!
---
5
This is priced on the more expensive side of this cheap list because it has twice the height and plushness of all the other mattresses.
The top layer is 3.5 inches of memory foam that you can sink into, getting maximum comfort.
The bottom is 8.5 inches of firm density support, which can carry any weight and keep any spine straight.
This mattress has been certified to be free from PBDEs, TDCPP, TCEP, mercury, formaldehyde, and other toxic heavy metals.
This eco-friendly mattress is designed to alleviate pressure points on your back and give you the deep sleep you need.
---
6
For those who have a tight budget, this memory foam bed topper may be a good interim solution.
This mattress is 2 inches of flexible memory foam and will be able to cradle your body while you sleep.
For those with spring mattresses, this topper will be able to protect your hips and back from the springs.
The polymer has been designed using cool cycle polymer, specially crafted to divert heat away from you.
Perfect for side sleepers or stomach sleepers who need extra cushioning and support at night.
---
7
The Vibe Mattress is an affordable option in quality memory foam mattresses.
It comes with two top inches of gel-infused memory foam that is plush and cooling.
In the center is a higher density foam base for better support and comfort.
It is covered in a luxury quilted stretch knit fabric material that is soft against the skin and breathable.
Will give you a medium to firm feel wand is base friendly and adjustable to all base types.
---
8
Cheap but not cheaply made, this is a high-quality CertiPUR-Certified memory foam mattress with a gel infusion.
There are 5 inches of dual-layer memory foam that is infused with Gel for its cooling capabilities.
The open cell construction improves the durability of the memory foam fill so that it will last much longer.
This is the ideal firmness for sleeping on your stomach or back.
---
9
A great investment for under 150 dollars, this memory foam mattress is a classic and of the finest quality.
Fresh Certi-PUR-certified quality and high-performance memory foam fill with three foam layers of different densities for a firm to soft support and comfort.
Very breathable and lightweight, offering cooling and well-ventilated cover.
A durable and long-lasting plush feel cover.
---
10
This is an inexpensive memory foam mattress made with premium quality materials and designed to provide the perfect balance between comfort and support.
It features a 5-inch thick layer of memory foam mattress for firm support to the full body.
The second layer is a 1-inch thick comfort layer made of gel-infused memory foam for pressure point relief, as well as 4-inches of high-density base foam for proper spinal support.
It comes encased in a soft cover made with a blend of Polyester and Viscose.
Score:
96.4
By Daniel Max
---
Comparison Table: Cheap Memory Foam Mattress
---
---