The best duvet comforters are the ones that are incredibly soft and flat and are made with down, feathers, or synthetic fiber. Moreover, duvet comforters are mostly white and keep you warm without extra bedding or blankets.
A duvet comforter is perfect for all seasons and can be a great addition to your luxurious bedding. So, let's discuss some fascinating features of the best duvet comforters, along with some suggestions for buying them.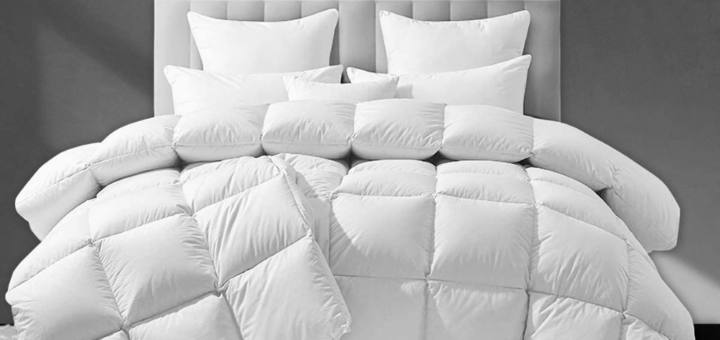 ---
What Constitutes the Best Duvet Comforters?
These snuggly and warm comforters have a lot of benefits. Let's take a closer note of these unique factors that make them the best duvet comforters.

Warmth – A duvet comforter is the best option if you are a cold sleeper, as it will keep you warm and comfortable throughout the night. Besides, different cover materials offer different levels of warmth.
Protection – Additionally, they protect the comforter from getting stained or catching dirt. It also protects us from mosquitoes and other harmful microorganisms.
Easy of Use – Just like the fleece blankets, this comforter is extremely easy to use and store. They do not occupy too much space and fit in a compact almirah. Moreover, duvet comforters do not slip away while sleeping or resting.
Aesthetical Effect – It is the best way to add style to your bedroom. You can decorate your room in all seasons with a duvet comforter as you can use them throughout the year.
---
Types of Fills in Best Duvet Comforters
There are different types of fills used in the duvet comforters. All of them are soft and comfortable. However, some may be a little expensive.

Down – Down is lightweight and still provides extra warmth. It has superior breathability. They do not allow allergens to accumulate on the surface. Note that down-filled comforters might cost you more than other fills.
Down Alternative – Down alternative is for the best duvet comforters, especially those allergic to feathers. Also, they give a similar feeling as down; the only difference is that they are generally synthetic materials, particularly polyester.
Cotton – Cotton, as we know is highly breathe and hypoallergenic. It may not be as lofty and fluffy as down but is extremely lightweight. Furthermore, it is resilient and washable.
Wool – Out of all the fills, wool is the one that provides optimum warmth and is moisture-wicking, not to let the body get overheated. Although heavy, you can easily wash them in a machine or manually.
---
What to Look for in Best Duvet Comforters?
So, if you have decided to buy one of these amazing products, here are some buying considerations.

Fill Power – Wondering what is fill power? Well, it is a measurement of the down's softness and fluffiness. A high-quality power fill indicates that the duvet comforter is strong and thick, making it more comfortable.
Breathable – If a duvet comforter is not breathable enough, it is more likely to suffocate you while resting. Therefore, please choose the one that lets the airflow through it to retain the coziness.
Hypoallergenic – It is essential to ensure that the duvet comforter is hypoallergenic if you want complete comfort and relaxation. It will keep microbes and termites away.
Easy Cleaning – Although most duvet comforters are washable, some are suitable only for dry cleaning. So, you have to be vigilant while selecting it.
---
Reviews: Best Duvet Comforters
So, keeping all the above-mentioned crucial points in mind, we have found some of the best duvet comforters to fulfill your requirements.
We hope you love the products we recommend!
So that you know, We may collect a share of sales or other compensation from the links on this page.
---
1
This fantastic all-season white-down alternative quilted comforter is made of plush microfiber and is hypoallergenic.
You can use it as a duvet or a stand-alone comforter per your requirements.
The duvet is ultra-soft and provides the cozy comfort of down without the feathers, odor, and sharp quills.
Besides, it has a reversible color design to easily match your interior decor and mood.
Furthermore, you can machine wash it in a gentle cycle and even tumble dry on low heat.
The duvet comforter is made of high-quality fabric that doesn't lose its quality or fade away after several washes.
Pros
Quilted design.
Plush microfiber filling.
Hypoallergenic.
Cons
Non-professional laundering is not recommended.
---
2
These are the best duvet comforters in King size measurements of 90 inches x 102 inches.
Moreover, it prevents the fill from shifting with box style stitching pattern.
It is made of soft material with siliconized and down alternative filling to provide a comfy feel.
Four corner tabs keep the comforter and the duvet intact even after rough use.
Above all, the best feature is its maintenance. You can wash it in a machine without its quality getting ruined.
Pros
Down alternative filling.
Box stitched design.
With corner tabs.
Cons
Does not come with a duvet cover.
---
3
You can use this duvet comforter from Bedsure all year long without worrying about the quality fading away.
Moreover, it keeps you warm and cool in summers as it is highly breathable and lets the air flow through.
It is 100% hypoallergenic and crafted from the finest microfiber.
Besides, it has a box-stitched pattern with tabs in all four corners that doesn't let it slip away from the comforter.
Lastly, you don't need to get it dry cleaned every time. You can wash it at home in a machine with ease.
Pros
Microfiber filling.
Breathable construction.
Comes with a variety of size and color options.
---
4
This luxurious duvet comforter has goose-down feather filling and is available in queen size.
Moreover, the super-soft and 100% Cotton Shell makes it hypoallergenic and skin-friendly.
Besides, this duvet comforter's unique feature is that it has eight tabs to prevent the comforter from moving.
The fillings are sterilized at high temperatures to provide warmth and comfort in all seasons.
The piped edge and double-needle stitch make it strong and don't allow the feathers to peek out.
---
5
Made with premium, high-quality microfiber material, this duvet comforter is the most in-demand nowadays.
Besides, it is lightweight, breathable, and very cool to touch, giving a luxuriously soft feeling to the skin.
Also, it has a button closure with string ties for easy insertion and prevents the comforter's movement.
Furthermore, it has been beautifully designed to enhance the bedroom's look and is the best duvet comforter ever.
---
6
This elegant duvet comforter is made with a double brushed fabric shell and whole-piece microfiber filling to give a smooth touch.
Not only is it hypoallergenic, but it also has a super thermal ability to ensure a peaceful sleeping experience.
Moreover, it is extremely durable, so you no longer have to replace it every year.
It is lightweight, breathable, and won't shrink or fade despite washing it regularly.
Besides, it has the simplest design, making it look luxurious and elegant.
---
Index Table: Top-Rated Best Duvet Comforters
---
---