Some of the links in this post are affiliate links. This means if you click on the link and purchase the item, I will receive an affiliate commission at no extra cost to you. All opinions remain my own.
Getting into your super cozy and soft blanket after a hectic day is the best feeling ever. And it becomes better if you have the same feeling all the time. Well, Fleece blankets are there to make it a reality for you. Choosing the best fleece blanket may get a bit tricky for you.
So, here we have compiled some valuable points you need to consider while buying the best fleece blanket for yourself. You will also get to know the advantages of using a fleece blanket.
---
What Are The Various Types Of Fleece?
Cotton Blended Fleece – This is one of the widely used fleeces for making cotton blankets. It is a bit expensive compared to other synthetic fleece.
Polyester Fleece – Polyester fleece is also a popular material for making fleece blankets. It is better than cotton in one way. The smooth side of the blanket repels moisture better.
Microfleece – It is a double-sided fleece that is thin and lightweight. It also has moisture-wicking characteristics.
Sherpa Fleece – The unique thing about sherpa fleece is that it is made of 100% polyester and provides added warmth to the blankets.
---
What Are The Various Benefits Of Fleece Blankets?
Apart from availability in various types, fleece blankets also have many benefits. Let's take a look at them!

Soft and Inexpensive – The best thing about the fleece blanket is that it is extremely soft and fluffy. Moreover, they can also be bought at a reasonable price.
Washable – If you have a fleece blanket, you don't need to worry about cleaning. They are machine washable.
Lightweight – Unlike other blankets, the fleece blankets are way more lightweight. This means that you can carry them easily across rooms in your house.
All-year use – Due to their lightweight and breathable characteristics, fleece blankets can be used all year.
---
Features To Consider While Buying The Best Fleece Blanket
Finally, if you have decided to buy a fleece blanket, here are some of the crucial points you need to look for.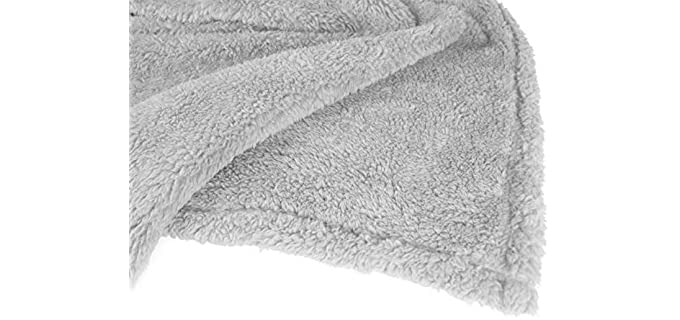 Hypoallergenic – You need to make sure that the blanket is hypoallergenic. It should not have any odor that makes you allergic to it.
Type of Fleece – Your choice will also vary based on the type of fleece in the blanket. For the lightweight blanket, go for synthetic fleece; if you are allergic to polyester, go for cotton fleece.
Color – If you are purchasing a blanket to use as a bedsheet more than a blanket, it is necessary to consider the blanket's color as it should blend with your room's interior.
Size – The blanket choice will also depend on the size you want. Make sure you know how many people are going to use the blanket.
---
Reviews: Best Fleece Blanket
So far, you have all the necessary information about fleece blankets. So, it's time to look at some of the best products you can buy.
We hope you love the products we recommend!
So that you know, We may collect a share of sales or other compensation from the links on this page.
---
1
Experience the pleasure of softness with this state-of-the-art Bedsure fleece blanket. Its brilliant blue color will blend perfectly with your couch or bed.
It is made from 100% microfiber that will be your best companion whether watching TV in your bed or reading a book.
While decently lightweight and breathable, the fleece blanket keeps you warm and comfy.
Moreover, the microfiber material makes the blanket ideal for long-term use and fade-resistant.
---
2
The best thing about the blanket is its plush surface, which is super comfortable while you sleep or watch TV.
The 100% microfiber material makes it fit for long-term use and prevents it from fading.
Moreover, you can use this blanket all year long as it is breathable and lightweight. This makes it warm in the cold and light in the summer.
The dual-sided fleece blanket is soft on both sides and can be bought in four sizes: twin, throw, queen, and king.
---
3
The unique thing about the blanket is the material used in making it. It is a premium-grade and certified material.
Its 250 GSM microfiber polyester and shedding technique make it highly durable and comfortable.
The awesomely lined design of the blanket makes it easy for you to use it all year long. It will warm up in winter and will chill you up in the summer.
Lastly, the super comfortable blanket is available in five size variants and is best for gifting someone.
---
4
Its unique fleece face on one side and sherpa face on the other offers you different softness types while sleeping.
The blanket is not just limited to comfort but always blends perfectly with your bed or couch.
Moreover, it also forms a shield to prevent the bed from any dirt or stain while keeping them fresh.
It would serve as a perfect gift for your friend and is available in many colors and sizes.
---
5
The blanket is soft and extremely lightweight and made from premium grade 350 GSM of 100% premium microfiber.
This makes it ideal for use in both summer and winter. Moreover, It is also fit for long-term use.
As the blanket is made from 100% polyester microfiber, it is shrink-resistant, Anti-fade, Anti-Pilling, and Wrinkle-Free, and does not fade even after multiple washes.
This highly comfortable blanket is available in four size variants and multiple colors.
---
6
The state-of-the-art microfiber material makes the blanket a perfect fit for watching movies while sitting on the couch and sleeping.
Moreover, its lightweight design makes it fit for summer; it is warm enough to shield you from cold in winter.
It is made from high-grade 320 GSM of 100% premium microfiber polyester, offering immense durability.
You can get this brilliant-looking blanket in 4 sizes and multiple color variants.
---
7
From Utopia bedding, we have a comfy fleece blanket.
The blanket is 1005 polyester and anti-static.
It is soft, plush, and fuzzy.
The Blanket can be used on your bed or sofa as a throw.
It is available in more color selections.
---
8
The Luxury Soft Larossa blanket is a complete fleece material.
It is soft and plush, consisting of fleece polyester.
The blanket is durable and machine washable.
It is also available in more color selections.
---
9
From Belleville, we have a luxury fleece blanket.
The blanket is a throw size and very plush.
It is available in plenty of colors from which you can choose.
Machine washable and of excellent quality.
---
10
The Green Orange is excellent quality thick fleece blanket.
They have a ribbed design and are extra plush.
Throw size is available in more colors.
Also machine-washable.
---
Index Table: Top-Rated Fleece Blankets
---
---