Some of the links in this post are affiliate links. This means if you click on the link and purchase the item, I will receive an affiliate commission at no extra cost to you. All opinions remain my own.
The Firm mattress Topper is a commodity in significant demand and increasing popularity.
The Form Mattress Topper is one of the easiest and most affordable methods of improving your mattress's firm feel or a worn-out mattress.

---
Benefits of a Firm Mattress Topper
The Firm Mattress Topper comes in various types and materials and has firm and extra firm options to choose from.
A firm mattress Topper is a mattress topper that is much denser and thick than your average mattress topper and offers much more support than a soft mattress topper.
One thing to remember about a mattress topper is that the denser it is, the firmer it will be.
A Firm Mattress Topper can add a comfort layer to an old, worn-out mattress.
A firmer mattress topper provides much better posture and alignment and therefore is your most efficient mattress Topper for back pain relief. Besides, a dedicated mattress topper for back pain will get rid of chronic pains.
Firm Mattress Toppers are made from much more durable and long-lasting materials.
Some of the best mattress topper brands are made of memory foam molds to the shape of your body and provide exceptional pressure points and pain relief, and along with a Cooling Gel infusion, you will also keep cool.
You can instantly change your mattress's feel and firmness with a new firm mattress topper if you have bought a too-soft mattress.
The Firm Mattress Topper is much more cost-effective and affordable than replacing your mattress and will last almost as long, so it is a much more budget-friendly option to look at if you are low on funds.
Always keep in mind that a firm mattress topper is not particularly comfortable for side sleepers as it places pressure on soft body parts and for individuals who have joint pain or issues
---
Firm Mattress Topper Types and Materials
Memory Foam firm Mattress – The Memory Foam Firm Mattress Topper is one of the most popular choices for firm mattress toppers. A high-end memory foam mattress topper can also be quite expensive, although of excellent quality. Memory foam reduces pressure, noise, and movement; it also conforms to your body's shape and is durable. The two downfalls of memory foam are that it retains heat and has a strong smell initially.
Conventional Foam Mattress Topper – The Conventional foam mattress topper still offers firm options yet is much more cost-effective with a more plush feel. The only downfall is that most cheaper foam mattress toppers will not last as long as memory foam.
Latex – Latex is another firm mattress topper material option that is a bit rare yet very effective at offering firm and resilient support that is highly durable and completely natural. Latex is made from rubber from a rubber tree, is therefore 100% natural, and will not cause any allergic reactions. Latex is naturally cooling; consequently, you do not have the issue of overheating, Memory Foam, and other foam types.
Thickness – There will usually be a density option between 1.5 inches, which is very thin, and 4 inches, which is your thickest option. The denser the mattress topper and the greater the inches, the more reliable and durable the mattress topper is and the firmer support it provides.
---
Features of a Good Firm Mattress Topper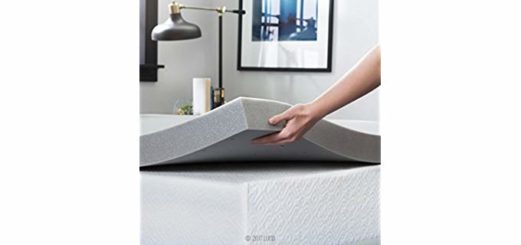 Made from Natural Latex, Memory Foam, or foam.
It comes with a durable and breathable cover.
Gel-infused for cooling.
Lavender or scent infusions for bacteria and odor control.
It comes in firm or extra firm options of density.
Cooling and breathable cover from cotton or other breathable materials.
Depending on the materials, different layer options from 1.5 to four inches.
Low smell and odor on the Memory foam options.
Ventilated design with air holes for better cooling and breathability.
Highly durable and reliable construction and quality made.
The Certi-Pur-Certified Memory foam was used.
---
Reviews: The Best Firm Mattress Toppers
Below we have some superb Options in Mattress Toppers that give firm support and comfort;
We hope you love the products we recommend!
So that you know, We may collect a share of sales or other compensation from the links on this page.
---
1
From Visco Soft, we have a medium to the firm mattress topper.
The Mattress Topper is made of moldable memory foam infused with cooling GEL.
The topper offers firm yet still comfortable support.
Ideal for pressure and pain relief.
---
2
This mattress topper features a unique 2-layer design.
The first 1-inch high layer is made from Red Respire foam, whereas the second layer is 2-inch thick UTTU Dynamic foam.
It provides the perfect balance of softness and support.
This mattress topper is designed for spinal alignment, pain relief through pressure points, and a cooling sensation throughout the night.
---
3
The Organic Textiles Mattress Topper is a High-density Latex Topper for firm Support.
The Latex Mattress Topper has a breathable design that ventilates well to keep you cool.
Latex is naturally cooling and hypoallergenic, as well as very resilient.
The mattress topper will stay firm and not lose its support.
---
4
Tempur-Pedic is a top-name brand in mattresses and mattress toppers made from the finest quality materials with the best technologies.
A memory foam mattress topper with pressure-relieving Tempur materials and a 3-inch thickness is very dense and firm.
Adapts to your body's shape and contours and responds to your temperature for the ideal temperature for sleeping.
A washable allergen and dust mite-resistant cover.
Very durable and reliable quality and construction will last you a very long time.
---
5
From Back Support Systems, we have the perfect firm mattress Topper ideal for individuals who suffer from mild to severe back pain.
It offers full-body support and comfort.
It is made from Gel-infused Memory foam for firm and comfortable support with cooling gel.
Quickly revitalize your old and worn-out mattress with this mattress topper.
Therapeutic comfort with the CertiPur-Certified Memory foam fill.
---
6
The Revel firm Memory Foam Mattress topper has a temperature-regulating function to keep you cool, comfortable, and well-supported.
Three inches of premium revel All Climate Cooling gel Memory foam reduces pressure and offers cooling comfort.
A 100% Stay fresh cotton cover with Nanotech and Scotchguard for long-lasting hypoallergenic freshness.
Made in the USA and CertiPUR-certified Memory foam.
---
7
From Homkuu, we have the sizeable Hypoallergenic Plush and Firm blend mattress that offers firm support and a plush pressure relief top layer for ideal comfort.
Dense filling with a cushion soft top layer and firmer center and base offers a soft and comfortable pressure-free feeling with denser foam support.
Baffle Box design to keep the filling perfectly in place.
Hypoallergenic and hotel-quality design with a 100% breathable fill and cover.
All-season use will not overheat or become cold and is completely machine washable and quick drying.
---
8
Here we have a solid and durable Latex option from Sleep on Latex, which is more resilient and less conforming for extra firm support.
Latex provides the best, pinpointed support for better sleep and alignment, and offers the firmest form of support.
Made with 100% natural latex, no fillers or synthetic materials are used, so you are sure of a completely safe and natural product.
Extra-firm and supportive with a 44ILD firmness rating.
Naturally, it stays cool and comfortable, so there is less tossing and turning during the night and much better quality sleep.
---
Index Table Table: Top Rated Firm Mattress Topper
---
---