Some of the links in this post are affiliate links. This means if you click on the link and purchase the item, I will receive an affiliate commission at no extra cost to you. All opinions remain my own.
Back pain is widespread in the world today.
Modern lifestyles tend to leave us overusing or underusing our back muscles, which can cause strain on the back, back pain, and back-related problems.
Knowing more about the back and having the best mattress pad for back pain can assist you tremendously in your daily life if the above description sounds just like you!
---
Back Pain Causes, Symptoms & Back Problem Diagnosis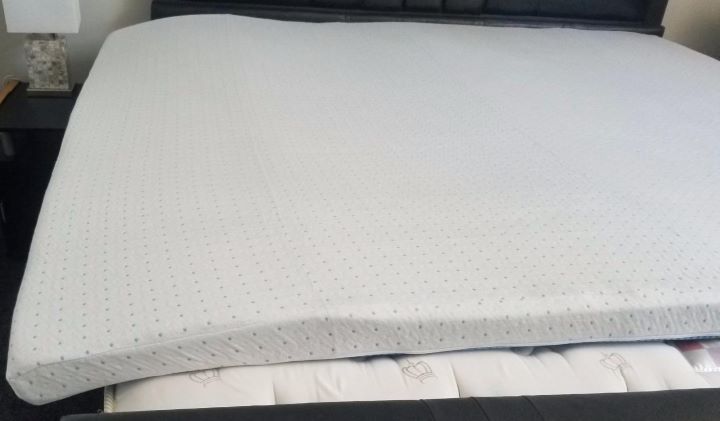 Back Pain is usually caused by incorrect posture or physical injury to the back that somehow misaligns our posture.
Our back muscles will try to accommodate the spine's misalignment and form in ways that cause us back pain.
Back problems usually occur after extended periods of exerting our back muscles with back pain or continuous poor posture and back strain from underuse of our back muscles.
Examples of back problems resulting from poor posture or muscle over and underuse include slipped/ herniated discs, arthritis, fibromyalgia, and scoliosis.
If you suffer from chronic back pain that seems only to worsen, you will need to consult an expert even when good posture is maintained.
Your local physician can provide a far more accurate diagnosis and treatment plan.
---
How the Right Mattress Topper Can Help Alleviate Back Pain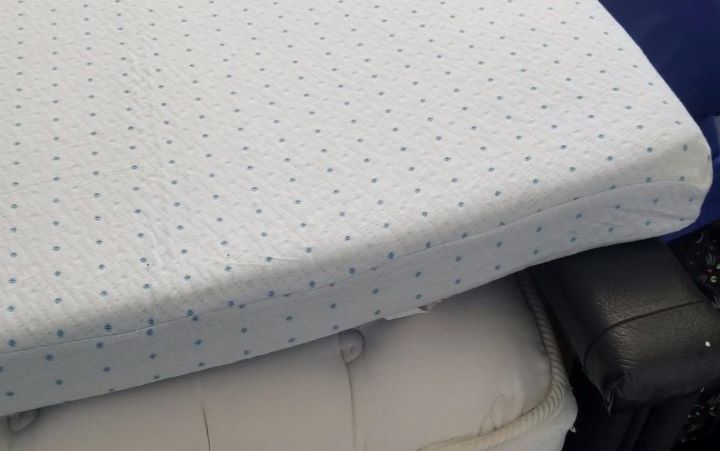 The best mattress pads or toppers for back pain should help support your spine and muscles while you rest. This, in turn, will take all pressure off your back and allow it to heal comfortably.
Mattress pads provide back pain relief in this capacity; however, if you have a swollen back or hips, you may wish to use a cooling gel to reduce inflammation, such as arnica gel, in combination with an orthopedic mattress pad.
Firm mattress pads also sometimes provide necessary back protection against spring mattresses.
If the mattress pad is thick enough, it will also be suitable to support side sleepers who suffer from back pain.
A mattress topper for shoulder pain can also promote better circulation due to posture-pedic support and can prevent shoulder pain, hip pain, and more back pain caused by a lack of oxygen.
This supportive perk of mattress pads is highly beneficial for back arthritis or osteoporosis patients in particular.
---
Noteworthy Characteristics of the Best Orthopedic Mattress Pads
Firm Foam Base – This is particularly important if you are sleeping on a spring mattress or need extra firm back support. A foam base is more likely to give you this kind of support than a microfiber or down feather topper filling. Side sleepers and stomach sleepers may want a more soft foam base or a combination base for a more comfortable night's sleep.
Double Layers – having more than one layer in a mattress pad is usually a good indication that it has orthopedic benefits, especially if a soft substance and a steady substance come together. Double foam layers often provide a supportive layer, with a foam of a softer nature on top like memory foam, for superior comfort while resting.
Memory Foam – this is a unique foam base that responds to body temperature by allowing the sleeper to sink into their mattress pad. Your body's precision 3D contour mold is created and cradles you with perfect posturing. Memory foam is also great because it's highly adaptable, allowing you the liberty of changing sleeping positions throughout the night.
Perforation – it's critical that the material you use to sleep on is perforated. Perforation is necessary for proper airflow in the mattress pad, preventing excessive heat build-up, which can create sudden discomfort or wake you up in the middle of the night. Most foam bases made from the Talalay method are perforated. Cooling gel technology can also provide extra heat resistance and cooling if heat is a reoccurring problem for you.
The Right Density – the thickness of a mattress topper is important, especially if you are a side sleeper. Side sleepers need thicker mattress pads for shoulder, hip, and neck support. Back sleepers benefit from thinner or firmer mattress pads, while stomach sleepers prefer the softest mattress pad possible.
---
Characteristics of a Good Mattress Topper for Sleepers with Lower Back Pain
Firm Back Support
The degree of firmness depends on what sleeping position you like to lie in, but ultimately a firmer back support mattress topper that can keep your spine in good shape is ideal. If you are a side sleeper, slightly softer back support will be needed so you don't get hip or shoulder pain.
Memory Foam
Memory Foam makes the best mattress toppers because it molds to your unique shape, giving you the ultimate buck support combined with comfort. Memory foam is hypoallergenic and suitable for all sleeping position types. This foam responds to your heat and adapts if you want to change your sleeping position at night.
Mattress Topper Height
If you mostly sleep on your back, you need an extra firm mattress topper, which means one that is not very thick or made from a firmer foam base. If you sleep on your side, you will need a thicker mattress topper to give your hips and shoulders enough space. If you sleep on your stomach, you will want a very soft material to pad your tummy.
---
Comfortable Mattress Topper Materials
The best mattress topper materials will offer unmatched back support, pressure point alleviation, and supreme comfort!
Memory Foam – Memory foam is a specialised type of foam that adapts to your body shape. Sleeping on top of a memory foam mattress topper will create a unique contour of your body shape, ensuring you remain in the best possible sleeping posture. Memory foam is best when paired with another firm material to provide better support; however, it will do just fine on top of most mattresses.
High Density Foam – For those who need very firm back support, high density foam is the way forward. High-density foam is the densest of all foam materials, offering precise back support to those who need a reminder to correct their posture. Usually, high-density foam is paired with a softer foam for excellent support and ultimate comfort.
Microfiber Cluster – Microfiber clusters are clusters made from synthetic fibers which emulate luxurious down feathers. The benefits of microfiber clusters over down feathers are that the cluster fibers are hypoallergenic and do not condone animal cruelty. They offer the same back support and cushiness you can expect from a down feather topper.
---
Reviews: The Best Mattress Pads For Back Pain
Here we have our list of the best mattress pads proven effective for back pain relief and extra comfort cushioning.
We hope you love the products we recommend!
So that you know, We may collect a share of sales or other compensation from the links on this page.
---
1
This memory foam mattress pad or topper is 3 inches thick to accommodate shoulder length and provide a very plush sleep.
The memory foam will take on your shape, preventing odd sleeping positions and back pain.
On top of a firmer mattress, this topper will provide back pain relief by helping to give comfort and support your spine by alleviating pressure points.
ViscoSoft's exclusive memory foam is infused with cooling silica gel to improve the topper's airflow and breathability.
Forget overheating at night with the perforated design for extra ventilation, and enjoy a peaceful sleep with this topper.
Comes with a machine washable & removable 70% bamboo (rayon) – 30% polyester cover for your convenience.
---
2
It is ideal for alleviating pressure off the spine and providing back pain relief and a great night's sleep.
This high-density 2-inch memory foam provides optimal back support, taking on your unique shape and gently hugging your body in the right orthopedic alignment.
Perfect for any sleeping position as the memory foam is highly adaptable.
Silica Cooling Gel Infusion into the memory foam allows heat to disperse evenly and prevents heat bursts from waking you up at night.
The foam is perforated for even more breathability and airflow.
Highly durable, this mattress topper will last you for years to come.
---
3
This mattress pad is designed to stay firm on your mattress with a slide-proof polyester blend.
The top is 100% polyester, the bottom is 100% olefin, the sides are 90% polyester and 10% spandex for traction, and the filling is 100% micro plush polyester.
Reaching ±2 inches, the firmness of this soft mattress topper is enough to help alleviate pressure off the back and hips and give you a pain-free back sleep.
End-to-end stitching allows the filling to stay put without making sags and dents in the mattress pad. Enjoy a long-lasting and even distribution of plushness to aid you when at rest.
Available in 6 sizes in total to accommodate most mattresses out there.
---
4
This supreme mattress pad is found in Marriott Hotels and is made from the most cutting-edge plush materials you can imagine.
Cooling Cluster Fiber Technology enables you to sleep peacefully without overheating under the covers or experiencing temperature discomfort at night.
100% Hypoallergenic. Ideal for people who crave down feather fill but have down feather allergies.
The quilted design enables maximum comfort and softness at night, perfect for taking pressure off your back or providing back pain relief.
Stomach sleepers may enjoy the soft quality of this plush mattress topper; however, side sleepers and back sleepers will benefit as well.
Indulge in a great night's sleep and feel like you are staying at a luxury resort with this 5star mattress pad.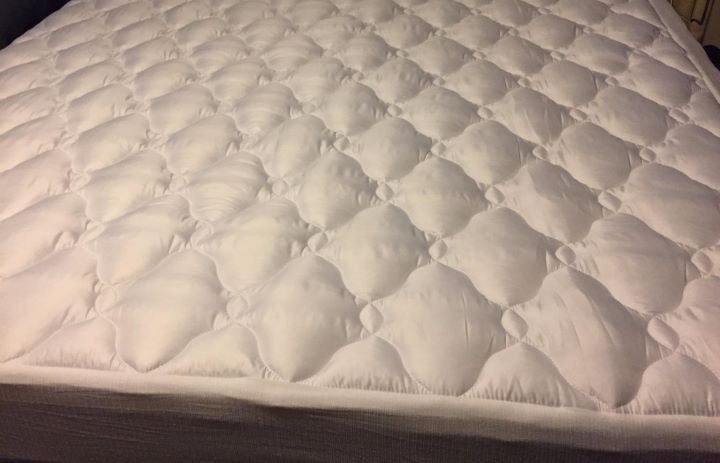 ---
5
Comfortable Gel-infused Memory foam mattress pad that is ideal for back pain.
Well ventilated and cooling materials and design.
Certified CertiPUR OS for performance quality.
Aids in reducing trapped body heat.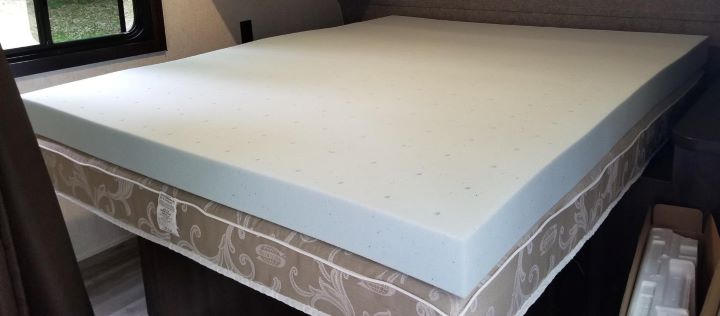 ---
6
This is a fantastic mattress pad, ergonomically designed to help you to sleep more comfortably and stay cooler at night.
This Lavender-infused memory foam topper smells just like a flower, imparting the incredibly soothing properties of Lavender to your night's sleep.
The 5-zone design is innovatively patterned to increase ventilation and alleviate pressure on all parts of the back and spine.
Two inches of padding between you and the mattress ensures protection from any springs with enough height to accommodate most shoulder lengths.
The Memory foam conforms to your body shape and cradles you as you sleep peacefully with comfortable back support.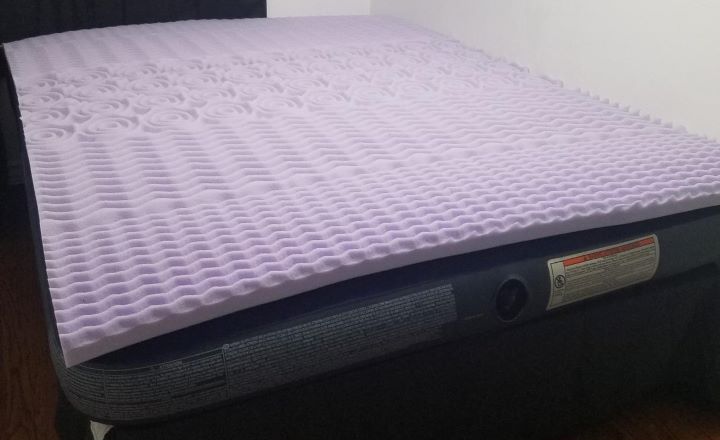 ---
7
This mattress topper is a whopping 4 inches thick to help those who need immediate back pain relief!
The top 2 inches are made of dense memory foam, which adapts to your unique body shape and distributes all backpressure evenly, promoting excellent sleep.
The bottom 2 inches consist of high-density foam, which provides a fantastic backbone of support for your back, making it easier to fall asleep in a correct posture.
The topper is cooling gel-infused for the best possible temperature regulation.
The foam mattress topper is highly durable and will resist wear and tear excellently.
It comes included with a worry-free 5-year warranty.
---
8
This superior comfort Microplush mattress pad is filled as thick as possible, giving it a soft yet firm density.
This topper is overfilled until it reaches ±2 inches.
Perfect for the stomach, side, and back sleepers who need body support and cushioning for lower back pain relief.
The top is filled with polyester, the bottom is made from olefin, and the sides are made from 90% polyester and 10% spandex.
It is available in six sizes: queen, king, California king, full, twin, and twin XL mattress.
Professional washing or dry cleaning is recommended for the best cleaning and minimal wear and tear.
---
9
This luxury mattress topper can be used as a down-feather fill alternative, hypoallergenic, anti-dust mites, and resistant to bacteria.
The cover is made of heavenly soft microfiber polyester, soft as cotton to the touch, with enhanced stain-resistant properties.
This mattress is overly stuffed with gel-infused polyester, a cutting-edge Tempurpedic technology that keeps you cool throughout the night by ensuring evenly distributed heat.
Plush enough to help cushion side sleepers and all other sleeping positions and relieve back pain.
Fully machine washable; however, some sizes may be too big for your washing machine and require you to opt for professional cleaning.
---
10
This quilted mattress pad is made from 100% hypoallergenic poly-cotton and is machine washable.
It is filled with polyester to provide a cushioning layer, guaranteed to improve bedtime comfort.
It can help alleviate back pain caused by overheating in the night, keeping you and your bedding cooler with an even heat distribution.
Ideal for individuals who often sweat while sleeping, absorbing moisture, and protecting their mattress.
No slipping or sliding, thanks to the handy stretch this mattress pad has to provide.
---
11
This mattress topper's 2-inch thick plush filling can help alleviate lower back and hip pain and promote a great night's sleep.
Rest comfortably and assured on this mattress topper, which is hypoallergenic, anti-microbial, and dust-mite-free.
This mattress topper is perfect no matter the season, being cool all year round and giving you a restful sleep experience in all seasons.
This mattress topper is covered with a microfiber cover and filled with a soft density microfiber filling and is ideal for stomach or back sleepers with lower back pain.
Machine washable and available in four different topper sizes.
---
12
This foam topper is available in 8 different sizes and is certified safe from hazardous chemicals, ideal for cushioning and supporting most sleepers.
Cooling Gel technology allows for a cool night's sleep and is swirled into the memory foam for a pleasing marble effect.
The memory foam will take on your exact shape, hugging your body and providing you with adequate back and hip support to allow you a deep night's sleep.
Enjoy a pain-free night, free from your lower back pain or protected from harsh mattress springs.
Made in the USA with a 3year warranty.
---
13
This mattress topper is overfilled for a plush night's sleep and to help ease all pain off your back.
The polyester fiber filling retains its loft and has been stitched into quilted segments to prevent shifting and promote pressure relief.
The olefin bottom ensures the mattress topper is quick-drying and discourages fungus or bacteria growth.
The mattress topper has a skirted rim that can take in a mattress up to 18 inches thick, doubling as a mattress protector!
This hypoallergenic plush mattress topper keeps your bed and back in the best possible condition.
---
14
A comfortable gel-infused inner memory foam mattress pad brings life to your old mattress.
It has firm support that gives comfort for back pain.
A cooling gel that disperses your body heat.
It improves your overall sleep quality and reduces pressure points.
---
15
This gel-infused memory foam topper is the perfect aid for a great night's sleep, adding perfect comfort and conformity to reduce back pain.
The topper is incredibly well ventilated and has cooling gel infused to ensure no overheating and a continuous airflow stream.
The memory foam is soft and creates an ideal body contour, alleviating all pressure points on your back.
The 3-inch profile of this topper is the perfect thickness for a perfect night of rest, allowing you to sink in without bottoming out your mattress or feeling any loose springs jab your sides.
The bottom has an anti-slip grip, making it unnecessary to purchase a skirted mattress pad or protector.
---
Comparison Table – Mattress Pads for Back Pain
---
---