Gel Mattress Topper is a level up from the general foam mattresses, as they deliver better comfort and cooling.
The gel mattress toppers also align better to the body's shape and ensure that you get a sound sleep. Also, you will come across some mattress toppers, which are eco-friendly and made of organic materials.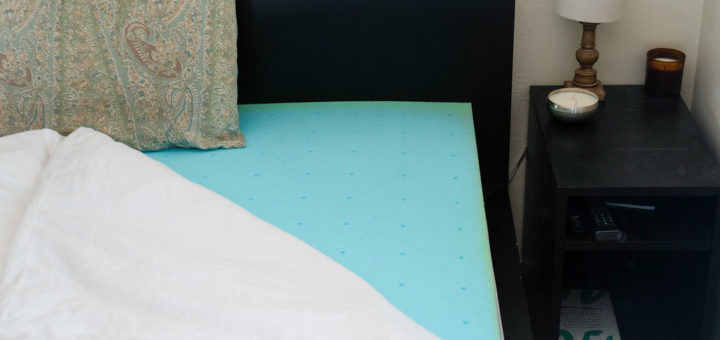 ---
How to Choose the Best Gel Mattress Topper
Here are the top things to consider before choosing the best mattress topper. Have a look!

Pressure Point Relief – The most common reason for choosing a gel mattress topper is to make the sleep time more comfortable and soothe back pains, muscle sores, etc.

Hypoallergenic – If you are sensitive to nasal and skin allergies, you must pick the toppers that are made of natural or organic materials.

Motion Isolation – The gel mattress topper must be able to provide ample support to you, so you won't keep turning due to discomfort or sleeplessness.

Durability – Durability is an important aspect to consider while choosing a gel mattress topper. For this, go through the reviews as well as the brand's integrity to ensure that they will deliver a durable piece.

---
The Advantages of a Gel Mattress Topper
The Gel Mattress Toppers are not just for a good sleep. They have loads of benefits, and a few of them are listed below.

No Fillers – The Gel mattress toppers are free of any filler material so that you can stay free of possible allergies and refilling requirements.

Eco-Friendly – Many gel mattress toppers are made of eco-friendly and organic material, making them safe for the environment.

Durable – Gel mattress toppers are generally highly resilient and don't easily sag or wear out when properly taken care of.

Pressure Relief – The most important benefit of gel mattress topper is its ability to furnish excellent support to the body. It evenly distributes the weight of the body and contours to the body's shape and relieves muscle pain.

---
Memory Foam Topper or Gel Mattress Topper?
Many people are confused between choosing memory foam topper and gel mattress toppers. So here is a brief comparison between the two, which will help you decide which one is better for you.

Material – Memory foam mattresses are made of memory foam or layers of it. Memory foam is further made up of viscoelastic, which aligns with the pressure areas when force is applied to it. Gel Foam mattress toppers, however, are also made of memory foam, but with infused gel. This gel could be made of natural plant oil, activated charcoal, green tree extracts, etc.

Body Support – Both offer excellent support to the body, but the gel mattress toppers have an additional advantage of body temperature regulation. Thus, gell toppers keep you cool in comparison to mattress toppers.

---
Reviews: Best Gel Mattress Topper
Here we have the top gel mattress toppers that are the best in the market. Please note that we may receive a part of the profits for purchases made through this page.
---
Made of 100% Polyurethane Memory Foam Gel Beads, this mattress topper is all set to hug you in a gentle embrace the moment you lie down on it.

It is available in two profiles, 2 inches and 3 inches so that you can choose your favorite level of plushness.

The cooling gel captures the body heat and distributes it to regulate the body temperature and keeps it cool.

---
2
The ventilated gel memory foam is designed to have excellent airflow to make your sleep extra comfortable.

This gel mattress topper will come with a slight scent, but it will eventually fade away in the first 48 hours. After that, there will be no odors for those with a sensitive nose.

The mattress topper contours to the body's shape and induces good support for the body.

---
3
These gel mattress toppers by Best Price Mattress are certified by Certi-Pur US on the aspects of performance, environment friendliness, etc.

It also delivers the pressure-relief benefit of the memory foam mattress coupled with the body temperature regulation and moisture-wicking features.

This mattress topper is intentionally an inch narrower and shorter than the standard sizes to ensure a perfect fit on your mattress. Besides, these are available in several sizes.

---
4
The cool swirl gel memory foam mattress topper is all that you need to ensure a sound sleep thanks to its air flow pattern.

It is embedded with Green tea extract and castor natural plant oil, which spontaneously kills odor-causing bacteria keeping you safe from allergies and bed bugs.

It also includes natural active charcoal that absorbs excess moisture and keeps the body cool in summers.

---
5
The 3-inch foam design is made to conform to the body's posture and ensure less tossing and more sound sleep.

It also relieves tired muscles and back pain, so it's an excellent option for those who work hard all day besides, elderly, and kids as well.

---
6
This gel mattress topper by Classic Brands comes with a unique egg crate design that amplifies its capability to regulate the body's temperature as well as body support.

It is made of quality material that is certified by CertiPUR US for its eco-friendliness and nontoxicity.

It is antimicrobial and resistant to odor, mold, and dust mites, making it suitable for people with allergies and skin sensitivity.

---
Index Table: Top-Rated Gel Mattress Topper
---
---