Some of the links in this post are affiliate links. This means if you click on the link and purchase the item, I will receive an affiliate commission at no extra cost to you. All opinions remain my own.
Building a new bed or revamping an old one, bed slats add a lot of power and comfort to the sleeping experience. Besides, wooden bed slats are also convenient to upgrade an old mattress or one that is too hard for comfortable sleep.
So here are the top wooden bed slats that will act as a good foundation for your mattresses. Since they will check the mattresses' sagging, your mattresses will last longer than expected. Have a look at the top wooden bed slats and choose what suits you the best.
---
Benefits of Wooden Bed Slats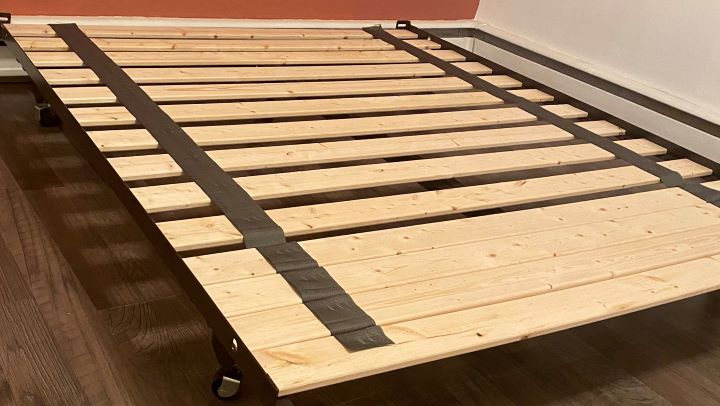 Wooden bed slats bring along ample benefits, and here are the top ones. Have a look!

Flexible Back Support – Wood has the natural tendency to bend on pressure application. So they adjust concerning your body weight and provide full comfort and support.
Adjustability – A great perk of wooden bed slats is that they are easy to customize compared to their metallic counterparts.
Even Weight Distribution – As discussed earlier, wood has natural flexibility, so it distributes your bodyweight evenly.
Eco Friendly – Wood is an eco friendly option to choose. It is naturally degradable and thus easy to dispose of as well.
Ventilation – slatted bases offer surplus airflow, so your mattress gets sufficient air to breathe and remains fresh and mold-free.
---
Choosing The Right Wood For Bed Slats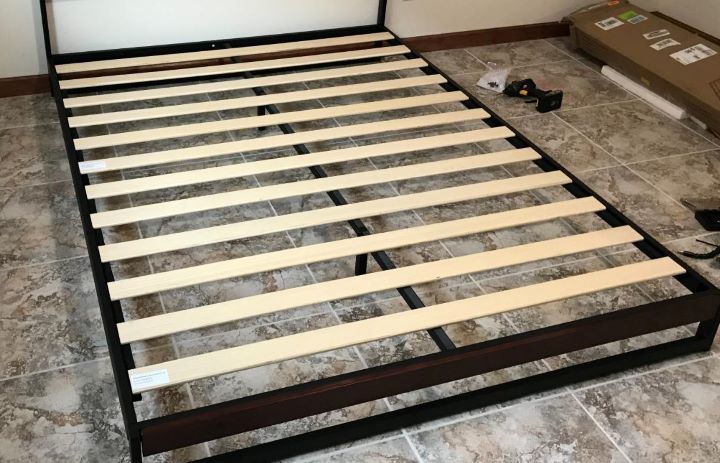 For choosing the right wooden bed slats, you must also be aware of the kind of wood that will suit you best. One might be economical, and another more durable. Here are the commonly used woods for making bed slats.

Southern Yellow Pine – The Southern Yellow Pine is one of the strongest woods for bed slats. It has a firm grain and is durable enough to bear weight constantly.
Douglas Fir – This wood is highly resistant to warping and extra durable. However, for some people, it may be quite rigid.
Red Oak – Red Oak is extremely strong and expensive. People hardly use it for bed slats and more in the exterior frame.
Beech – A valued timber, Beech has high density and subsequently high strength.
---
Considerations for Buying Wooden Bed Slats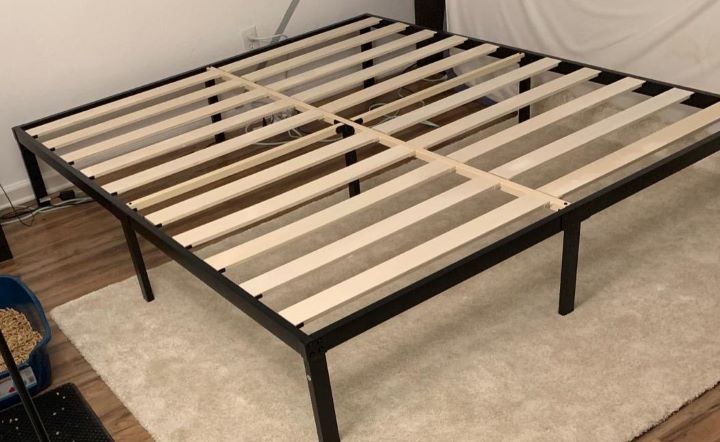 Here are some of the top considerations for buying wooden bed slats. Though Bed Slats are not a big deal, only the best last long and provide excellent support and life to your mattresses. Have a look.

Wood Type – Each wood has its own characteristics. So the type of wood impacts the durability, strength, and flexibility of the slats, making them suitable to use in place of bunkie boards.
Number of Slats – The requisite number of slats varies from bed to bed. For example, for a 14" California King size bed, 15 slats will suffice, while for a smaller 38" twin bed, 13 slats are required.
Slat Spacing – Slat spacing dominates the strength and support of the slats. Ideally, it must be around 2 1/2 inches apart.
---
Reviews: Best Wooden Bed Slats
Have a look at the best wooden bed slats, and make your purchase decision depending on the features you require.
We hope you love the products we recommend!
So that you know, We may collect a share of sales or other compensation from the links on this page.
---
1
Get one of the most sturdy and durable support for your mattresses with these fabric-encased wooden slats for beds. So be it memory foam, spring, or a hybrid one, they will all get an excellent base.
Ideally, it would help if you placed them head to foot for extra support and comfort instead of placing them horizontally.
It comes with a five-year warranty, and these are ready to use and require no assembly.
---
2
These custom-width wooden bed slats by the Furniture Cove also feature Dark Green Straps to keep the slats in place.
However, the best part is that if your bed size is not an exact match of the slats, you can ask for a custom width, and they will deliver it to your doorstep.
These high-grade pine bed slats are thicker and much durable than most similar products in the market.
---
3
This bunkie board is made with premium quality wood.
It is designed to fit the standard sizes of various beds, including Queen, King, and Twin sizes.
The wooden slats are sturdy enough to handle the weight of the mattress.
It comes pre-assembled for easy installation.
---
4
These wooden bed slats by Classic Brands are an excellent addition to experience comfort and ease at their best.
You may feel free to place your mattress directly on the wooden slats. Besides, these are designed to bear any mattress's weight. It also prevents sagginess in mattresses.
Being made of Southern Yellow Pine, these are heavy-duty and suitable to use in place of Bunkie boards.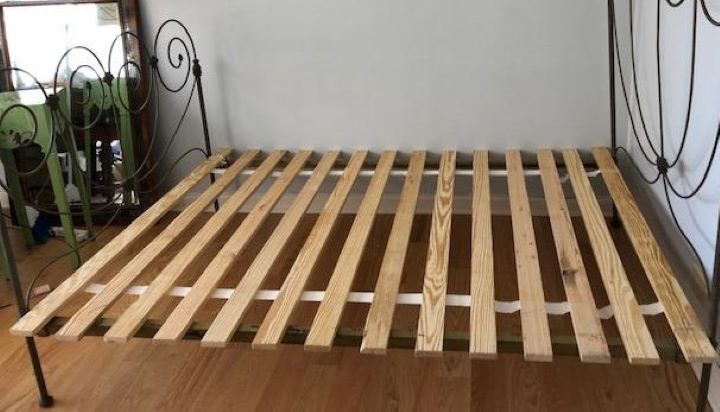 ---
5
These wooden slats are sturdy enough to use directly over the frame and under most kinds of mattresses.
Continental Mattress wooden bed slats also provide excellent upliftment to the mattress without adding much height.
They require no assembly and are ready to use straight out of the package. Besides, they are suitable for all kinds of bed platforms, including bunkies and daybeds.
---
6
These durable wooden slats by Greaton are made from quality Spruce lumber. Give extra life to your mattresses by providing a great foundation.
The wooden slats are available in multiple sizes to fit different kinds of bed platforms, though additional support in the middle is recommended for king-sized beds.
Furthermore, it is sturdy enough to be placed directly on the frame eliminating the need for a box spring.
---
7
This is a full-size platform bed with a frame.
It includes wooden slats, a footboard, as well as a headboard.
The frame is made with industrial-strength metal and sophisticated wooden accents for a modern finish.
It includes non-slip tape to keep the mattress in place and allows for stress-free assembly.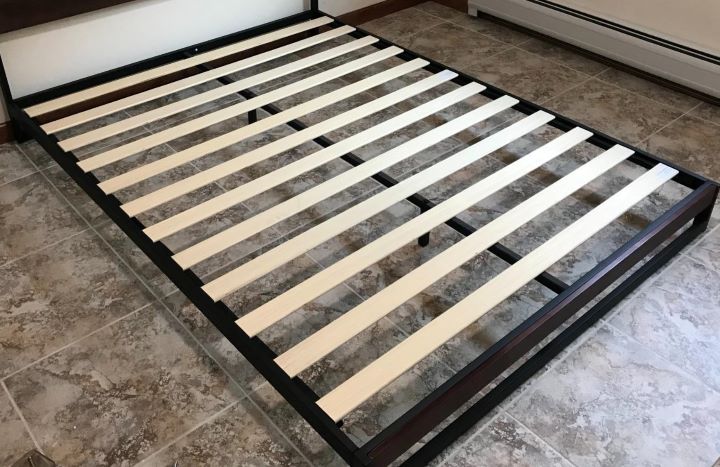 ---
8
This is an upholstered bed frame with wooden slats.
It combined sturdy wooden constructed with linen-inspired classic upholstery.
The wooden slats bed frame is easy to assemble with only a screwdriver.
It is available in five neutral colors, such as Charcoal, Stone, Cobalt, Black, and Pearl.
---
9
This bed frame features ten wooden slats, a center support bar, and six sturdy legs.
It offers excellent stability and support for foam mattresses and is 20% heavier to make it long-lasting.
The wooden slats come with a non-slip design to prevent the mattress from sinking and sliding.
It allows for 12 inches of valuable space under the bed.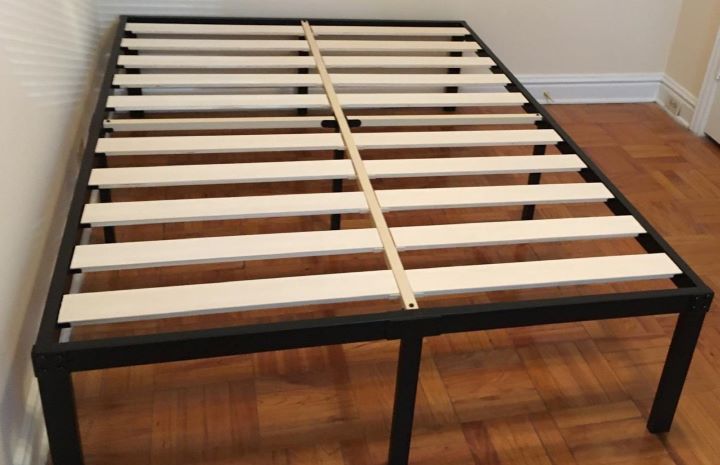 ---
Index Table: Top-Rated Wooden Bed Slats
---
---