The growing popularity of an organic bamboo sheet has made it one of the most widely used bedding items. Apart from being super light and breathable, this fabric features hypoallergenic properties. Here is how you can get the best product for your home.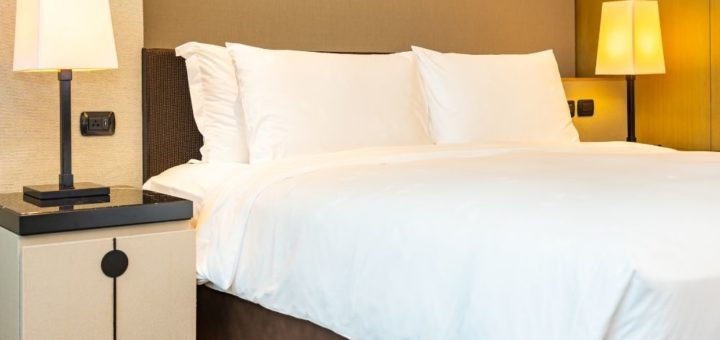 ---
Best Material for Eco-Friendly Besheets
If you are looking for eco-friendly bedsheet materials, here are some of the options. Not only are these fabrics sourced organically, but they also come loading with several benefits. Take a look.

Organic cotton – Organic cotton doesn't contain harmful pesticides, chemicals, or formaldehyde. Besides, these are dyed using natural colors. Bedsheets that feature organic cotton are soft to touch and breathable. However, these may shrink when washed in warm/hot water. Therefore, it is advised to wash them in cold water.
Hemp – Hemp is another eco-friendly bedsheet material. It is one of the most breathable options and has an unmatched moisture-wicking property. This fabric remains cool even when the temperature is hot and humid. However, hemp isn't widely available, which makes it costlier.
Linen – Linen is made from the fibers of the flax plant. It is durable and dries faster than materials like cotton and hemp. This makes it perfect during the summer weather and is a widely used fabric in garments as well. Additionally, flax linen is also non-allergenic, which makes it a perfect option for those with sensitive skin.
Organic Bamboo – Organic bamboo fabric is produced ethically and sustainably. In addition to that, it is breathable and absorbent. Bamboo that is produced organically is exceptionally absorbent and regulates body temperature. The material is soft to touch and biodegradable. Let's talk more about organic bamboo bedsheets in the next section.
---
Benefits of Using Organic Bamboo Sheets
Organic bamboo fabric is widely used in several clothing items. It is mainly because this material has its distinct advantages. You'd be surprised to know that it has become an essential part of bedding items like mattresses, bedsheets, mattress toppers, and pillow covers. Here is why you must invest in organically sourced bamboo bedsheets.

Antibacterial – Organic bamboo's antibacterial property helps it fight bad odor. In addition to that, it is also anti-fungal. Therefore, there is no way you can get any type of fungal infection. A healthy, germ-free option, organic bamboo is also anti-static.
No Use of Chemicals – Bamboo is naturally resistant to pests and diseases. Besides, it is grown without the use of toxic substances like pesticides and insecticides. So, if you are looking for a more natural alternative to cotton, organic bamboo should be on your mind.
Super Absorbent – Organic bamboo fabric is porous. Therefore, it means that it is more absorbent than cotton itself. When you use a bedsheet that has organic bamboo fabric, it absorbs sweat efficiently. Additionally, it will keep you dry and comfortable.
Regulates Body Temperature – Not only organic bamboo bed sheets are great for warm seasons, but these also work pretty well during the winters. Therefore, this property helps you remain cool and fresh during summers and warm when it is freezing outside.
---
What to Look for in Organic Bamboo Bedsheets?
If you have made your mind and want to purchase bed sheets with organic bamboo fiber in them, here is what you need to know. Given below are a few key pointers that will ensure that you get your hands on the best product.

Material – While looking for a bamboo sheet, make sure to buy the one that is made from 100% organic bamboo fibers. Additionally, look for organic bamboo lyocell sheets that are processed without the use of toxic material and are environment friendly.
Weave – Weave plays an important role and affects the way the sheets feel. There are two common weaves – twill and sateen. While twill is crisper, sateen feels more like silk. However, it is more pricey than twill. So, before you buy an organic bamboo bedsheet, make sure you are aware of the weave.
Thread Count – Another important thing to consider is the thread count. An organic bamboo sheet has a thread count between 250-300. It feels soft to touch even if you compare it with a cotton sheet with a 400 thread count.
---
Reviews: Best Organic Bamboo Sheet
To make it simple for you to choose the best bed sheet made from organic bamboo, we have made a list of six products. If you wish to buy any item from the links below, we'd like to inform you that it will help us in earning some part of the profit. Happy buying!
---
1
This space grey organic viscose bamboo sheet will make you feel like you are sleeping on a bed of roses.
It features 400 thread counts that help in regulating your body's temperature.
Additionally, these get cozier and softer with every wash.
The bedsheet also features extra deep pockets that keep it in place.
Score:
99
By Pavneet Lobana
---
2
Take a look at this beautiful organic bamboo bed sheet by ZENLUSSO.
It comes with an OEKTO-TEX Standard Certification and ensures 100% customer satisfaction.
The bedsheet doesn't trap any heat and lets the air flow comfortably.
On top of that, it is ideal for hot sleepers as it wicks moisture quickly.
Score:
99
By Pavneet Lobana
---
3
These bedsheets are crafted in a chemical-free environment.
Additionally, it is odor resistant and keeps you cool during the summer season.
The sheet features a luxurious sateen weave.
You will also find a pair of pillowcases along with this item.
Score:
98
By Pavneet Lobana
---
4
This eco-friendly bedsheet by Pure Bamboo is made from responsibly sourced material.
It has been tested for more than a hundred toxic chemicals.
Additionally, this bedsheet comes with two pillowcases that feature an overlapping closure.
Apart from being breathable, this sheet is hypoallergenic as well.
Score:
98
By Pavneet Lobana
---
5
This bedsheet has an extremely soft touch and feel.
It doesn't feature a blend of any other material and is made of 100% organic bamboo.
Moreover, this bedsheet can be used throughout the year due to its thermoregulatory property.
It is hypoallergenic and keeps you away from mold and mildew.
Score:
97
By Pavneet Lobana
---
6
This wrinkle-free organic bamboo bed sheet is a perfect addition to any bedroom.
It features one fitted and one flat sheet.
Apart from that, it comes with deep pockets that easily snuggle the mattress.
The bedsheet is resistant to odor and is super light.
Score:
97
By Pavneet Lobana
---
Index Table: Top-Rated Organic Bamboo Sheet
---
---