Some of the links in this post are affiliate links. This means if you click on the link and purchase the item, I will receive an affiliate commission at no extra cost to you. All opinions remain my own.
Unlike other bedsheet options, Microfiber sheets are comfortable, stain-resistant, and offer high quality. Unlike cotton sheets, these are less expensive, lightweight, and soft to the touch. Best microfiber sheets boast many qualities that you often find in other expensive materials.
The way it is woven makes it highly durable, easy to wash, and soft like its other rivals, cotton, silk, etc. These are gaining popularity due to their best quality, and customers appreciate them as the best alternative to linen, cotton, etc. You can make microfiber your new budget-friendly bed sheet option and sleep well throughout the night.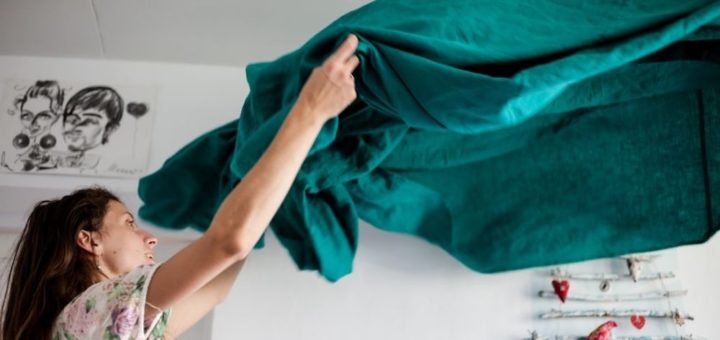 ---
How to Choose Best Microfiber Sheets
Though all microfiber sheets are made the same manner, they differ in how they are manufactured. Comfort is the foremost thing, but aside from this, there are different factors you need to take into consideration for purchasing the best option available.
Feel – The most crucial factor to consider, the microfiber material seems sleek and silky, while the brushed version is less slippery and renders a velvet feel.
Fit – Check whether the sheets fit the standard mattress size or not. Look for fitted ones that include elastic pockets and are best suited to mattress height.
Durable and Breathable – The microfiber sheet threads are woven densely, so pick the one with a lower thread count to ensure breathability. Better-quality sheets are durable and rarely fall apart.
Easy to Handle – You frequently need to wash your bedsheets. So you can pick microfiber ones that don't require delicate handling or enough effort while washing or drying.
---
Types of Different Best Microfiber Sheets
When buying a new microfiber sheet, there are plenty of material choices available, and it becomes quite confusing which one to choose. There are so many varieties of fabrics available, and everyone is best in its way. How to know which one is best according to your requirements? And how exactly are those fabrics different from each other? Here are the best types listed below to make choosing sheets less complicated.
Polyester – Most commonly used material is derived from air, water, petroleum, or coal. The sheets containing this material are stain-resistant, dry quickly, and breathable. It is also the best sheet for kids.
Nylon – This synthetic fabric has replaced silk in many ways. Like polyester, this lightweight and the sturdy fabric is also obtained from sources like petroleum and coal.
Cellulose – It is made from plant-based ingredients like wood pulp etc. This natural material fabric is biodegradable and an environmental-friendly option compared to others.
Percale or Sateen Weave – You can also choose the percale or sateen weave, depending on the style you want. Percale renders a matte finish, and the sateen is wrinkle-resistant.
---
Benefits of Best Microfiber Sheets
Microfiber Sheets comprise fine strands of silk and polyester material instead of natural ingredients; thus, it is soft to the touch. These soft bed sheets are ideal for those who often struggle while sleeping at night or have sensitive skin. Along with providing great value for the money, these sheets offer plenty of benefits you can reap and make a difference in your nightlife.
Softness – In Microfiber sheets, each thread is tightly woven, making the material incredibly soft to the touch. A higher thread count denotes the softness and longevity of the sheet.
Skin Friendly – As microfibers are soft, so it's the best sheet for people with skin ailments or ultra-sensitive skin. Cotton and linen sheets are usually rough and trigger irritation.
Highly Warm – The fibers are packed tightly, so no heat loss happens; thus, your body stays warm even in the biting winters. Enjoy sleeping in your warm little cocoon.
Use for Long – Microfiber sheets are a worthy investment, and you need not plunk money frequently to buy new ones. Wash it as many times without losing its appearance or softness
---
Reviews: Best Microfiber Sheets
Before splurging money on a bedsheet, check whether it is good enough. With so many bedding options available, it becomes tedious to pick the best one. Here are a few top picks and recommendations to help you scout, less and purchase the best microfiber sheets for a peaceful sleep.
We hope you love the products we recommend!
So that you know, We may collect a share of sales or other compensation from the links on this page.
---
1
Made of high-quality polyester brushed microfiber, Mellanni sheets are wrinkle, fade, and stain-resistant with a smooth finish.
These lightweight sheets cost relatively lower than their competitors, providing the same quality and coming in different patterns and colors.
Polyester brushed microfiber is ideal for sleepers having highly sensitive skin and keeps dust mites or moisture at bay.
The fitted sheets in a 4pc pack have durable elastic around them, so it perfectly fits the mattress and doesn't slip off while sleeping.
---
2
Sonoro Kate's bedsheet is ideal if you are looking for comfort, durability, and softness along with elegance.
The linen in the sheet makes the sheet softer to prevent the sleeper from skin allergies and hinder dust mites growth.
It comes in bold colors, which coexist well with your entire bedroom decor and are fade-resistant.
Maintenance is easy as these sheets are machine washable, fit deep into the mattress, need no ironing, and are stain-resistant.
---
3
It is one of the best luxurious and comfy bedsheets with around 21-inch deep pocket sheets for customers having high-profile mattresses.
The plain weave of 110 gsm density denotes the sheet's durability, and it is brushed on both sides, adding softness and cozy.
OEKO TEX certified this sheet is dust mite resistant, wrinkle-resistant, hypoallergenic, stain-resistant, and washing machine friendly.
It is available in several vivid hues, from chocolate brown to steel grey to marsala.
---
4
This sheet is the perfect option for those who want extra comfort and a soft surface for sleeping tight, along with many color options.
The sides of this unique microfiber sheet are double brushed on both sides, which ensures more softness and an elegantly smooth finish.
Enjoy the luxurious experience and sleep soundly on this comfortable bed sheet, suitable for those with highly sensitive skin.
This 4pc sheet set will cater to all your bedding needs, simultaneously making your room look elegant enough at an affordable price.
---
5
It comprises 100% finest soft brushed microfiber and is made to last long.
The availability of various colors to pick from can add oomph to your bedroom decor and make it worth enjoying soothing sleep.
The fabric of this ultra-fine sheet by Best Season is smoother than other materials like silk and cotton.
The best gift option for every room in the house is the living room, guest room, kid's room, etc., as it's best for every season.
---
6
Perfect fit for oversized mattresses, this luxurious six-piece bed sheet set is soft, smooth, and comprises double-brushed microfiber.
Best for all seasons, its micro-ventilated and ultrafine weave let the air cross a little and keeps sweat and stains away.
Even if you have used this sheet for years, the fabric won't tear or weaken and will stay wrinkle-free and smooth like the day you bought it.
Ideal for every room type, these luxurious cozy bed sheets let your sleep well and wake up feeling active in the morning.
---
Index Table: Top-Rated Microfiber Sheets
---
---