Upgrade your current mattress with an organic mattress topper for additional comfort. You will sleep better and deeper with a soft, breathable surface on the top of your mattress.
We have curated some essential things you should consider before getting one for your bedroom. Also, go through the article's products to help with the purchase.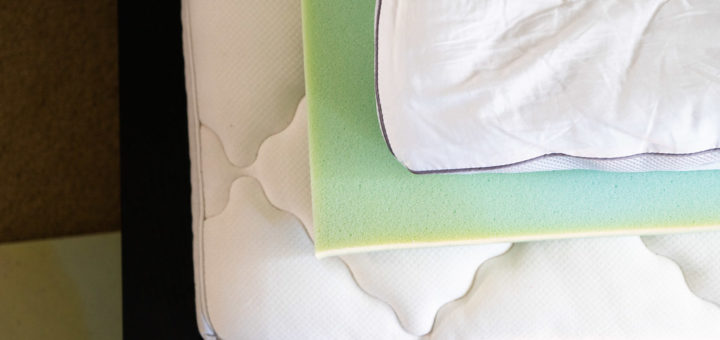 ---
Buying Considerations For Organic Mattress Topper
Buying a mattress topper can get confusing. Here are some things to consider while purchasing one.

Material – You will find materials like cotton, wool, synthetic, sateen, Latex, and memory foam to choose from. Besides, you may try bamboo mattress toppers that are processed without any chemicals. Pick the one that is suitable for your sleeping style.
Breathable – Make sure the mattress topper lets the airflow through it so that your bed stays ventilated through the night.
Temperature – Get a mattress topper that is cooling in nature and does not entrap any hat while you sleep.
Non-Toxic – Ensure that the mattress topper is free from synthetic chemicals like phthalates and formaldehyde.
---
Benefits of Organic Mattress Topper
A good mattress topper will help you fall asleep faster. Here are some more ways you can benefit from a mattress topper.

Pain-Relief – A firm mattress topper will provide enough cushioning to your body to relieve it from any muscle and joint pain.
Upgrade – You can upgrade your current mattress or change its firmness with a mattress topper and save yourself from buying a whole new mattress.
Hygienic – If you do not have an organic mattress, you can still make your bed hygienic and organic with a topper.
Portability – Mattress toppers are lightweight and portable to carry around the house without being too bulky compared to mattresses.
---
Features of a Good Organic Mattress Topper
When you go on a mattress topper purchase, consider these helpful features to make the most out of it.

Comfortable – A good mattress topper should have a plush and soft surface so you can sleep more comfortably.
Hypoallergenic – This feature is a must for people with dust and mite allergies. Also, consider getting a hypoallergenic cover and bedsheets to prevent any allergies.
Protective – A sturdy mattress topper will protect your bed and expensive mattress from daily wear and tear.
Supportive – You will find an extra supportive layer with the mattress topper for your back and shoulders. The extra support will give you a boost of energy in the morning.
---
Reviews: Best Organic Mattress Topper
Here is a list of some of the best organic mattress toppers for you.
We hope you love the products we recommend!
So that you know, We may collect a share of sales or other compensation from the links on this page.
---
1
The mattress topper has natural latex-free from any synthetic substitutes in it.
You will sleep more comfortably with the ventilated mattress topper throughout the night.
The Latex gives a cooling sensation to the body, perfect for hot sleepers and warm climates.
It comes with a removable organic cover that you can wash in the washing machine.
You can choose from firm, soft, and medium-firm depending upon the kind of mattress upgrade you are looking for.
---
2
You can choose this plush quilted mattress topper, which has organic cotton covering to upgrade your bed.
Experience better sleep for longer hours in this dust-free and hypoallergenic bedding.
It has eco-wool batting between two organic cotton layers for added support and comfort.
The mattress topper comes in various sizes and thicknesses to choose from and customize as per your bed.
Moreover, it will keep you warm in winter and cool in summer with its breathable design.
---
3
You can consider getting this certified latex mattress topper free from chemicals like formaldehyde in it.
The mattress is supportive and will help relieve pressure in the body muscles.
It is made from 100% naturally derived Latex without any synthetic gases and liquids in the lab.
Moreover, the non-toxic mattress topper is perfect for kids, allergic people, and the elderly.
It comes in various sizes like a king, queen, single, and double to fit your mattress perfectly.
---
4
The Happsy Organic TwinXL Mattress Topper offers plush comfort, along with premium organic materials to give luxury and safety at the same time.
It provides two inches of organic Latex and comes encased in comfortable stretch knit organic cotton fabric.
Natural Latex offers temperature regulation and enhanced airflow.
It is made without memory foam, any form of polyurethane foam, flame retardants, formaldehyde, pesticides, GMOs, and glues or adhesives.
The topper is Certified Organic, non-toxic, GOTS and GOLS standard certified, and made in the USA.
---
5
You can get this merino wool mattress topper, which is suitable for any kind of weather.
The mattress material is breathable and can regulate your body temperature to get a deeper sleep.
It is comforting and soothing for people with arthritis, body pain, and muscle pain.
You will wake up rejuvenated and relaxed after a deep uninterrupted sleep in absolute comfort.
Additionally, the cotton used is free from any carcinogenic substances while making.
---
6
This mattress topper comes with a Certified Organic Cotton cover and is Global Organic Textile Standard Certified.
It is non-toxic, chemical-free, and breathable.
This quilted topper offers luxury and comfort at the same time, with high-quality linen and 300 thread count sheets.
It is absorbent and provides ultimate support as a mattress pad.
---
Index Table: Top-Rated Organic Mattress Topper
---
---