Intex is a recreational corporation that creates recreational goods such as pools, pool floats, air mattresses, and many other items.
The Best Intex Air Mattresses feature technologies and comfort features that should not be missed.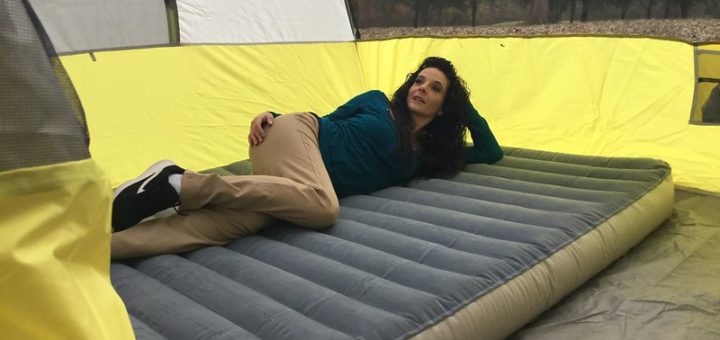 ---
Intex and What They Offer
At Intex, everything they do will center around good quality and craftsmanship. They value family time and want to provide products that make family time and fun outings as comfortable and convenient as possible.
Their products are very affordable for the everyday user and also built to last very long. Intex offers replacements and accessories to go with their products, especially their Air Mattresses, which is another superb convenience.
Intex delivers high-quality products at a price that everyone can afford to enjoy things like camping, swimming, and other outings.
They offer products such as; Airbeds and Inflatable furniture, pools, pool toys and floats, Sporting Goods and toys, as well as pumps and replacements parts for their products.
At Intex, everything we do centers around quality, value, and family time. Our affordable products are built to last, just like the memories made by the people who use them. Intex Recreation Corp. distributes airbeds, above-ground pools, spas, toys, furniture, boats, and more. We're part of a worldwide family of companies with more than 40 years of history behind us.
Our objective is to deliver the highest quality products at an affordable price, all designed for comfort, safety, and fun. We're proud to bring you outstanding merchandise with impeccable customer service. Our vision is to be the most recognizable, trusted, and innovative company in our industry. We routinely test finished products to make sure they meet our elevated standards for quality, safety, and value.
We're also committed to decreasing our carbon footprint. For over 10 years, we've worked with our supplier to reduce the number of fossil fuels used. Everyone at Intex strives to make your family time more relaxing and fun. We wish you many happy memories for years to come!
---
Types of Intex Air Mattresses
Intex Air Mattress, no matter what the design, all come in single, double, and queen sizes. Then you also get their kids models designed specifically for children that are smaller in size.
Here are a few designs that they offer;
All available in double single queen kids

Rest Raised Airbed – Their raised Airbed has Fiber-tech Construction and a built-in air pump. The air bed has a higher elevated design and is very easy to inflate and deflate. It also features a soft, luxury cover.
Kids Travel Bed – The Intex Kids Travel Air Mattress has a frame and separate airbed. The frame provides stability and prevents kids from falling out of bed.
Dura-Beam High Mattress – The Dura Beam Air Mattress is also an elevated air bed that features engineered Fiber-tech technology that consists of high-strength polyester fibers for the sleeping surface has a quality softcover, and the bottom is a vinyl material. It has a 2 in one valve with extra-wide openings for faster inflation and deflation.
Classic Downy – The classic Downy Air Mattress from Intex is a more basic air mattress with vinyl sides and a plush top. It has fiber-tech technology and is extremely strong and lightweight.
Camping Mat – The Camping mat is a plush top mat with a laminated bottom and velvety sleeping surface. It is durable and inflatable for camping and other uses.
---
Features of a Good Intex Air Mattress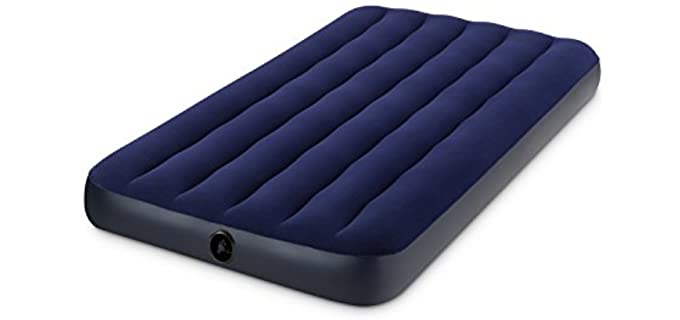 Materials – Intex Air Mattress feature Fiber-Tech technology with strong polyester fibres. They usually have a soft velvety surface with vinyl sides and a vinyl bottom. Intex Air mattresses are designed to be extremely durable and long-lasting. As they are such a well-known brand they use the best materials and technology, to ensure the best quality products for their clients.
Weight Capacity – Depending on the type of mattress, most Intex Air Mattresses will come with a specific weight capacity that can hold, so you will need to look out for this. Most classic design air mattress from Intex hold a weight capacity of around 300lbs, while some of the heavy duty and raised models can hold a weight capacity of around 600 lbs.
Inflating and Deflating – Intex air mattresses come with either a built-in air pump, or you can get a pump separately for your more basic design mattresses.
---
Reviews: The Best Intex Air Mattresses
These are some of our top favorite picks in Air Mattresses from Intex;
We hope you love the air mattresses we recommend!
So that you know, We may collect a share of sales or other compensation from the links on this page.
---
1
The Intex Dura-beam Air-mattress has an elevated height design.
It is a very durable heavy-duty design with a velour cover.
The Air Mattress comes in an internal pump for quick and easy inflation.
It is available in more sizes.
---
2
The Intex Dura-Beam Pillow series is very similar but comes with a raised head design to serve as a pillow.
It is a luxury air mattress and has a raised size.
There are more bed sizes available.
It comes with an internal pump.
---
3
The Intex Dura-beam Fiber Tech air mattress is a top model in its class.
The Air mattress features Fiber tech technology that makes it extra comfortable and durable.
It has a softer loft and is extra plush for comfort.
The mattress comes with a storage bag for portability.
---
4
The Intex Classic Downy Airbed is a twin basic air mattress.
The Air mattress is a more basic and affordable design.
It is inflatable and ideal for indoor and outdoor use.
It has two in one valve with a wider opening for inflation.
---
5
Here we have is the classic range of air mattress from Intex.
It easily inflates and deflates with a high-powered internal pump.
There is a velvety soft sleeping surface and Fiber tech inner technology for durability.
It has a 10-inch height and 300 lbs weight capacity.
---
6
The Intex Ultra Plush fiber tech air mattress is a superb quality mattress.
It has an 18-inch height and is a queen size.
The air mattress has a flocked top and comes with a handy carry bag.
There is a built-in pump for inflation and deflation.
---
Index Table: Top Rated Intex Air Mattresses
---
---