With Zinus, you can pick a specific mattress that best suits your personal needs and requirements, which is still within your budget range.
Zinus sells luxury mattresses and beds at affordable prices to make a comfortable and luxurious sleeping experience available to all.

---
Who is Zinus®
Zinus is a company found in 1979 that started manufacturing outdoor products . their main aim focused on creating comfort-orientated furniture, tents, and outdoor equipment.
Since 2003 Zinus has decided to shift its attention to indoor comfort products, including mattresses and mattress foundations.
The goal that Zinus strives for is to offer the largest assortment of well-designed comfort products at affordable prices for their client base.
Every version of Zinus Mattress gives you different sizes and firmness and thickness options, which makes them so exceptionally special.
---
Who Needs a Zinus Mattress in their Life?
You should consider a Zinus Mattress If…;
You are Looking for a Couples Mattress – Zinus Mattresses has a thick layer of memory foam on top, which does an excellent job at isolating motion, so you will not feel your partner's movements.
You Like a Classic Memory Foam Feel – The Zinus mattress with memory foam top gives you that typical sink into the mattress feel that is specific to memory foam mattresses.
You are a Lightweight – The Zinus memory foam mattress has no coils or spring and is thus suited more to individuals who are not on the heavy side. Luckily for heavier individuals, they also have an iCoil and Spring mattress range.
You Need Something Affordable – Zinus gives you a very affordable option for luxury mattresses that are high quality and will not break the bank when they need replacement.
Options – One of the MAIn features of the Zinus mattress is the many OPTIONS you get. Sinus mattress offers firmness options and thickness options in an 8 inch, 10 inch, 12 inch or 14-inch mattress, and many different size options in every model and range that they offer.
You are A Side Sleeper – Zinus mattresses, particularly the memory foam option in a 12 Inch, is one of the BEST options for SIDE SLEEPERS.
You Want value for Your Money – Zinus mattresses, although not as long-lasting, gives you excellent value and quality for your money.
---
Features of a Good Zinus Mattress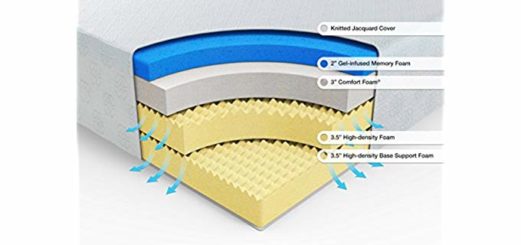 Firmness – You can Choose between an 8, 10, 12 or 14 inch thickness as well as a firm, medium or soft option.
Fill – there is a choice of layered foam and memory foam, Gel memory foam, or pocketed coil springs.
Infusions – Zinus mattresses are infused with Castor oil and not petroleum jelly for a more natural solution. You can also choose between, charcoal and green tea infusions for odor and bacteria protection.
Covers – Zinus covers are made from a soft Microfiber Jacuard fabric.
---
Reviews: The Best Zinus Mattresses
Below you will see some favorite models in the highly sought after Zinus mattress brand;
---
1
The Cloud Memory Foam Mattress from Zinus is their basic memory foam mattress made from the most excellent quality Certi-Pur Certified Memory foam.
Pressure-relieving memory foam that cradles and contours to your body's unique shape.
Biofoam design infused with purified charcoal, natural plant oils, and green tea extracts for freshness and odor control.
The knitted jacquard cover is made from a quilted microfiber called Oeko tex certified, free of harmful substances and chemicals.
Available in different sizes and thickness options to choose from.
Pros
10 Inch Cloud memory foam.
Pressure relieving design.
Variety of size and thickness options available.
Cons
Non-removable and non-washable cover.
Score:
97.5
By Daniel Max
---
2
The Green tea Memory Foam Gel Mattress from Zinus is a more luxury designed Memory foam mattress option.
It comes with an oeko-tex Certified Knitted Jacquard microfiber cover.
Filled with the finest quality gel-infused Memory foam that is cooling and comfortable
Layered design with 2 inches of gel-infused memory foam, 3 inches of comfort foam, and 3.5 inches of high-density airflow foam, along with another 3.5 inches of firmer support airflow base foam.
It is infused with Green tea and natural Castor oil to retard odors and bacterias.
Available in different sizes in thickness options to choose from.
The Memory foam used is also Certi-Pur Certified for durability, performance, and content quality.
Pros
12 Inch Memory foam.
Infused with soothing green tea Gel.
Cooling design.
---
3
Green tea infused memory Foam Mattress at 12 Inches thick from Zinus, one of their most sought after models.
Filled with Certi-Pur Certified fine quality memory foam and covered with a knitted Jacquard Microfiber cover free from harmful substances and Oeko tex certified.
A three-inch memory foam layer, two-inch comfort foam layer, 3.5 high-density airflow layer, and a 3.5 inch firmer base layer design.
It is infused with natural oils and green tea for moisture and odor control.
Available in a 12 inch queen size option.
Pros
8-Inch memory foam.
Infused with green tea.
Designed to relieve pressure.
---
4
The Zinus Comforming basic memory foam mattress comes in four different thickness options that you can select from.
Made from highly conforming quality memory foam that is Certi-Pur certified.
There are two inches of memory foam, two inches of pressure-relieving comfort foam, and four inches of high-density base support foam, with a knitted jacquard cover.
The BioFoam design is infused with plant oils to replace petroleum, which is usually used to treat mattresses to keep them fresh.
Durable and high-performance quality mattresses in four different thickness options.
---
5
The Zinus iCoil mattress is a comfortable spring mattress available in a ten or twelve-inch thickness selection.
Available in a ten or twelve-inch selection of thickness, which consists of the first layer of comfort foam, a layer of high-density foam, and a large base layer with individually wrapped coils to prevent motion transfer.
It is made from the finest quality Certi-Pur Certified foam that is durable and long-lasting.
It comes with a worry-free 10-year limited warranty.
---
6
The Zinus Sofa mattress is a mattress designed for a sofa or sofa bed.
A thin 5-inch mattress for your sofa or sofa bed.
Available in a Twin, Full or Queen sized option.
It is manufactured from excellent quality Certi-Pur Certified Memory foam infused with cooling Gel.
It consists of a one-inch layer of Gel Memory Foam, and four inches of high-density base support foam.
This is a replacement mattress; only you can purchase the sofa beds from Zinus.
---
7
The Zinus Basic Spring Coil Mattress option is available in many size options and one of their more basic and budget-friendly ranges.
Choose between a narrow twin, twin, XL twin full, or queen-sized option as well as different thickness options from 6 inches up.
It offers firm support and comfort.
The mattress is infused with Castor seed oil to retard odors and bacteria naturally.
It is made from the finest quality Certi-Pur Certified durable foam.
Features the latest memory foam and BioFoam with a spring coil base that has individually wrapped coils.
---
Index Table: Top Rated Zinus Mattresses
---
---