Are you struggling to doze off lately? You should know that various things come into play, like room temperature and pillow size. Out of all this, the scent also plays an imperative role in helping you sleep like a baby. Making little tweaks to your good night routine, like adding the best sleep sprays, can make a huge difference.
Moreover, some studies claim that these sleep sprays contain compounds like lavender and other soothing ingredients with sleep-inducing effects. How? Let's find out!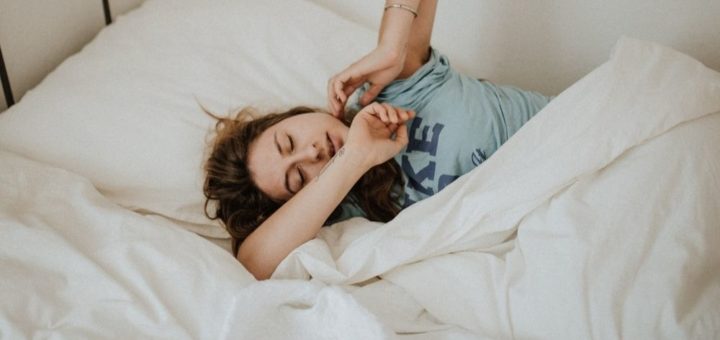 ---
What Essential Oils to Consider for Buying Best Sleep Sprays?
If you are tossing on the bed and struggling hard to sleep, give essential oils a try. These are oils in the purest form and extracted from the respected plant's roots, stems, buds, etc. Many out of them are known for inducing sleep, relieving stress, and promoting overall health. Check out these listed below and ensure it exists in your sleep spray.

Lavender – The most prominent and works best when relaxing the agitated mind, reducing depression or anxiety, or solving sleep troubles.
Vanilla – Aside from being part of cakes, icecreams, etc., Vanilla works great for excellent sleep due to its sedative effect.
Rose – Rose, one of the best floral scents, is widely known for mitigating anxiety, stress, or soothing down nerves before bedtime.
Jasmine – The floral aroma of jasmine has sleep-inducing elements, during the night, it helps to reduce restlessness, and during the day, it keeps you active.
---
Benefits of Sleep Sprays
Nothing's more infuriating than being unable to get some sleep at night. It is when the body repairs and recharges itself, but when the problem persists, you can use the best sleep sprays. These work like a charm to detach you from the hectic modern world and induce restful sleep.

Stress Buster – Lavender, the most common ingredient of sprays, contains linalool, and merely smelling it induces a sedative effect and puts your mind on relax mode.
Alleviate Anxiety – The antispasmodic effect of sleep sprays help you sleep faster at bedtime as it calms down your stressed nerves and mind when you inhale it a little.
Easy to Use – You need not follow any hard and fast rules; take off the bottle's lid and spray it a little around for an excellent experience.
Smells Great – Aromatherapy wonders when you face trouble sleeping or unwinding. The sleep sprays smell nice and put you in dreamland.
---
How to use Sleep Sprays?
Location plays a crucial role if you want to reap the benefits of aromatherapy. There are several methods to use sleep sprays for optimal results and quality sleep. Ensure you spray it from where the scent directly comes in contact with you so you can inhale it. You need not buy any special equipment or anything else.

Spray on Pillow – For best results, simply spray it on your favorite pillow before sleeping, let it dry and inhale the scent to fall asleep faster.
Add in Diffuser – The sprays already contain the essential oil, so you can either keep a diffuser by the bedside and spritz a few sprays in it for overnight fragrance.
Apply on Skin – Some sleep sprays allow you to directly apply it over the feet, soles, palms, wrists, etc., to feel relaxed and unwind at the end of the day.
Sprinkle in Living Space – To keep the aroma lingering in your mind and feel stress-free for long, sprinkle it in the living room, wardrobes, over furniture, etc.
---
Reviews: Best Sleep Sprays
If you are unable to sleep well lately, you are not alone. And you'll be glad to know that there is one solution. Use sleep sprays for the best quality sleep. There are plenty of sprays available around to choose from, and here the best ones are listed to unwind. Just to let you know, when you choose to purchase products from the links on the page, we may receive a little commission.
---
1
DRMTLGY Lavender sleep spray is exactly what you want and works well for your pillows, linen, room, clothing, furniture, etc.
It soothes your stressed mind as it contains a blend of both lavender, jojoba oil, witch hazel, and chamomile for inducing a calming effect.
It is non-toxic, free of parabens, sulfate, formaldehyde, and eco-friendly in nature, which makes it best for prolonged use
The aroma lasts longer and is proven effective for stress relief, deep sleep, and a relaxing environment.
Score:
99
By Pavneet Lobana
---
2
This popular sleep spray comes packed with enrichment of chamomile, vetivert, and lavender to give you refreshed feeling.
It's proven that this pillow mist helps you doze off faster and wake up feeling active. It works in 97% of cases.
Regular use tends to reduce anxiety, improve sleep quality and mitigate other struggles involved with sleeping at night.
Along with calming the mind and body, it repairs your skin cells and eliminates the toxins while sleeping.
Score:
99
By Pavneet Lobana
---
3
Every natural elixir it contains has its own purpose that works from instilling deep sleep to coping with anxiety or stress.
For best results, spray it on your pillow and create a required ambiance for sleeping well.
It is safe for children as well as per the Cosmetic Product Safety Report (CPSR)/Toxicological Risk Assessment (TRA).
The frankincense and clary sage in it helps to alleviate pain and opens the blocked breathing passage.
Score:
98
By Pavneet Lobana
---
4
A natural sleep aid, it is best for those suffering from magnesium deficiency which leads to restlessness and affects sleep quality.
Magnesium in it tends to repair the overall system, relaxes the worn-out muscles, and promotes calcium absorption along with sleep.
You can apply it over your skin directly or spray it on the pillow or in-room as this sleep spray absorbs quickly.
Best suitable for children above 13 years as well as adults, vegans, and older people. Every bottle contains 75mg of transdermal magnesium.
Score:
98
By Pavneet Lobana
---
5
Spray this floral aroma into the room to calm down your agitate mind and body instead of tossing over the bed for hours.
It comes packed with 30 minutes of guided sleep meditation audio for an excellent bedtime regime and great sleep throughout the night.
Relax contains no chemicals like alcohol and Tween 20 but only therapeutic essential oils for the best aromatherapy session.
This sleep spray by eunio naturals is handcrafted and contains ingredients that are derived from the different corners of the world.
Score:
97
By Pavneet Lobana
---
6
The soothing blend of vanilla and mood booster patchouli in it helps you sleep faster like a baby after a long tiring day.
It smells magical as well as delicious and effective enough to put you to sleep without wasting minutes.
The essential oils in it keep stress at bay and, for better results, ensure you breathe deeply before sleeping.
For the best authentic aromatherapy experience, spray it lightly over the pillow, bedsheet, or fabric and allow it to dry.
Score:
97
By Pavneet Lobana
---
Index Table: Top-Rated Best Sleep Sprays
---
---