Some of the links in this post are affiliate links. This means if you click on the link and purchase the item, I will receive an affiliate commission at no extra cost to you. All opinions remain my own.
If you lack peace and comfort in your sleep, you need the best flannel sheets. These will undoubtedly give you the sound sleep you deserve when you come home after a long day. Flannel, a loosely knit fabric made from wool, cotton, or synthetic fibers, is known for its softness and warmth.
So, if you are looking for flannel bedding for your room, we are here with some suggestions. Not just that, we will also guide you through the benefits of using it.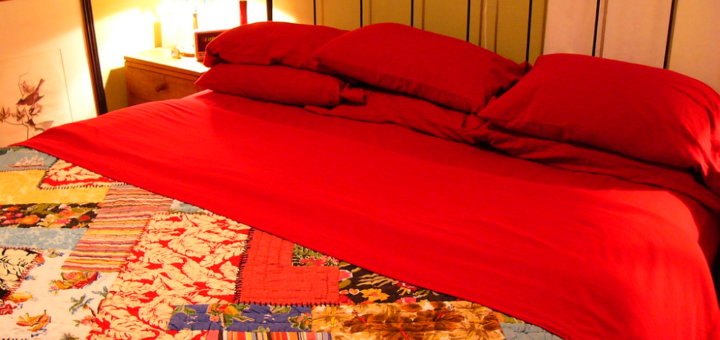 ---
Advantages of Using Flannel Sheets
Although they are known for their warmth and comfort, the benefits of flannel sheets are not restricted to these. Here, have a look!

Soft and Cozy – Flannel sheets have a brushed nap on both sides to give the fabric a soft, cozy feel to the skin. This makes it ideal for bed sheets, especially during the cold months
Relieve joint pains – Winters worsen joint pains among old people during the winter. The best flannel sheets help them stay warm and relieve the pain.
Versatile – These come in a variety of prints and colors. Moreover, they blend in seamlessly in all the rooms. Besides, you can also use these as top sheets or use them when you picnic with your kids.
Balance Temperatures – This sheet helps maintain the temperatures between hot and cold. It retains the perfect temperature without trapping an excessive amount of heat.
---
Common Fabrics Used in Flannel Sheets
Earlier, the flannel sheets were made from carded wool or worsted yarn. However, now they are made with these fabrics.

Wool – Woollen flannel sheets are durable and known for maintaining temperature and absorbing moisture.
Cotton – Turkish cotton is the most preferred fabric for flannel sheets since it keeps the bed soft and comfortable. Moreover, it is lightweight and easy to care for.
Synthetic Fibre – Synthetic fiber flannel sheets feel cool, smooth, and soft to the touch. Also, they are less prone to wrinkling or shrinkage.
---
Buying Considerations for the Best Flannel Sheets
If you wish to buy the best flannel sheets for yourself, stick to these points to get the best sheet.

Lightweight – The flannel sheet must be lightweight so you can easily make your bed daily. Moreover, sheets that weigh low are easier to wash.
Easy Care – Ensure that the sheet you buy can be washed and dried in a washing machine. The sheets that need to be dry cleaned every time you use them are not meant for regular use.
Durable – Just like silk sheets, most flannel sheets are durable and have a long life even after you wash them regularly. Besides, these don't fade or get wrinkled.
Breathable – Last but not least, your sheet must be breathable enough to wake up fresh and non-sweaty in the morning and keep the temperature balanced.
---
Reviews: Best Flannel Sheets
Here are a few suggestions for the best flannel sheets to get the utmost warmth and comfort whenever you get home after a long day.
We hope you love the products we recommend!
So that you know, We may collect a share of sales or other compensation from the links on this page.
---
1
These cozy flannel sheets from Great Bay Home are made with 100% Turkish cotton fabric.
Moreover, the high-quality fabric makes the sheet warm, soft, and flexible for maximum sleep comfort.
Each Twin set comes with one fitted sheet, one flat sheet, and two pillowcases and is a perfect fit for all regular-sized twin beds.
Besides, the material is tested for all harmful chemicals and is produced by an environmentally friendly process.
Also, the sheet is durable, anti-wrinkle and shrinkage. Also, the sheet doesn't fade after regular washes and can be washed in a machine.
---
2
This buffalo check plaid sheet in grey is one of the best flannel sheets you will ever come across.
It is not only soft and durable but also meant to give you the most peaceful and comfortable sleep when you come home at the end of the day.
Besides, the pure cotton fabric is breathable, lightweight, and gives a gentle velvet-like feel to the person on the bed.
The sheet becomes softer after every wash and is resistant to pilling, wrinkle, and moisture.
Moreover, the fully elasticized sheet ensures a snug fit and keeps it from slipping off the mattress.
---
3
This top-quality premium flannel sheet is made with 100% Turkish cotton, and each set includes one fitted King size-sheet, one flat sheet, and two pillowcases.
Moreover, this one is available with polar bear prints on a grey base, making every room look lovely.
Besides, you don't have to put in any extra effort to clean it since it is machine washable and doesn't fade.
Made with a soft and lightweight fabric, the flannel sheet is durable and will last for many years.
The sheet is fully elasticized, and the deep pockets fit all mattresses up to 17 inches.
---
4
This subtle cream-colored flannel sheet from Pinzon has become people's new favorite.
Besides, the set includes a flat sheet, a fitted sheet, and two king-size pillowcases.
The sheet has been made with a breathable weave, and the velvet flannel provides luxurious softness.
In addition, it has a double-napped finish on both sides to give an ultra velvety feel.
Also, the sheet has been certified to ensure that the textiles meet high safety and environmental standards.
---
5
The Mellanni flannel sheet set is sure to give the bedroom the most luxurious and royal look ever.
Also, the double-napped finish on both sides gives a more velvety feel to the sheet, making it feel soft to the body.
It can be cleaned easily with a machine so that you can use it for your kids' room, bedroom, or even the guest room.
Besides, you don't need to fear harming its quality since it gets softer with every wash.
The best feature of the bedsheet is that it doesn't fade or get wrinkles, and any stain gets removed easily after the wash.
---
6
Made with 100% cotton, the blue flannel sheet is super soft, breathable, and offers warmth to make you feel extra cozy at night.
Moreover, the product is free of all toxic and harmful materials making it safe for human use.
You can wash it in the machine on a gentle/delicate cycle and tumble dry on low heat.
However, it is strictly recommended that you wash it separately and avoid bleaching it in any condition.
---
Index Table: Top-Rated Flannel Sheets
---
---