Have trouble getting a full night's rest? Or are you struggling with a chronic illness or pain? If so, buying a grounding sheet would be a simple solution you can try right away.
Earthing Sheets are cotton (pure or blended) sheets with silver threads running throughout them. The silver threads provide a conductive matrix connected to a grounding port of an electrical outlet.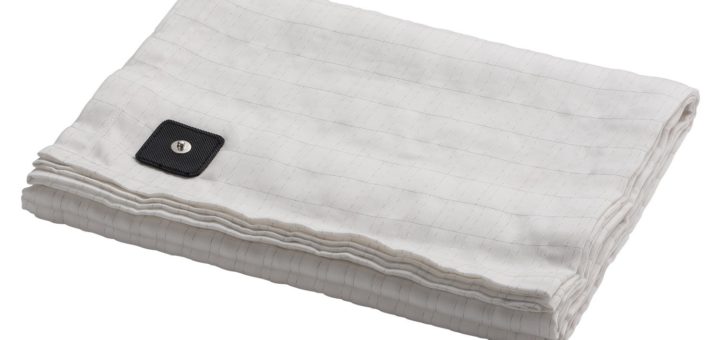 ---
How do Earthing and Grounding Sheets Work?
Earthing or grounding puts your body in direct and uninterrupted contact with the Earth. It means your skin needs to touch the soil, sand, water, or conductive surface connected with the ground. And that's the shortest answer.
From a scientific perspective, the earthing or grounding concept is that the Earth has a mild negative charge. Over time, our bodies build up a positive charge believed to cause health problems.
When direct contact with Earth happens, this accumulated positive charge gets nullified, and our body returns to a neutral state. Many people don't have this 'earth contact' anymore, and some scientists wonder if this is causative of rising health problems in today's modern world.
According to emerging research, earthing may be beneficial in:
Reducing inflammation and chronic pain.
Improving sleep and reducing snoring (we can vouch strongly for this!).
Lowering stress and promoting calmness.
Normalizing circadian rhythm, blood pressure, and blood flow.
Relieving muscle tension and headache.
Improving menstrual cramps and balancing female hormone levels.
Protecting the body from the harmful effects of EMFs.
Shorter recovery time from injury or athletic activity.
---
Earthing Indoors with Grounding Sheets?
Walking outside barefoot is the easiest and best way to ground yourself. However, many people can't or don't want to spend time outdoors. And, they can reap the benefits of earthing indoors using earthing pads, mats, or mattresses.

An earthing mat can be used under the arms or feet while doing desk jobs to reduce the amount of EMFs you are exposed to. Earthing mats are affordable and travel-friendly, too.
A half size earthing mattress sheet can be used literally on any bed size. Made from pure cotton or blended cotton, this one also comes in different price ranges to meet everyone's requirements.
Fitted earthing sheets is another popular choice to reap full-body grounding benefits while sleeping.
---
Caring for Your Grounding Sheet
Here's what you can do to protect your earthing sheets:
Wash your sheet routinely – once every week or two. If you don't, body secretions can affect silver fibers' conductivity.
Wash your sheet in warm water: Do not dry clean your sheet; use a gentle wash cycle and lukewarm water to wash the grounding sheet. Then, tumble dry on a 'low' or 'no heat' setting.
Never use bleach – Bleach or bleach-containing detergents destroy the silver fibers' conductivity, contributing to sudden sheet death.
Read labels – If the label reads fabric softener, Oxi-clean, lavender oil, do not go with it.
No night creams and lotions – Well, at least within an hour before bedtime to any areas of your body that will be in contact with the grounding bed sheet.
Hydrogen peroxide for stain removal: Spot treating the stain with hydrogen peroxide is highly recommended to eliminate hard-to-remove stains.
---
Reviews: Best Grounding Sheets
---
1
Ideal for hot sleepers, this earthing grounding sheet is ideal for hot sleepers as it covers only the lower half of the body.
Made of 95% cotton and 5% silver gridding, it fits any bed, crosswise or lengthwise, tucked or untucked. You could also place it on top of your regular bottom sheet.
The grounding sheet with a cord connects easily to the Earth's ground port and provides excellent earth-grounding.
It effectively connects you to Earth's electrons and synchronizes body micro-voltages to more healthful levels.
Regularly sleeping grounded to reap these benefits: better inflammation, wound healing, circulation, immune response, and sleep. It also counterbalances EMFs from Wifi and Cell Phones.
Pros
400 Thread count fabric.
Infused with silver gridding.
Washable.
Cons
Only available in one size.
Score:
98.6
By Daniel Max
---
2
This is a half sheet design Grounding sheet that will fit all bed shapes and sizes.
It consists of 100% cotton with a silver thread grid woven straight through the sheet.
The sheet is safe to use and comfortable to sleep on.
This brand offered exceptional quality products, and the sheet comes with everything you need for use.
Pros
Immense health benefits.
Woven with Silver conductive thread.
Machine washable.
Cons
Not ideal for those on a tight budget.
---
3
An earthing and grounding sheet made from Conductive Pure Silver Thread and certified organic cotton.
Effortless health benefits and ideal for twin-sized beds.
Different fit and size options are available.
Besides, it is washable and soft, thus ensuring complete comfort.
It comes with all the necessary cords and attachments.
Pros
Organic Cotton.
Woven with Silver conductive thread.
Machine washable.
Cons
Not ideal for those on a tight budget.
Score:
98.4
By Daniel Max
---
4
The padded Cover consists of Stainless Steel, Cotton, and Polyester Fibers, with a padded interior.
The Mattress Pad offers comfortable padding as well as excellent earthing properties.
You can wash the Mattress Sheet on a gentle cycle in your washing machine.
The Earthing Pad and sheet come with all the required adapters and cabling.
---
5
This grounding sheet fits a half bed, though other size variations are also available. Made of 100% cotton (with conductive silver thread), this is one of the best and simple recovery sheets available online.
You'll feel more energized and less sore thanks to the lengthwise & crosswise silver stitching, which ensures better earthing grounding.
The grounding sheet is relatively soft and provided better conductivity to the ground, so your sleep won't suffer anymore.
You can launder the sheets, but remember not to use bleach or detergent with bleach. They may oxidize or destroy the conductivity of silver fiber threads.
---
6
The SkySp Grounding Mat comes in different size options for your personal requirements.
It consists of 100% pure cotton with silver fibers, and the cotton is A-grade organic.
The Grounding sheet will help to improve sleeping and your overall health.
It comes with adapters and plugs as you require for use and installation.
Score:
96.7
By Daniel Max
---
7
The ground Luxe is a natural 400 TCcotton sheet with silver fibers.
The silver threads are highly conductive and safe.
It is manufactured from the finest quality breathable organic cotton.
It comes with a 13-foot universal grounding cord.
---
8
One of the best earthing sheets is available in two sizes, for Children and adults.
Connect your body with the natural powers and healthy vibes of the Earth through this sheet.
You can wash the sheet weekly in warm soapy water.
Enjoy healthy and energizing sleep every night to come.
---
9
The Full Earthing and Grounding Flat Sheet is set with everything your need for assembly.
The Flat sheet consists of crisscross silver wires, which have excellent conductivity and are beneficial for your skin.
The use of these best grounding sheets will help improve the quality of your sleep and blood circulation, and pain relief.
---
10
the sheet is designed for professional sportsmen and athletes to aid in physical recovery.
It consists of quality and safe materials.
This is a grounding bag design that you sleep inside for recovery and health purposes.
the set comes with cords and is already socket tested and clear instructions for setup.
Score:
96.8
By Daniel Max
---
Index Table: Top Rated Earthing Grounding Sheets
---
---