The best bed bug mattress covers do far more than prevent bed bugs and dust mites from inhabiting your mattress!
For more information, read further below on what different types of mattress covers achieve, how mattress covers prevent bed bugs from getting to your mattress, as well as some of the best qualities of anti-bed bug mattress covers.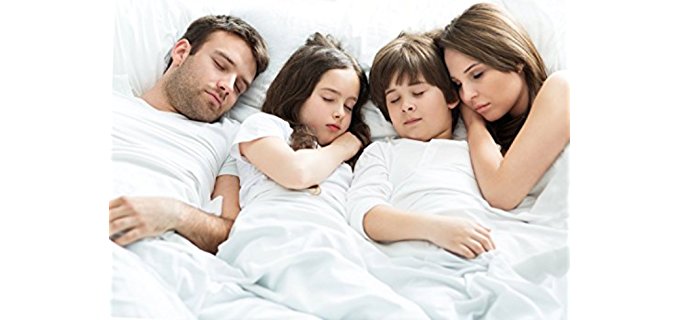 ---
The Different Types of Mattress Covers
Many people use the below names interchangeably, but did you know that each of these terms refers to a different type of mattress protection?
Mattress Encasements – when one wants to find the best bed bug mattress cover, what one is looking for is the best mattress encasement. A mattress encasement covers all six sides of the mattress, sealed completely with a zipper. This forms a dust mite resistant covering that disallows any bed bug in.
Mattress Protectors – a mattress protector covers the mattress in the form of a fitted sheet that should lie beneath your bed linen. Mattress protectors are there to prevent your mattress from dust, dirt, fluids, and other messes. The benefits of protecting your mattress from these issues include having less bacterial or fungal growth on the mattress.
Mattress Pads – a mattress pad also usually comes in the form of a fitted sheet, having a soft layer of padding between you and the mattress. Traditionally mattress pads are used to soften the support a mattress offers.
Mattress Toppers – a mattress topper provides the same function as a mattress pad, with the exception that toppers are often thicker and are not in the form of a sheet. A mattress topper is usually a thin layer of foam to add additional comfort, back support, or protection from loose springs in the mattress.
---
How Does A Bed Bug Mattress Cover Work?
A bed bug mattress cover or encasement works by blocking dust mites and other bed bugs from accessing your mattress.
Preventing bed bugs is not a simple matter of wrapping your mattress up on all sides in a cotton sheet.
Bed bugs come in a variety of shapes and sizes, but all of them can crawl through most sheets, as well as mattresses.
Bed bug mattress encasements are typically made of more than one layer, all of which are too fine for bed bugs to get into or lay their eggs into.
Bed bugs have evolved to crawling through the teeth of mattress encasement zippers.
The best bed bug mattress covers have zipper teeth that seal down to the micro-level, sealing out bed bugs and dust mites down to a micro-scale.
The fibers of the mattress encasement occasionally are blended with repellent substances that help deter bed bugs.
Bed bug encasements are more durable than ordinary sheets and resist punctures and reduce accidental infestation chances.
---
Features of the Best Bed Bug Mattress Covers
The best bed bug mattress encasements come with a few of the following features:
Waterproof – a waterproof mattress encasement is suitable for children who wet the bed or patients who can't keep their bladder. Waterproof mattress covers keep mattresses fresher for longer, guarding against fungal and bacterial growth. If you are a messy person and spill coffee in bed more often than you'd like to admit, then a waterproof mattress protector is also the way to go.
Padded – some mattress encasements come with a layer of plush padding to add comfort to your mattress. If you have problems sleeping at night due to back pain or loose springs in your mattress, you should try a padded mattress encasement to alleviate the pressure.
Cooling Technology – Since bed bug mattress encasements have exceptionally fine holes on them, they can heat up quite fast. A mattress encasement with some temperature regulation or cooling technology will reduce perspiration and discomfort during the night.
Antimicrobial – Many bed bug mattress encasements are antimicrobial and hypoallergenic. This also helps to deter dust mites and other bed bugs, and it contributes to your health.
Machine Washable – it's very convenient to be able to wash your mattress encasement in the washing machine. Make sure your mattress cover has this feature if you want a waterproof mattress encasement.
---
Reviews: Best Bed Bug Mattress Cover
Please have a look at our selection below to view some of the highest quality mattress encasements, all of which are sure to keep the bed bugs at bay!
---
1
SafeRest's bed bug mattress cover has been scientifically proven to prevent bed bugs from making their way into your mattress.
Patented Micro Zipper technology has been incorporated into the zipper to ensure bed bugs cannot pass through or lay eggs into the zipper's teeth.
The zipper extends all the way around the mattress and is covered with a Velcro flap for additional protection against bed bug entry.
The mattress cover is waterproof and stain-resistant, ideal for protecting your mattress against urine or beverage spills.
The surface is made with a superior cotton terry material that is 100% breathable and hypoallergenic.
No need to worry about any noise when you roll over, as this mattress cover is silent at all times.
Includes a ten-year warranty.
Machine Washable.
Score:
97.8
By Daniel Max
---
2
This mattress encasement does more than keep all bed bugs out – it keeps all dust mites, allergens, dust, and dander away too!
The mattress cover is waterproof and moisture-wicking, allowing all the moisture to seep out and prevent bacterial growth.
The zipper comes with patented Invisi-Zip and SureSeal Technology, removing the problem of bed bugs getting in through the zipper's teeth.
Ideal for sensitive individuals with allergies looking for a hypoallergenic mattress cover.
The superior design makes this mattress encasement entirely noiseless.
Free from chemical additives, Vinyl, PVC, fire retardants, phthalates, and other toxic substances.
---
3
If you are looking for a mattress protector that doubles up with dust mite resistance, look no further.
This superior mattress protector from Luna has two layers for the best waterproofing and moisture-wicking results.
Luna Airflow Technology lets air circulate through the mattress protector without allowing dust mites or bed bugs to pass through.
The cotton terry surface is noiseless and incredibly luxurious to sleep on top of.
Ideal for those who suffer from allergies, eczema, asthma, respiratory conditions, and more.
This mattress protector comes with a reliable 15-year warranty.
---
4
Tru Lite Bedding is proud to present this very effective, inexpensive mattress encasement that doubles as a mattress protector!
Keep the mattress clean from all bacteria and fungus with the waterproof, dual-layer moisture elimination system.
The mattress protector is machine washable and stain resistant for your cleaning convenience.
Spend under $60 to prevent bed bugs from entering your mattress with this fully enclosed, tightly sealed zippered mattress cover.
This mattress protector is more than just hypoallergenic; but it is also clinically proven to reduce allergic symptoms.
Rest assured without making a sound by taking full advantage of this noiseless mattress protector.
---
5
Made from eco-friendly bamboo fibers, this mattress protector is as soft as a dream.
This product will keep all fluids from contaminating your mattress, discouraging mold and bacterial growth.
Designed to last, the mattress protector is highly durable and machine washable (wash cold and tumble dry on a low heat for best results).
The bamboo cooling ultra-tech polyester is ideal for staying cool and comfortable during your sleep.
The top layer is hypoallergenic and keeps out dust mites from causing allergies and worse for you and your children.
If you have a tight budget, this is a great intermediate bed bug solution until you can afford a proper mattress encasement.
---
6
A soft 100% cotton cover for your mattress with a comfortable terry surface.
Completely waterproof so that it will protect your mattress from moisture.
This cotton cover also repels dust mites, bed bugs, and duat mite and bed bug proof to keep all the nasties away from your skin.
A comfortable soft terry surface that is moisture absorbent and cooling.
---
7
An all-in-one dust mite resistant, bed bug proof, and fully waterproof mattress protector are made from durable polyester.
A high-end, smooth jersey that is soft and breathable as well as highly waterproof.
The PVC is vinyl-free and offers a TPU waterproof backing and dust mite and bug resistant barrier.
This protector is machine washable and should be dried outside or in a tumble dryer at low heat.
---
8
The Guardmax Soft Hypoallergenic Mattress protector is highly breathable and comes in various size and shape options for beds, sofas, and futons.
Completelybedbug-prooff design with superior zipper closure.\Water resistant and helps to seal out sweat and moisture while remaining very breathable.
Dustmite and allergy-proof, as well as treated with antibacterial materials.
Completely safe, hypoallergenic, and quiet design.
---
9
This mattress cover is designed to trap bed bugs and protect against dust mites and other allergens.
It is waterproof to protect against spills and fluids to keep the bed clean.
The mattress protector is made with a premium quality soft fabric that is breathable and temperature regulating.
It comes in a queen size of 60 x 80 inches with sides expanding up to 16 inches.
Score:
97.5
By Daniel Max
---
10
This mattress protector is designed to prevent microscopic particles that may trigger allergy and asthma symptoms.
It has a waterproof design that also protects against spills and any liquids.
The cover is kid and pet-proof and protects against household allergens and bedbugs.
It comes equipped with a zippered for convenience and prevents odors from bacterial growth.
Score:
96.9
By Daniel Max
---
Comparison Table: Top-Rated Bed Bug Mattress Cover
---
---