An increasingly popular bed linen fabric option, which is very similar to cotton today, is TENCEL.
Tencel is making waves among many Eco-Conscious individuals today as it is more sustainable in production, and it also has a very high wrinkle resistance.

---
Why Tencel Sheets
Before we can understand why Tencel is to understand the Hype, let's see precisely what Tencel is.
Tencel is a branded version of Lyocell, a synthetic fiber constructed from reconstructed cellulose fibers.
Although Tencel is a synthetic fiber for all intents and purposes, it has an entirely natural origin. Tencel fibers come from the wood from Eucalyptus trees, grown on farms, and easy to sustain.
Tencel can also be blended with other natural materials such as Hemp, wool, and natural fabrics.
Tencel Sheeting has many Benefits; here are a few;
Versatile – Tencel material is such as versatile fiber that is not just used in sheets but also products such as wet wipes, diapers, and Upholstery carpets, towels, and many more.
Skin Friendly – Many synthetic fabrics can cause allergic reactions to the skin or irritation. Tencel is naturally hypoallergenic just like the flannel sheets, and much softer and smoother than cotton, wool, or any other fabric.
Hygenic – Tencel reduces and manages moisture, which means a healthier sleeping environment and fewer bacteria and dust mites.
Comfortable – Tencel is notoriously comfortable and breathable, as well as having cooling properties.
Sustainable – Tencel is created in a closed-loop process in which nearly 100% of its non-toxic solvent is recovered. This eco-friendly process uses minimal water, and the Eucalyptus trees are easily renewable.
---
Tencel VS Cotton sheets
There are seven main differences between Tencel and Cotton to be considered;
Aesthetics – Tencel is smoother, softer, and dyes and retains it is color much better than cotton. Cotton has a more crisp and matte look than Tencel, also takes dye very well, but is much more prone to wrinkling. Tencel does not wrinkle at all.
Thread Count – Tencel is reasonably easy to care from and washes well without reshaping or shrinking. Tencel also lasts quite long. Cotton improves its feel with time and washing and is just as durable.
Coolness – Although cotton is quite breathable, the hydrophilic quality of Tencel is even more cooling because of its absorbent nature.
Hygiene – Because Tencel has such excellent moisture absorbing tendency, it is much better at keeping bacteria and dust mites away than cotton.
Comfort – Because Tencel has such a soft and smooth surface, it is much less scratchy and much more comfortable on sensitive skin than cotton.
Sustainability – Tencel is manufactured from Eucalyptus trees, and in turn, making fiber from wood pulp is much easier and more efficient than making it from cotton plants.
---
Features of a Good Tencel Sheet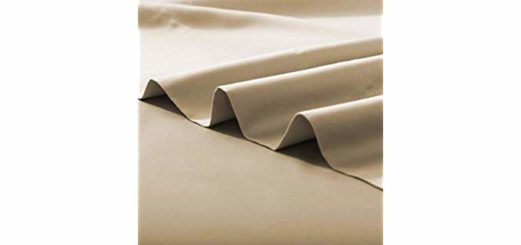 Silky soft texture.
Breathable design with a high thread count of 300 TC or over.
It is made of 100% Pure Tencel or Lyocell Fibers.
Raw Materials are derived from the Eucalyptus tree.
Certified and Eco-friendly design and materials.
Color and size option availability.
---
Reviews: The Best Tencel Sheets
Below you will find some of the top rated Tencel Sheet brands and models.
We hope you love the products we recommend!
So that you know, We may collect a share of sales or other compensation from the links on this page.
---
1
We have a lovely range of pastel-colored Tencel sheets made from Raw Eucalyptus Trees from the Royal Hotel.
Available in neutral and pastel color selections.
It is made from the finest quality raw eucalyptus tree materials.
Silky soft, and breathable texture.
Ideal for individuals with allergies and well known for its relaxation qualities.
It comes in a queen-sized set in a flat and fitted sheet with two standard pillowcases.
Machine washable in cold water and quick line drying.
---
2
A cooling and breathable Tencel Sheet set from Olive and Crate made from sustainable and natural resources.
Made from 100% pure Tencel.
Fresh and breathable and excellent for warmer and cold climates.
Luxury smooth and satiny soft texture.
Tencel Modal and Lyocell Fibers.
Retains its colors even with regular washing.
Cold wash machine-washable.
Available in Neutral Color Options.
---
3
From Stone and Beam, we have the luxury Tencel Sheets available in cool and earthy color selections.
Made from 100% natural and sustainably sourced Tencel materials.
Available in cold, dark, and earthy color options to choose from.
Luxury soft and silky texture with improved breathability and moisture-wicking capabilities.
Durable and utterly wrinkle-resistant design.
Coe sin a set of a flat sheet, fitted sheet, and two pillowcases.
---
4
Soft and stunning fibers and ideal for sensitive skin, I highly recommend the Tencel sheets from WOVEN, a top brand in sheeting and bedding today.
100% Pure Lyocell Tencel sheets are ideal for sensitive skin and allergies.
It is extracted from biological materials with raw fibers that are smooth and breathable.
It wicks away moisture and is much more effective than cotton.
Eco-friendly fibers and production processes are used.
A universal fit Oversized fitted sheet flat sheet and standard pillowcases.
---
5
Made from 100% pure Tencel straight from the Eucalyptus tree, the Whitney Home Textile Tencel sheets are of the purest that you will find.
Designed with deeper pockets for a better fit in the fitted sheet and comes in a set of one flat sheet, one fitted sheet, and two standard pillowcases.
A soft and comfortable texture that is lightweight and breathable.
It is made from 100% pure raw eucalyptus with a 300 Thread count.
Pure Lyocell Tencel can be machine washed in cold water.
---
6
A durable and soft 300 thread count Tencel Sheet set from JSD is ultra-soft and comfortable.
Made from 100% pure Lyocell Tencel and is available in King or Queen sized options.
It comes in a set of one flat sheet, one fitted sheet, and two standard pillowcases.
A soft and comfortable silky texture that is cooling and breathable.
It can be machine washed in cold water.
---
7
The Columbia Tencel sheets are available in different size options and a large variety of colors to choose from.
All-natural 100% pure Tencel sheets available in dark purple, black, or light neutrals and white color selections.
Temperature regulating and highly breathable.
It has a highly durable 300 Thread count design and weaves.
Omni-Wick to keep you dry and cool moisture-wicking technology.
Easy to care for and can be washed in your washing machine with cold water.
---
8
A machine-washable, durable and comfortable Tencel sheet.
The Eucalyptus Tencel Sheet is all-natural made from pure Tencel.
Enjoy the comfortable four pieces set in the size of your choice.
Made from 500 thread count Tencel Lyocell fibers.
---
9
These are lovely sheets available in dark and neutral color selections set in different sizes.
The sheets are made from 600 Thread count 100% pure Tencel Lyocell Fibers.
You will find the softest sheets on the market with a light and breathable texture.
Likewise, Tencel is environmentally friendly and natural, made from renewable eucalyptus.
---
10
The Laurel Crest Tencel sheet is available in nude, off-white, and pastel color selections and size options from which you can choose.
Cotton and Tencel blended sheets and pillowcases for the best of both worlds.
Enjoy the lightweight and breathable textures, as well as the moisture-wicking capabilities.
Ultra sift 300 thread count sheets and pillowcases.
---
Index Table: Top Rated Tencel Sheets
---
---