A comfy bed sheet is vital for sound sleep for your kids. Kids bed sheets should be colorful and should also match the vibe of the room. In addition to that, it should be crafted using qualitative material. Usually, kids are fond of comic characters, so their bedsheets can also feature their favourite characters!
So, if you aren't able to find the perfect kids bed sheet, take a look at some of the products mentioned in this blog.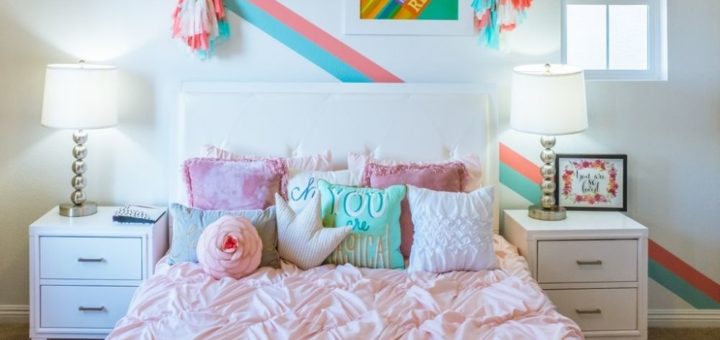 ---
Common Material Used in Kids Bed Sheets
There are innumerable fabrics when it comes to buying a kid's bedsheet. However, choosing the right one for your kids is super important for a good night's sleep. Here are some of the best fabrics that you can consider choosing from.

Cotton – Cotton is the most popular fabric used to make kids bed sheets. It is best known for its softness, durability, moisture repellent property, and affordability. Cotton bed sheets will keep your kids warm throughout the winter and cool throughout the summer.
Tencel -Tencel is an environmentally friendly fabric made using the pulp of eucalyptus tree wood. This fabric is antimicrobial and highly durable, and soft. Moreover, it doesn't shrink and will give your kids a silky soft feel from the very first use.
Silk -Silk is a luxurious fabric produced by silkworms. If you are considering something luxurious, then silk is the best option to choose. This fabric will help you to protect your kids from allergies.
Microfiber – Microfiber is a man-made finely woven polyester, best known for making kid's bedsheets. This fabric is ideal for making soft sheets, it also absorbs heat more easily. Apart from that, it provides you a wide variety of colors to choose from.
---
Things to Consider Before Buying Kids Bed Sheets
Are you looking for something that will offer a cozy nap to your child? If yes, then written below are a few things you will have to keep in your mind while making the purchase of their bedsheet. Take a look!

Choose a Light Fabric -Your kids sleep may get hampered due to various reasons. Therefore, to eliminate such factors, the bed sheet should be light in weight.
Comfort – Kids skin is usually more sensitive than adults. So, the bedsheet should be hypoallergenic and should not harm the skin of the child. In this case, cotton is best suited and improves the quality of sleep.
Right Size -The factor that really matters for comfortable sleep is the correct size of the bedsheet. If the bedsheet is too small, it will tend to slip off, and if it is too large, it will hang from the bed. So, it is necessary to choose the right size for your kid's bedsheets.
Colorful and attractive – You must be familiar with your child's likes and dislikes. Kids are fond of cartoon characters, and creativity attracts them. So, the bedsheet should be colorful. For more creativity, visit the mermaid tail blanket for girls. Aside from its design, the blanket will offer a comfy feeling which perfects for any season.
---
Characteristics of the Perfect Bed Sheets
A good bed sheet is one that provides your kids with comfort and softness without being slippery. Bedsheets that are light in weight are good to go. Here are some of the characteristics of the best kids bed sheets. Make sure you check with them before buying a product.

Thread Count -Higher the thread count of a bedsheet, the more will be its softness. You can purchase bed sheets whose thread count ranges between 300 to 500 thread count.
Easy to Wash -Kids bed sheets get dirty too quickly. You can go with those bed sheets that are easy to wash. Do not choose bed sheets that require dry cleaning only.
Wrinkle Resistant -A good bed sheet is one that restrains wrinkles. So, you can select a bedsheet that remains wrinkle-free even after multiple washes.
No Fading -A bed sheet looks more elegant and iconic when it is brand new. You can buy those kids bed sheets that resist fading even after several washes so that their shine and texture remain the same.
---
Reviews: Best Kids Bed Sheets
Now that you know a bit about kids bedsheets and how to choose the best products take a look at a few products mentioned below.
We hope you love the products we recommend!
So that you know, We may collect a share of sales or other compensation from the links on this page.
---
1
This kid's bed sheet manufactured by Scientific Sleep comes with 100% high quality cotton.
The material provides a dry, cool, and feather-like feel.
This fitted sheet comes with elastic all around
It is easy to wash, and you can also use a washing machine. But avoid dry clean.
---
2
This kids bed sheet manufactured by Amazon Basics consists of 100% polyester
It is comfortable for all the seasons.
The use of ultra-soft microfibre ensures cozy comfort.
Besides, made in consideration with OEKO-TEX, this bedsheet is machine washable.
---
3
Here is a twin sized print bedsheet with a pillow case by Sapphire Home.
This kid's bedsheet features polyester fabric and feels silky to touch.
The seams are quite sturdy, which makes them durable.
On top of it, the sheet is hypoallergenic and perfect for those with sensitive skin.
---
4
This bedsheet manufactured by Mellanni comes with 1800 thread count and features a high quality polyester fabric.
Moreover, it is wrinkle-free and fits perfectly well in a kid's room.
The bedsheet comes with a pillowcase.
You won't even have to worry about your child spilling something since it is stain repellent.
---
5
This bedsheet manufactured by Bedsure Collections is perfect for every season.
Its comfortable touch and fluffy texture give children a cloud-like feel.
In addition to that, it is super easy to care for. Just tumble dry it on a low setting.
It comes with two-pillowcases, a flat sheet, a fitted sheet, and more.
---
6
Easy to wash and dry, this bed sheet manufactured by Paw Patrol is soft to touch.
It consists of 100% polyester fiber, which makes it a perfect choice in any weather.
The bedsheet comes with the print of Paw Patrol characters. So, if your child is a fan, he will love it!
It comes along with a couple of more additions like a double-sided pillowcase.
---
Index Table: Top-Rated Kids Bed Sheets
---
---