If you are looking for ideas to enhance your sleeping experience, you need something more than a mattress. A mattress topper comes in various shapes and sizes with amazing features like ventilation. A ventilated topper adds a layer of extra comfort for a peaceful night's sleep.
These ventilated mattress toppers feel super-comfortable and add a soft layer on top of your mattress. Here is everything you should know about a ventilated mattress topper, along with the best products.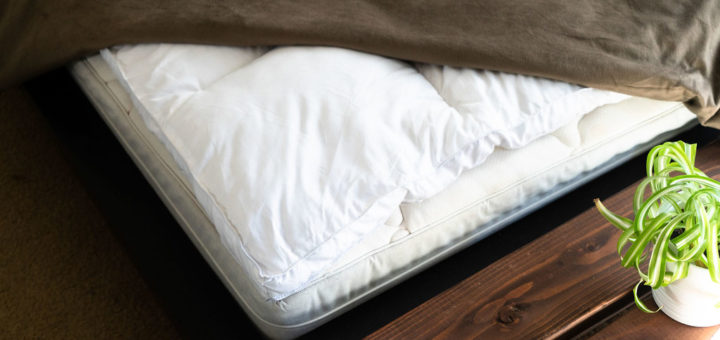 ---
What is a Ventilated Mattress Topper Made Up of?
While buying a ventilated mattress topper, we usually prefer the one made up of memory foam. It is preferred since it provides a great support option to joint problems. However, there are various other materials in which you will find a mattress topper.
Wool – This material provides a soft layer to a mattress to add more comfort. Wool fleece is hypoallergenic and keeps you cool in summer and warm during the winter season. However, it can be a bit expensive than other materials.
Memory Foam – A topper made up of memory foam equals the comfort provided by a memory foam mattress. This material is the best option for those who deal with sore joints. The only drawback is that it can become a little hot while sleeping.
Poly Foam and Latex – Polyfoam and latex toppers are a great option to provide extra cushion if you have a firm mattress. Apart from being comfortable, these mattress toppers are less expensive than other options.
Feather or Polyester Blend – A feather and fiberfill mattress toppers provide very little support and can turn hot most of the time. Since the material is soft, it tends to become flat. However, if you are looking for a topper that will suit your budget, this is the best option.
---
Uses of a Mattress Topper
If you think the only purpose of a mattress topper is to provide you comfort while sleeping, you are wrong. There are some other uses of a mattress topper as well. Let's take a look.

Shields a Mattress – A mattress topper acts as a shield for a mattress. Most of these are waterproof, which helps preserve an expensive mattress. This feature is great if you have kids at home who are constantly spilling things here and there.
Heat Resistant – Even if your mattress is costly, you need it to provide you with a comfortable night's sleep. However, some mattresses produce heat, making it difficult to sleep peacefully. Therefore, a ventilated mattress topper maintains the temperature required and thus provides you a sound sleep.
A Great Travel Partner – A mattress topper provides immense comfort if you love traveling. You can use these if you think your hotel room's mattress isn't that supportive.
Relieves Aching Joints – Some people cannot sleep properly due to aching joints. A mattress topper adds support to the body by molding the body's shape and overcoming discomfort.
---
Features of a Good Mattress Topper
Here are some features of a well-ventilated mattress topper that you should consider while buying.

Longevity – A good mattress topper should last at least for five years. It should be durable enough to overcome minor wear and tears.
Odor-Free – The best thing about a ventilated mattress topper is that it doesn't release bad odor and makes sure your nights are comfortable.
Heat Retention – Mattresses often release heat and make it uncomfortable for a person to sleep. Therefore, buying a ventilated mattress topper makes sure the heat retention is controlled.
---
Reviews: Best Ventilated Mattress Topper
The below list consists of the best mattress toppers for ventilation. If you buy any product from the links given below, we may earn a small commission.
---
1
This Bamboo mattress topper has charcoal-infused memory foam, promoting a comfortable sleep.
It supports the body's pressure points.
Its open-cell technology provides cooling ventilation, which makes it super comfortable.
The mattress topper meets CertiPUR-US standard, making it safe for use.
Score:
99.1
By Daniel Max
---
2
This memory foam mattress topper provides ultimate comfort to relieve stress.
It works perfectly for those who are suffering from joint problems and arthritis.
Made from open-cell technology, this mattress's ventilated channels make it easy to regulate the temperature.
The foam is made from quality material for long-lasting comfort.
Score:
98.7
By Daniel Max
---
3
The Lucid ventilated mattress topper is extremely soft and airy.
It relieves pressure to bring comfort to the knees and shoulders.
Apart from being airy, it has a plush gel material that controls temperature.
This product also features a 3-year warranty.
Score:
98.4
By Daniel Max
---
4
It is infused with cooling gel which makes it very comfortable.
This mattress topper helps in keeping the temperature fine.
The material makes it easy to take your body's shape for ergonomic support.
Its hypoallergenic feature makes it good for sensitive people.
Score:
98.1
By Daniel Max
---
5
Wake up from a nice and peaceful sleep with this comfortable mattress topper.
It adds cushioned support and relieves back pain.
To increase longevity, it features high-density memory foam.
It is easy to carry around due to its lightweight.
The design features several perforations helping with the airflow.
The setup is also super easy, and it expands in 48 hours.
Score:
97.7
By Daniel Max
---
6
The mattress topper distributes heat evenly since it is infused with gel.
It promotes breathability with its ventilated design and keeps you cool and well-rested throughout the night.
Mecor mattress toppers are tested under all safety measures, making them a preferred choice.
It aligns with the body's shape to relieve pressure from the spine and joints.
Score:
97.3
By Daniel Max
---
7
This is a 4-Inch thick memory foam mattress topper, designed to renew any old mattress and make it feel like new.
The ventilated design maximizes airflow and keeps you at an optimum temperature throughout by regulating heat.
It offers a very responsive memory foam that conforms to your body's shape to provide pressure-relieving support.
This topper comes infused with a cooling gel to keep you cool and comfortable the whole night.
Score:
96.9
By Daniel Max
---
8
This mattress topper is made with high quality, 2-inch thick memory foam for luxurious comfort.
The high-density visco-elastic memory foam is designed to provide pressure relief and minimizes aches and stiffness.
It can be used as an easy way to renew old, sinking mattresses or fix extra firm ones.
This mattress topper's best quality is its ventilated design to maximize airflow and provide temperature regulation.
It comes with a hypoallergenic cover that naturally repels dust mites, resists microbes, making it an ideal choice for people suffering from allergies and asthma.
Score:
96.6
By Daniel Max
---
9
This is premium quality memory foam mattress topper offering 2-inches of luxurious thickness.
It comes with a specially designed Ventilation system to provide temperature regulation and optimum airflow to keep you cool and comfortable all night.
It adds support and comfort to old sinking mattresses and softens firm ones.
This mattress is naturally hypoallergenic, free of harmful chemicals, and certified by CertiPUR-US.
Score:
96.2
By Daniel Max
---
10
This 3-inch thick memory foam mattress topper conforms to the contours of the body to provide ultimate support and comfort and minimize body aches and stiffness.
This high-quality and high-density mattress topper is designed to relieve pressure points and align the spine and shoulders.
It offers a cooling gel infusion to prevent heat buildup, whereas the open-cell design maximizes ventilation and promotes airflow.
It comes with elastic belts at all sides and an anti-slip mesh bottom to ensure it doesn't slip around.
This mattress topper is certified by both CertiPUR-US and Oeko-Tex's Standard 100 and is Hypoallergenic, and Latex-free.
Score:
95.7
By Daniel Max
---
Index Table: Top-Rated Ventilated Mattress Topper
---
---