Some of the links in this post are affiliate links. This means if you click on the link and purchase the item, I will receive an affiliate commission at no extra cost to you. All opinions remain my own.
The best throw blankets are designed to enhance your relaxing time, whether binge-watching Netflix or reading your favorite book. But to find the best might be nothing short of a conquest.
Many factors can affect your overall experience of the throw blankets. Here in this article, we will consider the factors you need to consider. Moreover, we will also look at some of the best throw blankets you can buy.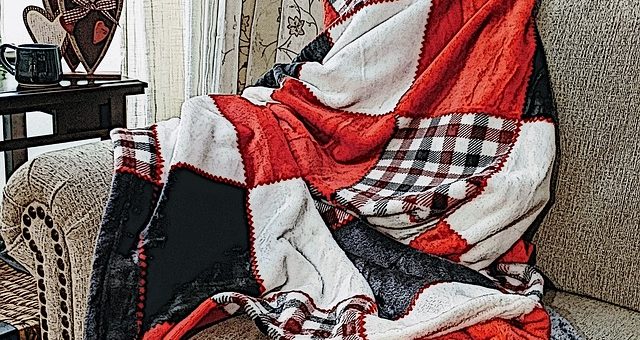 ---
---
The Materials and Types of the Best Throw Blankets
Throw blankets are usually sized 50 by 60 inches; though there are slight variations, the real deal is their material. Let's look at the best fabrics these throw blankets are made from.

Wool – Wool blankets are the best for winter. They will keep you warm and cozy the entire time. Unlike the popular misconception, wool does not promote sweating.
Cashmere – Cashmere is a kind of wool known to be one of the warmest. Besides, it is soft and luxurious and also hypoallergenic.
Fleece – Fleece is also a synthetic fiber used in making various kinds of throw blankets like quilted throw blankets. They are known for extra durability and ease of maintenance. Besides, they are also inexpensive and highly elastic.
Cotton – Coton is a natural fiber that is lightweight and moisture-wicking. These are naturally ideal for the summer season. These are easy to maintain as you only need to toss them in the washing machine when dirty.
Knitted – Knitted throw blankets could use wool, cotton, or any other fabric for making the throw blankets. But these are exceptionally cool and trendy for all kinds of interiors.
---
What To Look For When Buying The Best Throw Blankets?
Here's a brief set of suggestions you must heed while purchasing.

Material – The best throw blankets are made from premium-grade materials, but they may vary, and so do their benefits. So choose a material that works best for your needs.
Size – While most throw blankets are of the size 50 by 60 inches, you might have to look for an even larger size if you are taller. No worries, they are available, see that you don't buy a smaller one.
Weight – Different people have different preferences. While one may like the heavier blankets, others may feel choked. So, pick one with a suitable weight to ensure it meets your comfort level.
Warmth – Blankets are meant to provide warmth, but how much will you have to look for? This is also important as if you are looking for summer blankets, you'll need to prefer the ones made from cotton, while plush wool or microfiber throw blankets will do for winter.
Color – Color is one of the most important aspects. You might need the throw blankets to match other beddings, couches, and more.
---
Are The Best Throw Blankets Really Useful or Just Decorative
It all depends on you. Throw blankets are versatile and do their job perfectly, as and what you decide. As discussed above, they are made from various materials and are good to use daily. However, if you decide to use them just as decor, these blankets will not let you down.
So here are a few things you can do with your blankets.
Drape it over the back of the sofa – This will make your guest room look better and add a unique class to your couch.
For Campfire warmth – A great use of a throw blanket is for keeping yourself warm while sitting around a campfire on summer nights.
Table Runner – Use your beautiful throw blanket as a decor item by spreading it on the table of your living room or main hall.
Fold it over the back of a chair – Use your throw blanket as a decor statement by folding it over the back of a chair. It will also act as a comfortable backrest.
---
Reviews: Best Throw Blankets
Check out these best throw blankets that I have carefully selected just for you.
We hope you love the products we recommend!
So that you know, We may collect a share of sales or other compensation from the links on this page.
---
1
Made from 100% Cotton material, these throw blankets by Longhui Bedding have beautiful white-grey knitting.
The color coordination makes it easy to complement other beddings and interiors.
It is soft and comfortable at the same time and makes for an excellent gifting option.
---
2
One of the best throw blankets, these by Bedsure are super soft on your skin.
They give off a plush outlook and offer versatile usage in almost any house.
Made from fleece, these are long-lasting blankets and easy to maintain.
Besides, these blankets will dry pretty quickly and are also wrinkle-resistant. So unlike cotton blankets, you will be saved from the hassle of drying or ironing these cozy blankets.
Pros
Microfiber construction.
Variety of sizes.
Numerous color options.
Cons
Only suitable for washing in cold water.
---
3
The 280 GSM throw blankets by Exclusivo Mezcla are designed to provide excellent comfort minus the maintenance hassles.
It is extra large compared to other throw blankets and is ideal for adults, especially taller ones.
Moreover, it is super soft, warm, and feather-light.
Being anti-wrinkle, they are good to use as soon as they are dry after a wash.
You also need not worry about its durability, as it is unlikely to fade or shrink and can be washed in your regular machine.
Pros
Plush microfiber.
280 GSM Flannel fleece.
Double-faced design.
Cons
May be too thin for some people.
---
4
If you want to add some color to your interiors, try these throw blankets by Loma.
The cool mustard shade will brilliantly complement most decors, and the pom-pom fringe brings some thrill and energy.
Besides, it is made from 100% microfiber polyester and is warm enough to make you get a cozy nap.
Even though it is extremely soft and fuzzy, it is very light in weight and won't pressure your body.
---
5
It will be hard to find another throw blanket warmer than this one by Arcturus.
It is made from 80% military-grade wool with 20% hypoallergenic synthetic fibers to make it more durable and elastic.
Besides, you can easily wash it in a machine, and these throw blankets will only get softer after each wash.
The lock stitching on the rims looks beautiful, and it is best for even outdoor excursions, like camping or trekking.
---
Index Table: Top-Rated Throw Blankets
---
---