Some of the links in this post are affiliate links. This means if you click on the link and purchase the item, I will receive an affiliate commission at no extra cost to you. All opinions remain my own.
An adequate amount of uninterrupted slumber has both an instant and long-term effect on one's well-being. We all know that a good mattress is an investment, so you need the best cotton mattress pad to protect it.
For this reason, mattress pads exist. A mattress pad can help make your bed feel softer, and it protects your mattress from damage and accidental spills. Mattress pads are relatively thinner than mattress toppers; some are even machine-washable.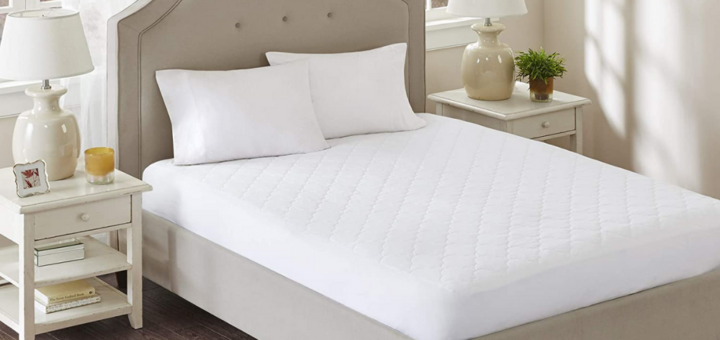 ---
What is the best material for a mattress pad?
Cotton is one of the best mattress pad materials, but let's see how it compares to other materials. So you can make an informed choice.
Wool vs. Cotton – Cotton is a natural and durable material and is usually machine-washable and keeps cool. While wool mattress topper is also made from a natural material it is known for trapping heat, therefore it is a legitimate solution for sleeping pains, joint pains, and arthritis.
Polyester vs Cotton – Polyester is a synthetic fiber but very durable. It's naturally hypoallergenic, therefore, a great option for people with allergies. Compared to cotton, it isn't as breathable and nor is it eco-friendly.
Memory Foam vs. Cotton – the foam material is ideal for people with back issues as it molds to the body's structure and provides optimal support. However, it is more expensive than a cotton pad, can get warm, and is less breathable.
---
What is the difference between a mattress topper and a mattress pad?
While the two sound almost the same, there are noticeable differences between them, so you can choose what's right for you.
Purpose – Pads guard a mattress against contaminations and allergies, whereas toppers add luxury to a mattress or are used for altering the thickness or feel.
Cost – Toppers have a wider and slightly higher price range, but most pads are pocket-friendly.
Thickness – Toppers are available in varying thicknesses for increasing the height and feel, and pads are mostly an inch thick or less.
Cushioning – Toppers can alter the overall feel of the mattress, while pads have little or no impact on how the mattress feels and are more for a comfortable yet protective purpose.
---
Are cotton mattress pads good for you?
Here are reasons why you should invest in a cotton mattress pad.
Organic – Cotton mattress pads are usually made from organic cotton and are free of chemicals and synthetic materials.
Eco-Friendly – Other pad materials add to the non-biodegradable waste in the environment.
Hypoallergenic – All organic materials are hypoallergenic because they haven't been mixed with chemicals and other irritants.
Comfort – Other than washable and durable cotton pads are super soft, comfortable, and breathable.
---
Reviews: Best Cotton Mattress Pad
The catalog below enlists some of the best cotton mattress pads available online.
We hope you love the products we recommend!
So that you know, We may collect a share of sales or other compensation from the links on this page.
---
1
This mattress pad is 100% top and bottom cotton-filled.
The 60×80-inch measurements make it a comfortable queen-size fitting.
With 49 oz elastic and hollowed-down alternative fillings, the pad will add a good softness to a firm mattress.
Moreso, 100% cotton makes the pad a highly breathable piece of bedding, making it skin-friendly.
In addition, the fitted elastic corners of the pad firmly hold it in place, with no more wrinkled sheets.
Its best feature is that it is machine-washable.
---
2
The mattress pad comes packaged in a vacuum bag, and it is recommended that you wash it and dry it under the sun for it to restore its fluffiness properly.
With HNN cooling technology, the surface provides superior comfort and cloud-like softness.
The snow down-alternative fill is a fiberfill that provides a feel of the authentic goose and ducks down, minus the feathers.
Despite the pad being cotton-made, it is super easy to wipe liquids off it. Also, the added thickness of the cover makes it hard for fluids to seep down and stain the mattress.
---
3
The cover is manufactured with 100% certified organic cotton, and its quality is beyond compare.
With its 300 thread count pure cotton sheets, the pad provides a nice and breathable surface for a restful 8-hour sleep.
The impeccable quality wadding of the mattress pad sets it apart from the rest of its competitors as it does not contain any synthetic material or allergens.
This brand of mattress pads even provides a 90-day satisfaction guarantee. Therefore unsatisfied customers can return the product for a full refund.
---
4
The mattress pad has an extensive warranty period for protection against fluids and allergens.
In addition, the hypoallergenic cotton terry surface with its membrane back makes it waterproof, noiseless, and breathable.
Highly suitable for people with kids, pets, and asthma or other allergies.
The cover is registered as a medical device under the FDA as A Class Medical Device.
The measurements for this fitted style design are a queen-size cover that is 60″ x 80″ and an 18-inch deep pocket.
---
5
One of its unique features is that this cover is reversible and 100% cotton making it skin-friendly, durable, and breathable.
The mattress pad comes with 12-inch deep pockets for a snug fit.
Unlike poly-filled mattresses, this cotton pad ensures a comfortable and sweat-free sleep.
Its ½-inch to ¾-inch soft thickness provides an extra layer of comfort.
And our favorite feature of them all is that it is machine-washable.
---
6
The material of this cover protects against sweat, fluids, and allergens and comes with a 15-year warranty.
It is a 100% waterproof membrane back with a fitted style design for a clean, non-wrinkled bed look.
The Airflow Technology at Luna's allows air circulation throughout the cover, all while repelling liquids.
The hypoallergenic cotton surface feature of the pad makes it noiseless and will not alter the feel of your mattress underneath.
---
Index Table: Top-Rated Cotton Mattress Pads
---
---