Some of the links in this post are affiliate links. This means if you click on the link and purchase the item, I will receive an affiliate commission at no extra cost to you. All opinions remain my own.
Tossing and turning in pain is the last thing I want during a night's rest. And using the best mattress topper for knee pain is one of the easiest ways to deal with this woe.
So here we are with the best mattress toppers for joint pain that will help you and your loved ones sleep comfortably. We will also discuss some tips for purchasing mattress toppers and keeping joint pain in check at night.
---
---
What to Look for in a Mattress Topper for Joint Pain?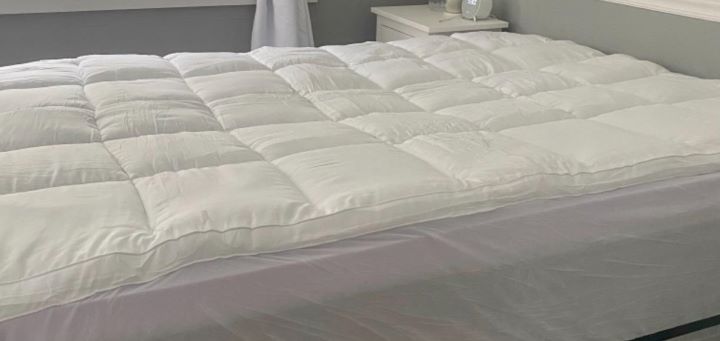 Irrespective of your age group, a pain relief mattress trooper that offers a sound sleep and takes away your day's fatigue is a must! But here is what you must consider when buying one.

Materials – Memory foam and latex mattress toppers are considered the best materials to relieve pain. Besides, many foam mattress topper pads come with specialized layering for extra comfort.
Density – The softness or firmness of the best mattress topper for knee pain also needs consideration. Do not go for extremely soft mattress toppers, as slightly firm variants are better for joint pains.
Thickness – The thickness of the mattress topper must be in sync with your comfort requirements. Most are available in 2- and 3-inch thicknesses; choose the plushness you are comfortable with.
Size – You must ensure that the mattress topper is the right size to fit your existing mattress.
---
How to Maintain the Hygiene of a Mattress Topper?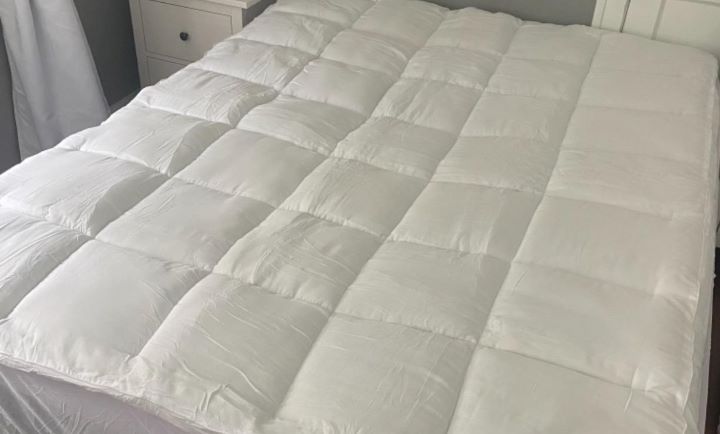 Though you may spend your money on a mattress topper for pain relief, you must know how to maintain its durability. Here is how.

Odor – Almost all mattress toppers have a factory odor that makes them uncomfortable. Most brands advise letting the mattress topper out in the open as the odor will dissipate within a few hours to days.
Cover It – Even the best mattress topper for joint pain is not waterproof or dustproof; you must keep them concealed in separate fabric covers. You can wash the covers, and the mattress topper will stay speckless for a long.
Air It – Just like you must keep a fresh mattress topper to air out its odor, it is essential to repeat the process at least once a year. Twice a year will be even better. The sun will help kill the germs on the topper and give you a chance to breathe back some freshness.
---
Tips to Reduce Joint Pain at Night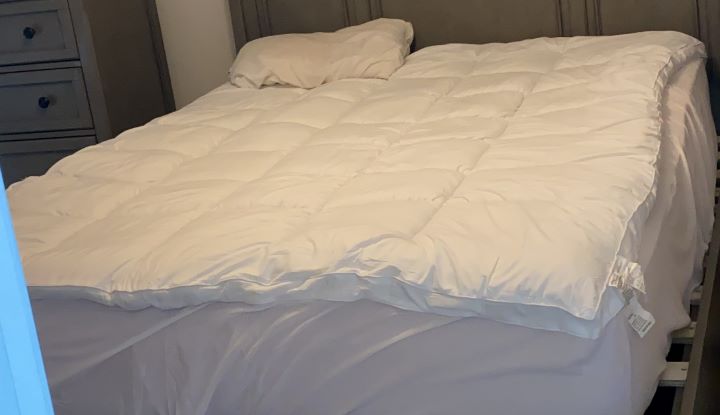 Apart from using the best mattress topper for knee pain, you can considerably lower the joint pain with a few things. Here are some cool tips to better sleep at night by keeping your joint pain at bay.

Mattress Topper – Of course, the right mattress topper can support your body and soothe the pressure on the joints and, consequently, the pain.
Exercise Before sleeping – Slightly stretching along the main pressure points will energize the joints. And you will have a better sleep.
Have Dinner on time – You must have dinner at least two hours before sleeping. This is the time required for the body to digest the food, or else the bones and muscles share the load. Hence, joint pain!
Meditate – Meditation is another effective way to calm joint pain. It works as a placebo effect, and the calmer you are, the lower the onset of joint pain.
---
Reviews: Best Mattress Topper for Knee Pain
Have a look at the best mattress topper for joint pain available on Amazon for joint pain.
We hope you love the products we recommend!
We may collect a share of sales or other compensation from the links on this page.
---
1
The revolutionary "Double Border Pillow Top Construction" technology prevents the filling from moving or leaking out. This mattress topper can be overstuffed with 60% more fill.
Besides, the breathable material allows air circulation through your bedding, keeping it fresh and clean for an extended time.
This product is ideal for people who struggle to sleep due to joint pain, as this topper is super soft and adds a layer of luxury to your bed.
Also, this mattress topper is made from quick-dry, shrink-resistant, and durable fabric.
---
2
The mattress topper by Linenspa is another great solution to relieve joint pain.
It's available in 2- and 3-inch profiles; you may choose thickness according to your required comfort level.
Besides, the foam is so plush that it easily aligns with the contour of your body.
The material includes 100% Polyurethane Memory Foam Gel Beads, soothe your spine and joints.
Besides, the mattress topper for joint pain is also available for multiple bed sizes.
---
3
The memory foam mattress topper by UTTU features a combination of two layers. One of Red Respira Foam and another of 2″ UTTU Dynamic Foam.
And these two together deliver the perfect balance you need for pain relief in your joints.
The mattress topper also features a breathable design that keeps you cool and relieves physical body stress in less time.
Besides, it also distributes your body weight evenly and supports your back, shoulders, and muscles.
You will also get a removable hypoallergenic cover that will help maintain the topper.
The fiber bottom is anti-slip, comfortably sitting on your bed surface.
---
4
The Lounge mattress topper for joint pain allows a comfortable and pain-free rest time.
Moreover, the microgel beads infused in the mattress topper absorb the heat from your body and keep it cool all year round.
Besides, it is affordable to make your existing mattress more comfortable without replacing it.
Additionally, the motion isolation action of the foam will absorb your partner's motion when they turn at night. So that comes as an add-on benefit if you are a light sleeper.
This best mattress topper for lower back pain is available in 2- and 3-inch thicknesses, along with compatibility for various bed sizes.
---
5
A plush bamboo rayon cover filled with hypoallergenic RevoLoft Cluster Fiber is an excellent pain relief solution for your joints.
This best mattress topper for joint pain is available in various bed sizes; it comes with its safe certified action as it is free of flame retardants and other allergens.
With plush filler, your body feels quite cozy and comfortable; thus, you can enjoy a sound sleep.
This mattress topper has a fitted skirt, which will easily align with your existing mattress. And stay in place.
---
6
If you suffer from joint pain, especially in your back, neck, and hips, get this cool mattress topper for its benefits.
It is filled with 750 GSM fiber-filled copper, which keeps your body cool and pressure-free whenever you lay on it.
Copper has the natural ability to absorb heat, and the plushness of fabric soothes the pain in your body.
Besides, this best mattress topper for knee pain comes with 18″ deep pockets and an elasticized skirt for a secure fitting around your existing mattress.
---
7
This memory foam is designed with premium and innovative TEMPUR material to provide pressure relief to the body.
The 3-inch mattress topper conforms to the body's shape and responds to temperature and weight, offering a more personalized level of comfort and support.
This is the best firm mattress topper for back pain, targets pressure points on the body, and relieves pain in the lower back, shoulders, and neck areas.
The cover on this mattress topper is designed to repel dirt, dust, dust mites, and allergy-causing particles and is also breathable and suitable for machine washing.
---
8
This 2-inch memory foam mattress topper offers you restful sleep without any disturbances.
It offers pain relief at the pressure points and minimizes aches and stiffness, especially in the shoulders and back.
The specially designed SureTemp memory foam cradles the body by conforming to its shape.
It offers improved breathability and maximum airflow to keep you at optimum temperature throughout the night.
This best mattress topper for knee pain is made in the USA and comes with 5-year Limited Warranty.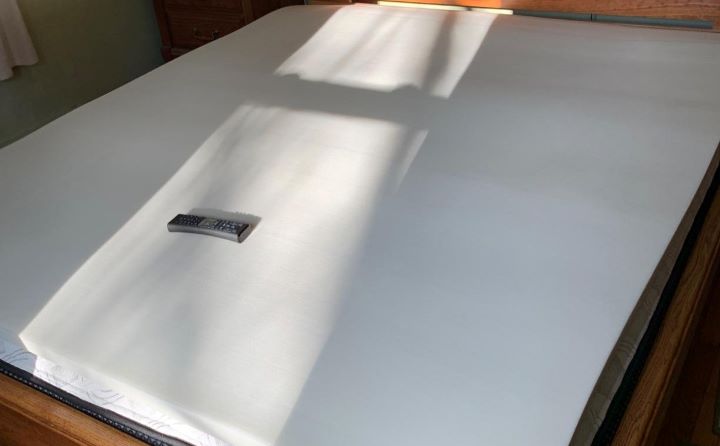 ---
9
This memory foam mattress topper is designed to offer ultimate support and cushion by adapting to the body's shape.
It relieves back and shoulders pain and joint pain as it cradles the whole body.
The gel-infused material includes perforations to allow airflow and create a cool and comfortable sleeping environment.
This high-density memory foam is durable and can be used to rejuvenate your old mattresses.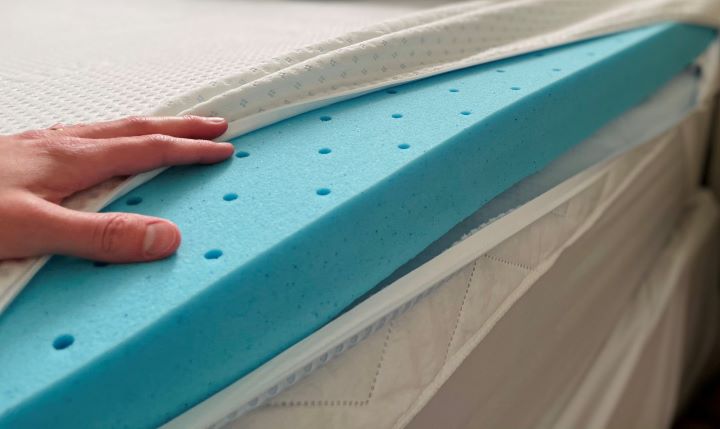 ---
10
This is green tea and charcoal-infused memory foam that cradles your body and provides pain relief and comfort.
1-inch of this memory foam is infused with natural additives, including green tea, charcoal, and plant oils, whereas the remaining 2 inches provide a high-density foam base.
The green tea works to ensure a refreshing feeling, whereas the charcoal works as a moisture-absorbent, so you don't wake up sticky with sweat.
This mattress topper is high quality and comes with a CertiPUR US Certification for durability and performance.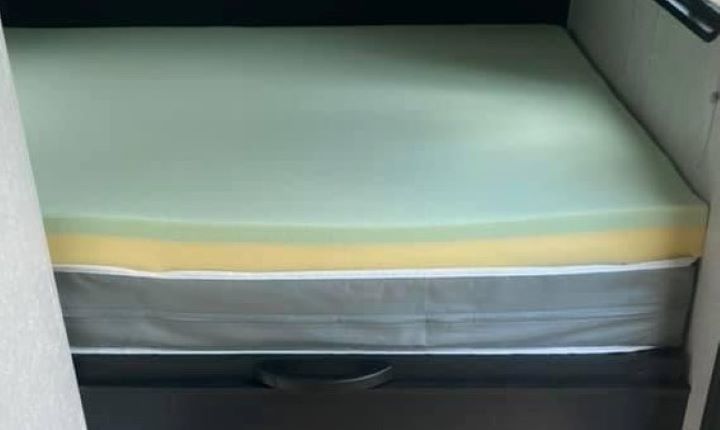 ---
Index Table: Top-Rated Mattress Topper For Joint Pain
---
---