Sure, aging is inevitable, but losing sleep due to your mattress doesn't have to be! Whether you're managing age-related aches and pains, or you've simply realized you need a new mattress, this article is for you.
Read on to learn how mattress affects your sleep quality, some mattress buying considerations for seniors, as well as our choices for the best mattresses for seniors that are currently sold.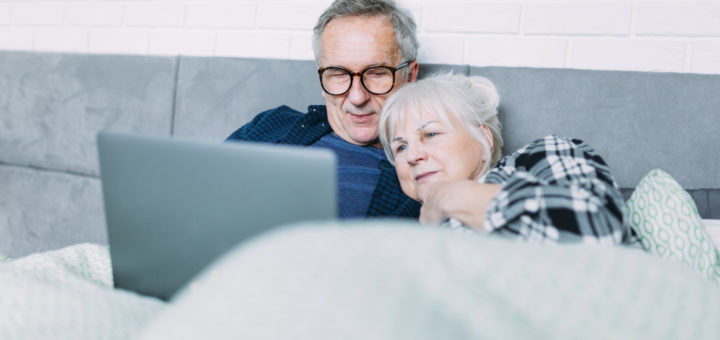 ---
How Aging Affects Sleeping?
Trouble falling asleep and sleep disturbances are more common among the elderly. The causes vary; some seniors experience insomnia due to anxiety about aging or age-related ailments, while others have a hard time sleeping due to prescription medications.
Some other reasons for seniors to lose sleep include:
Arthritis, inflammation of the joints that causes severe pain.

Fibromyalgia, a musculoskeletal disorder that causes pain all over the body.

Scoliosis, a sideways curvature of the spine. It is associated with chronic pain in the neck, shoulders, and lower back.

Alzheimer's disease, Parkinson's disease, and other forms of dementia, have direct links with serious sleep disorders.

Diabetes and prostate problems, that lead to frequent urination at night.

Heart failure, kidney disease, and other conditions that cause chronic discomfort, making it more difficult to fall asleep.
---
How Mattress Helps Seniors To Catch Good Sleep?
While the sleep cycle varies from person to person, an elderly person requires at least 7.5 to 9 hours of sleep per night. And, the time spent slumbering – or tossing and turning — depends a lot on the mattress.
If the mattress does not properly support the spine, then even a long night's sleep will not be enough to keep a person charged. Not to mention the back pain one experiences in the morning. In contrast, one will be able to feel fully charged on the perfect mattress.
Another way that the mattress affects sleep pattern has to do with the blood capillaries, that runs underneath the skin. When a person lies on a stiff bed or on any side for a longer time, it may restrict blood flow: the result – lots of tossing and turning and disrupted sleep.
Ideally, a 'good' mattress reduces the pressure points and gives you a better night's sleep.
---
Choosing A Mattress For Seniors
Investing in a good mattress that provides equal parts comfort and equal parts support is extremely important for any senior person. Luckily, there are numerous mattresses specially made for seniors. For example, mattress for seniors with arthritis, mattress for seniors with back pain, mattress for elderly edge support, and so on.
Mattress Height: Seniors will have difficulties getting in and out of bed with a mattress that is too high. So, the recommended bed height for seniors is usually about 10-inches.

Firmness: Choosing the 'right' firmness is also important, and you should choose one that will suit senior's health and body needs. Memory foam and latex models are good choices for the elderly. Hybrids also work well.

Coil Count: As a general rule, the higher the number of coils, the more support body will get. But try not to choose a mattress that will be too firm because they worsen pressure-related discomfort.

Quality: Buy a model that will adapt to the body with time and provide you with the right amount of support. Innerspring, latex, and/or memory foam mattresses will last longer. If you prefer latex mattresses, then opt for the organic latex mattresses.

Cooling: Ventilation and breathability are important, especially to the ones who tend to sleep hot or are restless during sleep. A breathable mattress for seniors allows the air to circulate freely through the bed, which keeps the sleeper cool and comfortable. Example: Traditional spring coil models and Gel memory foam mattresses.
---
Reviews: Best Mattress For Elderly
---
Meet PrimaSleep Memory Foam Mattress, the multi-layered bedding that provides a good body hug and restful sleep at night.

It has multiple foam layers to add up to the sleeping experience. Gel foam layer helps to prevent temperature accumulation and gives a cool sleeping experience; Convoluted foam provides excellent ventilation and disperses body pressure, and the 5 inch HD foam properly supports the sleeper's back.

Within minutes of lying down the mattress targets, pressure build-up areas and relieves the pressure while providing great support for the neck, shoulder, and back.

The mattress also has a poly Jacquard cover to provide better breathability and to keep it fresh and clean.

---
2
Meet one of the world's most comfortable, breathable, and healthiest latex mattress by Zenhaven. Its hypoallergenic properties prevent mold as well as dust mites.

Made of 100% TALALAY latex, it has a unique 5-Zone comfort layer that supports the proper neck, shoulder, and spine alignment in elderly people.

It counters body heat and provides a super cool, breathable sleep experience thanks to the open cell structure included for a free flow of air.

Featuring advanced 2-in-1 comfort technology, seniors can choose between a gentle firm or luxury plush firmness just by flipping this mattress over.

Above all, Zenhaven will treat you with a 120-night trial, free shipping & setup, 15-year warranty, and 24/7 customer service.
---
3
Blissful Nights Pearl and Cool Gel Infused Memory Foam Mattress is a high-tech mattress for the elderly that will revolutionize the way they sleep.

With adjustable bed bases and patented wedge support, offer a sleeping surface that is perfect for relaxing the aching muscles and joints.

It has a proprietary air channel base and articulating groves to regulate temperature and is developed to bend better with an adjustable base.

To add personalized comfort, it features dual massage motors with 3 intensity levels, 30-degree head tilt, and independent head up and foot up features.

The elderly can also reap the benefits of Anti Snore, Zero Gravity, One Touch Flat, and Custom Memory Presets, too.

Especially useful for the seniors with back pain or arthritis, using the techy mattress is easy – just download the mobile application: "Ananda Base Wifi" and use it as a remote.
---
4
Made of natural, organic latex in three different layers of firmness, this is the ideal mattress for seniors who love to sleep cool. These latex layers are adjustable as well.

This is an excellent mattress for seniors with back pain because latex is highly responsive to the curves in the body, which ultimately helps reduce all aches.

The range for firmness is from medium to medium-firm. The elderly sleeper who is thin or one who sleeps on his/her back or stomach may choose the medium firmness.

The medium – firm is a good choice for side sleepers, those who toss and turn frequently or those who weigh more, especially over two hundred pounds.

Moreover, it is a safe bet for seniors who are sensitive to allergens and strong odors. It comes with CertiPUR certification and doesn't emit harmful gasses or odors.
---
5
Available in 4 different thicknesses from 8 inches to 13 inches, this cooling gel memory foam mattress is a top-notch mattress presented by Zinus.

This hybrid mattress includes green tea extract infused comfortable foam and hundreds of individual coils to provide additional stable support for the aging shoulders and hips.

7 1/2 inch iCoils minimize motion transfer making this an ideal option for elderly couples (our recommendation is the 12-inch memory model).

It contains 3 layers of memory foam. Two layers of comfort foam to relieve pressure points and the third layer of higher density foam for extra support.

Being a CertiPUR certified mattress for the elderly means you can be sure it meets strict quality requirements.
---
6
A latex hybrid mattress with high-quality steel pocketed coils.

Increases airflow and helps to isolate motion while comforting to your individual sleeping styles.

The perfect mattress with the comfort of memory foam and the support of coils.

Hypoallergenic and completely non-toxic design.

---
7
The Spectra mattress offers superb quality technologies that are ideal for elderly couples and persons.

There are quiet pocket coils in the center and memory foam tops.

Offer therapeutic comfort and support, aiming to align your spine and reduce pressure points.

A Knife-edge pillow design with an extra cushioned top layer.

---
8
Comfortable Orthopedic style memory foam and cooling gel mattress.

Motion isolation for complete undisturbed sleep.

The memory foam is CentiPUR-Certified for purity and quality.

There are also 3-Zones of pocketed springs that are contoured for optimal support.

A Quilted pillow top with a cover that is hypoallergenic and skin-friendly

---
Index Table: Top Rated Mattress For Elderly
---
Want to know the best mattress for your kids? Click here
---
---