Some of the links in this post are affiliate links. This means if you click on the link and purchase the item, I will receive an affiliate commission at no extra cost to you. All opinions remain my own.
A tufted Wingback Headboard can be an excellent addition to your bedroom to give it a little sophisticated look. It can be used to add a pop of color and texture to your bedroom's decor and add to the overall charm.
An upholstered headboard can add a great deal of comfort to your bed. Therefore, we have put together a list of the best headboards available on Amazon with additional details about the products. Happy shopping!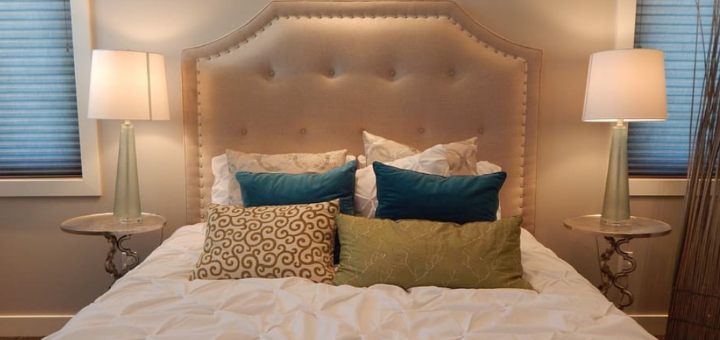 ---
Do Tufted Headboards Get Dirty?
Investing in an expensive piece of furniture always seems exciting till you have to clean it.

Easily Stains – While it also depends on the color of your bed headboard, but in general, they do tend to stain easily. However, it is quite easy to clean them up as well. Most fabrics can be cleaned with a wet cloth and some mild soap.
Collects Dust – Surprisingly enough, tufted wingback headboards gather up a ton of dust and need to be dusted off from time to time. If you vacuum them once a week, it should do the trick. Keep in mind to dust them off before treating the stains.
Magnet for Pet Hair – Our furry favorites can be shedding machines, meaning their loose fur is flying around everywhere. If your headboard fabric is a cotton blend or a coarse texture in general, it's going to collect all that loose fur. But, with the help of a lint roller, you can easily get rid of it.
Absorbs Things – Headboards have foam padding under the fabric; they act as sponges and quickly absorb liquids and odors. However, following the cleaning methods mentioned earlier can help solve this problem, also, using a steamer can be helpful too.
---
How do You Deodorize a Headboard?
Nobody wants to rest their head on a funny-smelling headboard; that's a fact. The foam and padding of the headboard can absorb odors easily, and one must know how to deal with that. In this situation, baking soda is one's best bet.
Baking soda works wonders in eliminating oil stains and odors. All one has to do is gently tap some baking soda into the headboard fabric and let it sit for a few hours. Vacuum off the baking soda, and you have successfully deodorized your headboard. Repeat the process once a month.
---
What Material is Best for Covering a Headboard?
There isn't just one material that can be deemed best for use on a headboard as everyone's needs are different.

Natural Fabrics – Some of the most common natural fabrics used to cover headboard frames include cotton and linen. These materials are durable, and comfortable and come in a variety of colors and patterns. However, they are prone to staining and can be hard to maintain in homes with children and pets.
Synthetic Fabrics – Perhaps one of the most popular choices for tufted headboards, like polyester and chenille. Such fabrics are more resistant to fading and stains. However, they tend to create a lot of static electricity.
Velvet – Velvet gives a very luxurious look to a bed when used to cover headboards. The fabric is very comfortable and soft but can be quite high maintenance.
Leather – Leather can make headboards look sophisticated and high-end. Also, it is a strong and durable fabric but is very prone to scratches and is expensive.
---
Reviews: Best Tufted Wingback Headboard
Enlisted are some of the best-tufted headboards available on Amazon to help you pick your new favorite headboard.
We hope you love the products we recommend!
So that you know, We may collect a share of sales or other compensation from the links on this page.
---
1
The Madison Park tufted headboard is a work of art built with a sturdy plywood frame and stable metal legs.
Fitted with high-quality fabric and foam filling, the headboard has a high-end and luxurious feel.
Plus, the modern button-tufted headboard lends a contemporary look to your bed with its fabulous design.
According to the manufacturer's instructions, the headboard needs only to be spot cleaned, and no hard chemicals must be used for cleaning like bleach.
---
2
At Roundhill Furniture, they pride themselves on providing well-padded headboards that offer superior comfort.
The nailhead trim and button tufting give the headboard an elegant look that elevates the bed's overall look.
Also, the gray color of the product goes well with most existing decor themes in a bedroom.
The king wingback headboard and other parts are shipped in separate boxes and may even be delivered separately.
---
3
This Amazon Basics product comes fitted with a 100% faux-linen polyester fabric.
Its addition to any bedroom will give the space a sophisticated and elegant look while providing superior comfort to any bed.
Moreover, the tufted design creates these orderly squares for a modern and geometrically sleek appearance.
Also, the wingback headboard is super easy to clean; just wipe it with a damp cloth.
The product also has the feature of height adjustment.
---
4
This tufted wingback headboard queen sized frame comes in a beautiful jade green color that can add a splash of hue to any bedroom.
Its vertical channel design gives it a modern and sleek look, making it a statement piece and a must-have.
In addition to the skillful design, the artistic curves of the headboard provide it a unique and appealing look.
The tufted headboard's full frame is made with sturdy and durable wood, high-quality foam, and soft velvet fabric.
---
5
This Lillian August wingback headboard is an authentic piece of art. It is a unique interpretation of modern design with a vintage flair.
The tufted wingback headboard queen size frame with the diamond tufting also inspires a luxurious and dramatic feel.
The use of high-end fabrics set this product a class apart from its competitors.
Moreover, the headboard is available in various colors and fabric options.
---
6
This is a wingback headboard with arms with fitted polyester and cotton blend fabric.
Plus, the wingback headboard comes with beautiful diamond patterns that provide an elegant look to the frame.
Also, the headboard is constructed with sturdy wood and durable fabric for a well-rounded product.
Safavieh has been in the business for over a century now and has been crafting high-quality products ever since.
---
Index Table: Top-Rated Tufted Wingback Headboard
---
---