Nothing is better than sinking into your bed and feeling the comfort of the luxury bedspreads around you. However, when you are looking for one, many aspects of this purchase need to be considered. For instance, what color will fit best in your room or how durable the fabric is, etc.
So, if you have been on this hunt for some time but couldn't find the perfect one yet, you are surely going to get it here. We've rounded up a few best luxury bedspreads that will meet all your needs.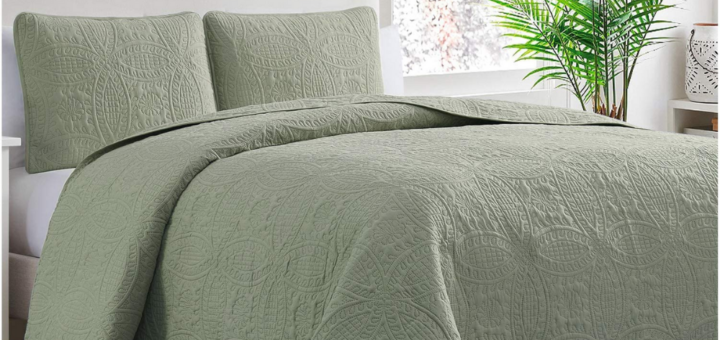 ---
Why You Must Have a Luxury Bedspread?
Let's go over some of the benefits of using luxury bedspreads and learn why they are worth investing in. Have a look!
Style and Comfort – Luxury bedspreads are a great way to add style and comfort to any bedroom. Besides, you get a more coordinated and tidy look in your bedroom.
Increased Sleep Quality – Bedspreads add more pressure on your body than a duvet will give alone. As a result, the extra weight helps you settle to sleep, stopping you from being so restless.
Provides Warmth – Whether your bedspread is made out of thick material or even if it's thin and not as warm, it will add another layer for when there is an extra chill that needs to be blocked.
---
Common Materials Used in Bedspreads
Bedspreads are available in various materials. Go through the types and figure out which one works the best for you.

Wool – Wool is an excellent insulator that will protect the user from any external temperature changes. Moreover, its moisture-wicking properties are around 20 to 30 times more effective than synthetic materials.
Microfibre – Synthetic bedspreads are known for their lightweight and ultra-soft feel. If you're looking to cover a spare blanket or winter bedspread, this is the perfect option that's easy to care for and machine washable.
Fleece – The fleece bedspreads are a cheap way to stay warm during the cold winter, they're easy to wash and dry quickly.
---
What To Look For While Buying a Luxury Bedspread?
So, how to choose the best luxury bedspreads that keep you comfortable and well-rested every night? Keep these points in mind.

Breathable – The breathable bedspreads are more likely to wick away moisture. Therefore, you will get a comfortable sleep without sweating.
Easy Maintenance – Ensure the bedspread is easy to wash, lightweight, and durable. If not, you might have to spend a lot on their dry cleaning every time after using it.
Anti-bacterial or Hypoallergenic – Another thing to keep your eye out for when choosing a new bedspread are treatments like anti-bacterial and dust mite resistant materials with mild toxicity levels.
Reversible Feature – If the bedspreads are reversible, they will add an extra layer of protection against stains or spills on just one side of the spread.
---
Reviews: Best Luxury Bedspreads
So, does your bedroom need an update? Look no further: we've compiled a list of some of the most luxurious bedspreads on the market.
We hope you love the products we recommend!
So that you know, We may collect a share of sales or other compensation from the links on this page.
---
1
Woven with 100% high-quality microfiber polyester, this bedding set is exceptionally soft and durable.
Moreover, with a machine-washable design, you can be assured that your new bedding will last for years to come.
Furthermore, this comforter coverlet set includes one duvet cover and two pillow shams with an oversized envelope closure.
It's perfect for any standard queen-size mattress or futon mattress.
Also, make sure to dry it only on low heat.
---
2
This bedspread from Melani in olive green color will surely add a touch of glam to your bedroom.
Being incredibly soft and durable, it is perfect for kids, pets, and people of all age groups.
Besides, the bedspread is made with the highest quality brushed microfiber, which ensures long-lasting comfort.
The best feature is that it is easy to care for and is fade, stain, shrink and wrinkle resistant.
Not to mention, it's more durable than cotton bedspreads.
---
3
This Chenille bedspread from Beatrice Home Fashions will bring quaint vintage charm to your bedroom.
In addition, it features a primarily centered medallion with scroll accents, bottom bell corners, and an elegant, fringed hem.
Initially, the fabric might shed tiny fibers as a result of the tufting process.
You can easily machine wash it in cold water and a gentle cycle.
Also, avoid ironing it and try to dry it in natural air.
---
4
Add a classic tone and elegance to your bedroom with a solid quilt set bedspread from EXQ Home.
The super-soft microfiber is stitched in a multilayered construction that creates lightweight, durable quilts for use year-round.
Besides, make sure that you don't bleach the set, or else you might end up ruining the fabric quality.
It can fit all regular-sized queen mattresses.
---
5
The bedspread set is perfect for a French country, shabby chic, or farmhouse-style bedroom.
Moreover, the long and flowing ruffled portion drapes beautifully over the bed and pools onto the floor, creating a gorgeous look.
Also, this bedspread set is made with soft brushed poly, and it's incredibly comfortable to the touch.
However, do note that these beautiful ruffles are delicate.
They will last longer only if they're not subject to the rough treatment of being washed. Therefore, dry clean only.
---
6
Bedsure Quilt Sets are the perfect choice for a family with pets or kids.
The bedspread sets are made of high-quality material and will hold up through washing and won't unravel for longer years to use.
In addition, woven of 100% microfiber cover and fill, these quilt sets have tight stitching.
Moreover, these are lightweight so that neither the kids nor you feel suffocated or sweaty inside them.
Lastly, the high-quality material is fade, shrink, pilling, and stains resistant.
---
Index Table: Top-Rated Luxury Bedspreads
---
---